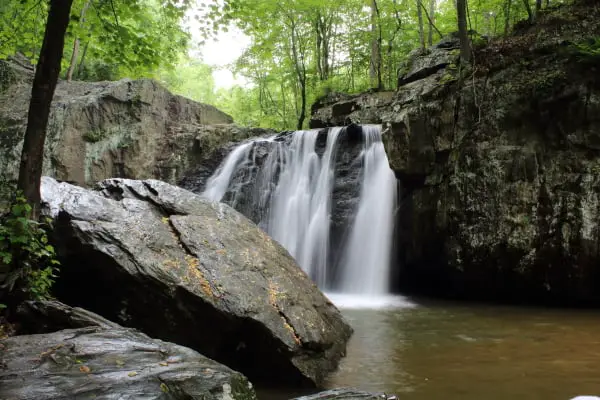 It doesn't get much better than hiking alongside a river or stream on a nice summer day.  That is of course unless you're hiking alongside a river or stream to reach a breathtaking waterfall on a nice summer day.
Fortunately, there are great waterfall hikes throughout the country and Pennsylvania is no exception.
Here are 12 waterfall hikes in Pennsylvania to get you started.
8 Eastern Pennsylvania Waterfall Hikes
The state of Pennsylvania is so big and there are so many great waterfalls that I split the falls between the eastern and western parts of Pennsylvania.  This being said, the largest of the waterfalls can be found on the eastern side.
Bushkill Falls
Bushkill Falls definitely cannot be classified as a rugged hiking area filled with natural trails and a serene atmosphere.  It is decidedly the extreme opposite of this.  Instead, you'll find it to be a tourist attraction that you'll have to buy tickets for.
The reason I still list it as a great waterfall to see is that it has a main waterfall with a 100-foot drop.  On top of this, it has 7 additional waterfalls with a couple of miles of hiking trails, walkways, and bridges.
You can view all eight waterfalls by walking the two-mile red trail which takes just two hours to hike in its entirety.  If you just want to see the Main Falls without having to do any climbing, you can take a much shorter trail that only requires a 15-minute walk.  This trail doesn't involve any climbing so it's a great path for people who normally wouldn't be able to hike long enough or far enough to see such a large waterfall in person.
On top of waterfall viewing, you'll also have access to a bunch of tourist attractions so it would make a great family trip.  These attractions include wildlife exhibits, paddleboat rides, and even a miniature golf course.
There are also playgrounds, snack bars, fudge kitchens, and picnic areas for you to enjoy.  You'll even find a timed maze that rewards you if you finish faster than everyone else.
While I wouldn't say Bushkill Falls is a great place for hardcore outdoor enthusiasts, I do think it's worth seeing.  It's a great place to enjoy family fun and admission rates don't cost much more than a trip to the movies.
Dingmans Falls
Dingmans Falls is a mighty 130-foot tall waterfall located in the National Park Service's Delaware Water Gap.  The waterfall is the second largest waterfall in Pennsylvania, second to only the Raymondskill Falls.
It's an easy walk to get to it from the visitor's center and amazingly enough, you'll also get to see the Silverthread Falls which is an 80-foot waterfall.  Also, the walk is wheelchair and stroller accessible so feel free to bring small children and people with mobility issues with you on your trip.
The only part of the trail that isn't quite as easy to access is the walk up the staircase to the top of the falls but the view from the top is definitely worth the walk.  Here is some drone footage of the falls courtesy of Youtube.
Glen Onoko Falls
Glen Onoko Falls is about 60 feet tall.   To access it, you'll have to hike a 3.7-mile trail loop up and down steep and slippery terrain.  Complete the trail and you'll have done an elevation change of over 1,000 feet and back in a relatively short period of time.
It's dangerous and difficult and not for the faint of heart so you'll need to make sure you're wearing appropriate hiking footwear.  In fact, there are signs all over the place telling you to do just that.  Winter hikers will need even more gear as it won't be possible to do it without crampons and an ice axe in icy conditions.
Here is my prior post on hiking Glen Onoko Falls.
Your reward for making the hike will be a view of three named waterfalls.  Cave Falls, Chameleon Falls, and Glen Onoko Falls.
Unfortunately, I've been told that Glen Onoko falls are now closed due to safety reasons.
Governor Tom Wolf is trying to get funding to repair the trail and then reopen it, so hopefully, by the time you read this, they'll be open once more.
Hawk Falls
Hawk Falls is a 25-foot tall waterfall located in Hickory Run State Park.  This state park is almost 16,000 acres and it has over 40 miles of hiking trails.
You don't have to traverse much of the park or even hike very far to see the waterfall though.  In fact, it's only about a half of a mile away via the fall's trail from the parking area.
Alternatively, you could hike the Shades of Death Trail, which is a bit more difficult and a bit longer but you'll have better scenery along the way as well as a nice dam to see.
The short hike will take you to the top of the falls where you'll be able to follow the trail down to the bottom as well.  Take a look at the video below for a view of the trail as well as the falls.
The falls aren't the only thing to see while you're there either.  Hickory Run is known for its Boulder Field.  This field is basically just what it sounds like.
Within the 400-foot wide x 1,800-foot long by 10-foot deep field, you'll find boulders that range from just a few inches to boulders that are as large as 25 feet.  It's a national natural landmark and well worth seeing while you're in the area.
Nay Aug Falls
Nay Aug Falls is 22 feet high and it's located in Scranton.  Although the waterfall isn't very tall, it's one of the state's fastest flowing waterfalls and it will always provide an impressive show even during the drier months of the year.
In addition to the falls, you'll also have great views of the Nay Aug Gorge which is another national natural landmark.  You can see this gorge by hiking through the park or from up above via the David Wenzel Tree House.  This treehouse is 150 feet high and is easily accessed by all.
If you decide to hike, you'll have two different overlooks to choose from on either side of the gorge.  Here is a video of people jumping off of the gorge, which by the way is illegal, dangerous, and not recommended, but the video will give you an idea of just how deep and beautiful the gorge is.
On top of the natural wonders of the area, there is also a large museum, a Veteran's Memorial, a Lincoln memorial, a WW1 memorial, a rose garden, and two swimming pools.  When you get hungry, you'll also have a snack bar to buy from that is conveniently located within the park.
Raymondskill Falls
Raymondskill Falls has a height of 150 feet and like so many other waterfalls in Pennsylvania, can be found along the Delaware Water Gap.  At 150 feet, it is only 17 feet shorter than Niagara Falls.
To see the waterfall, you'll just need to do an easy .3 mile hike with an elevation change of just 178 feet.  There is even a restroom at the trailhead so this waterfall hike is far from roughing it.
One of the defining features of this waterfall is that it's made up of 3 tiers.  These tiers all have pools at the bottom and you can get unique views of the waterfalls from a multitude of places and from a lot of different angles.
One word of caution when visiting Raymondskill Falls or any of the other waterfalls at the Delaware Water Gap is that high water events can close some of the areas down.  Before visiting, make a quick stop to their website so that you don't waste a drive out there.
Ganoga Glen Falls
The Ganoga Glen Falls can be found in Ricketts Glen State Park.  This waterfall is 94 feet tall and it has a shape that starts out narrow and widens as it reaches the bottom which gives it a very distinct look.
You can get to this waterfall with a short half a mile hike.  However, I'd highly advise you to take the long 7.2-mile hiking loop instead.  If you do, you'll also be able to see another 20 named waterfalls!
These waterfalls range in height from 11 feet tall to 60 feet tall and they're all worth seeing.
Another great feature of this hike is that experienced hikers can do it in the winter as well as the summer.  The one caveat is that if you decide to make the trip in winter, you'll need to check in with the park before you head out.
Just note that while the trail will be beautiful in the winter it'll also be dangerous.  You'll need crampons and an ice axe and I'd highly recommend you don't try to do it alone.
Swatara Falls
The Swatara falls can be found in Tremont Pennsylvania.  While the falls are only 25 feet tall, they're a lot closer for people coming from south-central parts of the state like Harrisburg, Lancaster, and York.
This trail is less than two miles out and back and it isn't all that difficult.  The water flows pretty strongly through the falls and you can visit them year-round.
Some people have said that the trail is full of trash but I didn't notice much when I was there so I guess it depends how well it's cleaned up the day before your visit.
There are two big downsides to this hike.  The first is that the trail isn't marked very well.  The second is that the parking lot can be difficult to find.
If you're prone to getting lost easily, you may want to give yourself some extra time to find everything.
4 Western Pennsylvania Waterfall Hikes
Western Pennsylvania doesn't have the toweringly tall waterfalls that the eastern part of the state has but it does have many great waterfalls for you to enjoy.  Here are four waterfall hikes in western Pennsylvania for you to enjoy.
Why only four and not eight?
The Ohiopyle State Park is home to many of western Pennsylvania's waterfalls and I just thought it would be a bit redundant to list them separately.  Also, you won't be able to see all of the falls there in one day so the list ends up consisting of more than four days of waterfall hiking.
Alpha Falls
The Alpha Falls are 35 feet tall.  They're located in McConnell's Mill State Park which is the home of three other waterfalls which include the Kildoo Falls, the Breakneck Falls, and Hells Hollow Falls.
All of the waterfalls are worth seeing, but the Alpha Falls are the tallest.  They are also unique in that they are incredibly thin.  The only downside to this is that during dry periods they aren't all that spectacular so I'd recommend that you head there after there has been plenty of rain in the area.
To access the Alpha falls, you'll take the Alpha Pass Trail.  this trail is rated as a difficult hike but it's only 1.5 miles out.  The Kildoo Falls requires you do do a 3-mile loop of difficult hiking and the waterfall is only 18 feet tall, so it would be the one I'd skip if I were pressed for time.
The Hells Hollow Falls only require an easy .5 mile hike so it's definitely worth seeing while you're there.  This waterfall is only 15 feet tall but it has a unique look to it and there are other things to see within the immediate vicinity, (I'll let you discover them while you're there).  As a side benefit, after you see this waterfall, you can tell people you've, "been to hell and back".
On a side note, I pretty much only go to hiking spots during the week so I can't say how good or bad the parking lot might be, but I've read on other websites that it can get pretty crowded there.
Buttermilk Falls
The eastern part of the state has a Buttermilk Falls, but so does the western.  This waterfall is located in the Buttermilk Falls Natural Area of Indiana County.
This natural area is 48 acres and of scenic woodland so there are plenty of trails to explore in addition to the 45-foot tall Buttermilk Falls.  The waterfall has a nice set of stairs that lead down to the bottom and a nice observation deck at the top.  I haven't seen it in the winter, but the pictures from the county's website make me want to take a special winter trip to the area.
An interesting fact about the land is that it was once owned by the grandfather of Fred Rogers, (from the Mr. Rogers's television show).  He sold it back in the 50s though, so he wasn't the person who donated it to the county in 1995.
Cucumber Falls
Cucumber Falls can be found in the Ohiopyle State Park.  It's 30 feet tall and very wide in relation to its height.  You won't have to hike very far to get to these falls as the parking lot is just above them.  A stairway takes you down to the falls and you'll be able to view them from a nice overlook at the top.
If you want to turn the trip into a nice and challenging waterfall hike, do the 4-mile out and back journey from the Cucumber falls to the Cascade Falls.  The Cascade Falls are exactly what they sound like, they are a series of cascades that run through the area and they're almost as nice to look at as some of the larger waterfalls in the park.
For those of you who want to see even more waterfalls on their trip, consider the Ohiopyle Falls, the Jonathan Run Falls, the Fechter Run Falls, and the Sugar Run Falls.  These falls all have a unique look to them and they can all be found within the Ohiopyle State Park.  Just don't think you'll be able to see them all in one day as the park is huge and it will take some time to get to all of them.
Here is a video from Youtube that shows some of these magnificent waterfalls in action.
Hector Falls
Hector Falls is located in the Allegheny National Forest.  The falls have a unique look to them that you have to see.  They basically roll down a rectangular rock outcropping and fall into an area that is often not much more than a shallow stream.
Here is a video so you can see what I mean.  Just put it on mute as the person that uploaded it decided to leave the sound of the drone in the video.  Hopefully, I'll be able to take my own 4k video of it someday so I can replace this video for you.
While the height of the falls is only 22 feet, I think their unique shape makes them worth visiting.  The hike to the falls is about a mile from the parking area so you'll get a nice two-mile out and back hike.
Closing Thoughts
Waterfall hikes are really refreshing in the summer and really beautiful no matter what time of year you visit.  This being said, hiking around waterfalls can also be dangerous.
Remember this fact and practice extreme caution around waterfalls and never walk into them.  Even six inches of water could knock you off of your feet and you could go tumbling over the side and into the water below and that water might not be very deep.