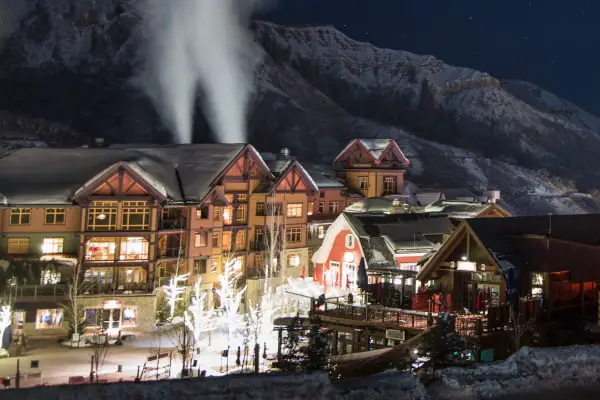 Buying gifts for snowshoe enthusiasts can be hard to do, especially if you don't snowshoe yourself.  Let us make things easier for you with these 7 gift ideas for snowshoers.
A Heavy Duty Emergency Blanket
You can get a mylar emergency blanket for less than $1.00.  These blankets are good in a pinch but they don't last long.  Use them once and you probably won't ever be able to use them again.  Most people know this and they refrain from using them until they begin to fear for their safety.
With a heavy-duty emergency blanket, you don't have to worry about this issue.  These blankets only take up slightly more space and they provide additional layers that help protect the blanket and make it more durable.  Not only this, but a heavy-duty mylar blanket is better than a cheap one.  It can be used as a bivy tent, as a tarp, as ground cover, and it can be used over and over again.
This increases the chances that your loved one will use it before it's too late.  It also gives him or her a usable piece of gear that can be taken snowshoeing, backpacking, and hiking.
Consider getting the  Bearhard heavy-duty emergency blanket.  This blanket consists of 3 layers, a non-woven fabric, a poly mesh, and aluminized mylar.  The layers work to help the user retain their body heat and to stay dry even in extreme temperatures.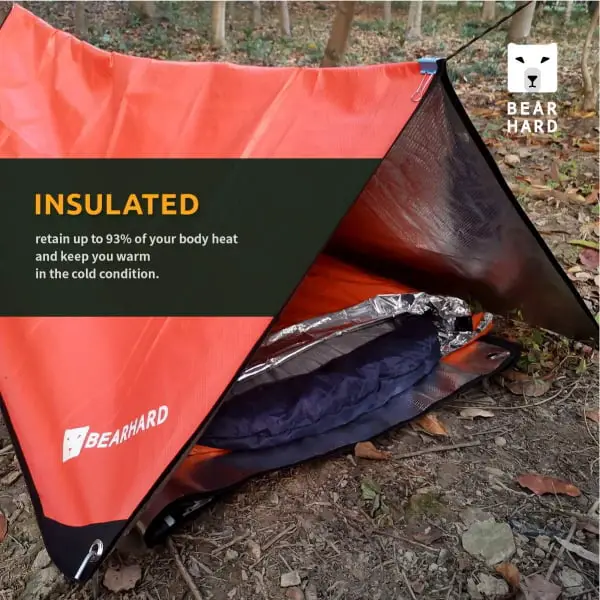 Built-in grommets give the user the ability to hang the blanket so that it can be used as an emergency tent or wind block.  In fact, it can even be used to collect snow so that it can be melted by the sun for emergency drinking water.  The included metal stakes can be used with the grommets to help hold the tarp down when needed.
Leg Gaiters
Leg gaiters are one of those items that you don't actually have to have but they sure do make life a lot better.  For years, I resisted getting leg gaiters.  I reasoned that my waterproof boots and waterproof pants should be enough to keep my legs and feet warm and dry.  This worked most of the time, but I'd still find my legs getting a little too wet from time to time.
Eventually, I broke down and bought a decent pair of leg gaiters and since then I haven't had to worry about wet legs again.  Get your loved one a pair of leg gaiters and they'll notice right away how much easier it is to stay warm and dry while out on the trail.
If you do decide to get leg gaiters for snowshoeing, make sure you get a pair that is designed to extend all the way up the lower leg.   Some hiking gaiters only cover the feet and ankles and they just don't provide enough coverage for snowshoeing.
An example of a pair of leg gaiters that work well in the snow is the Lopoo leg gaiters.  These gaiters extend to the knee and they're made from water and windproof nylon fabric that is resistant to both tears and abrasions.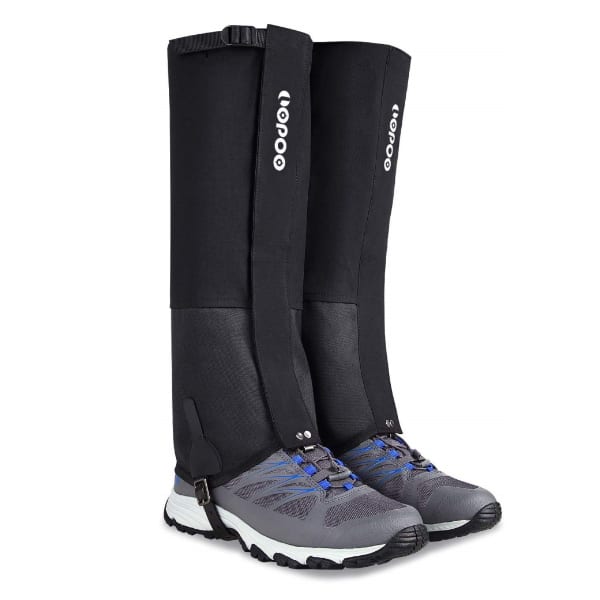 Snow Goggles
I started out snowshoeing with big sunglasses and quickly upgraded to snow goggles.  The difference between wearing sunglasses and snow goggles was night and day.
You see, the problem with sunglasses is that they easily fog up in cold weather.  Also, they just aren't meant for falling snow so snowflakes can easily cloud the lenses.  On top of all of this, the wind easily moves through the sunglasses so your eyes don't really get much protection from wearing them.
With snow goggles, you get full protection around your eyes.  You also have built-in vents that help to prevent your goggles from fogging up on you.  Not only this, but the goggles are strapped to your face so they're unlikely to fall off while you're running down powdery slopes.
Smith Optics makes a great snowshoe goggle and you can get a great pair for less than $100.00.  I'd recommend the Smith Optics Unisex Range Goggle to start out with.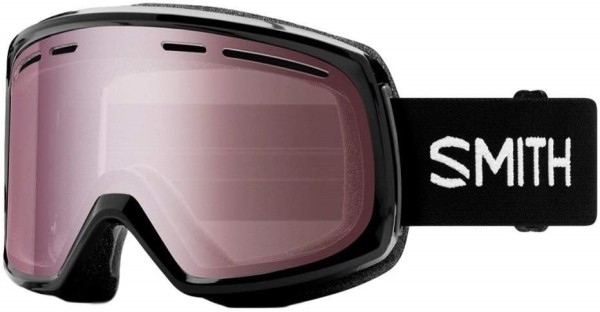 This pair of goggles feature anti-fog inner lenses, a large adjustable strap, a microfiber goggle bag, and a lifetime warranty!
An Electric Hand Warmer
Hot-Hand, hand warmers work just fine and I've used them on countless occasions.  I buy them in bulk and I toss some into my truck's glove box, my daypacks and backpacks, and even my suitcase.
However, I've recently found a better solution to these throw-away hand warmers.  This is the electric hand warmer.  An electric hand warmer can be used over and over again and it offers more than just additional warmth.
A good electric hand warmer will come with a flashlight and a USB charging port as well.  This makes it a perfect piece of emergency gear that can also be used on a day-to-day basis.
Another feature that makes it better than chemical hand warmers is that you can adjust the temperature setting.  More advanced electric hand warmers will allow you to choose the temperature setting so you don't have to worry about them ever getting too hot.
A good electric hand warmer is the Outdoors Way Electric Hand Warmer.  This hand warmer has a 7,200mah battery that can last up to 7 hours on a single charge.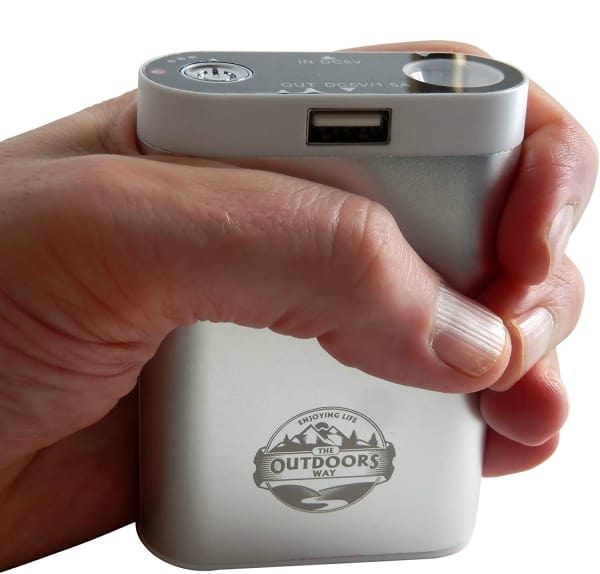 A Collapsible Shovel
One of the worst things about snowshoeing is coming back to the trail tired and hungry, only to find that you now have to shovel your vehicle out before you can leave.  It's even worse when you don't have a good shovel with you.
Give the gift of a good collapsible shovel and your loved one won't have this problem.  A good shovel should have an adjustable shaft so that it can easily fit into the vehicle and it should have a solid blade so that it can be used even on hard snow and ice.
One shovel that I like is the Demon Escape Ally Shovel.  This shovel has a forged aluminum shaft and blade as well as an attached ice pick that can be used to get through tough snow and ice.  It even has a detachable saw blade on it that could be used to cut through fallen tree branches that might have blocked your pathway out.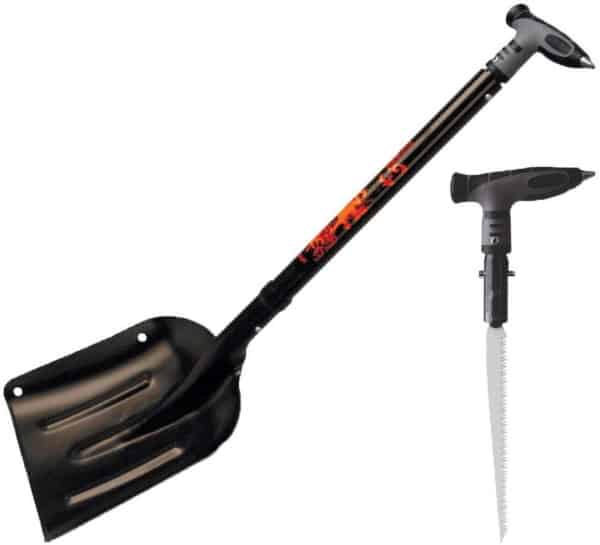 Extraction Mats
Even with a good shovel, your loved one might still have trouble getting off of an icy trailhead.  Help them out by giving them the gift of an extraction mat.  An extraction mat usually comes in the form of a hard plastic mat that is placed underneath the wheels of a stranded vehicle.  This mat provides extra traction the tires can use to help get out of snowdrifts and off of icy surfaces.
These mats aren't restricted to just snow either.  You can use an extraction mat in mud and sand so it is a gift that can be used year-round.
One set of traction mats to consider is the MAXSA Snow Vehicle Extraction Traction Mats.    These mats are four feet long so they provide ample space for getting out of snow-covered parking spaces.  Also, the mats are built to connect to each other, so they don't take up as much space as some of the other extraction mats on the market.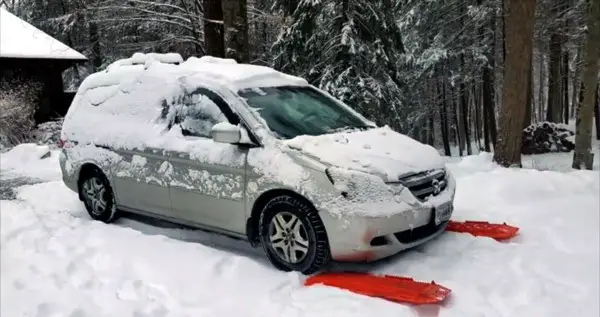 An Insulated Cup
There is nothing more comforting than to sip on a warm cup of coffee or even water for that matter, while out on the trail.  The problem is, of course, that coffee doesn't stay warm for very long while out on a snowshoe trail.
Get your loved one an insulated cup and their beverages can stay warm for four to six hours.  This is perfect for people heading out on day hikes or even for those backpacking with instant coffee and a camp stove.
For driving around or spending time outdoors in mild weather, I usually just use an old Thermos.  However, snowshoe conditions often call for a more heavily-insulated cup.
The Hydro Flask Water Bottle is better suited for snowshoeing as it can keep 32 ounces of liquid hot for up to 12 hours.  It's made from stainless steel, so you don't have to worry about BPA or phthalates.  It's also incredibly durable and the manufacturer is so sure that it will last that they offer a lifetime warranty on it.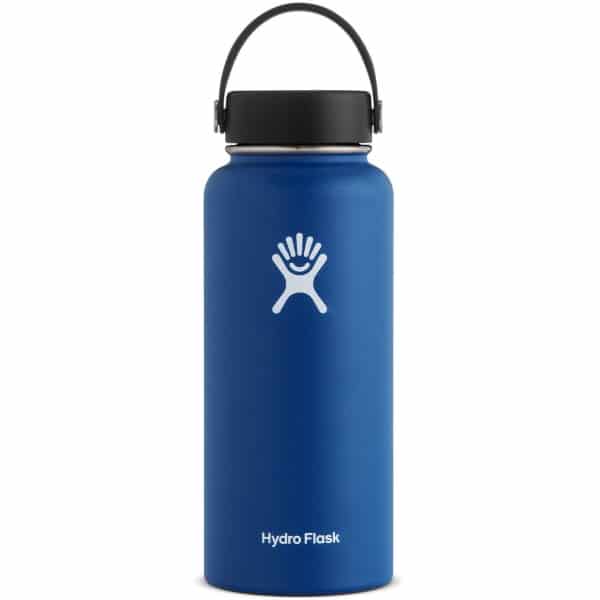 Final Thoughts
When buying a gift for the snowshoer in your life, these are great starting points.  From here, snowshoeing gifts can get quite expensive.
Once the snowshoer hits the backcountry and begins to overnight camp in the snow, they may need items like avalanche beacons and avalanche backpacks.  Just keep in mind that some of these items can cost hundreds of dollars, so if you're on a budget, you might want to start saving!