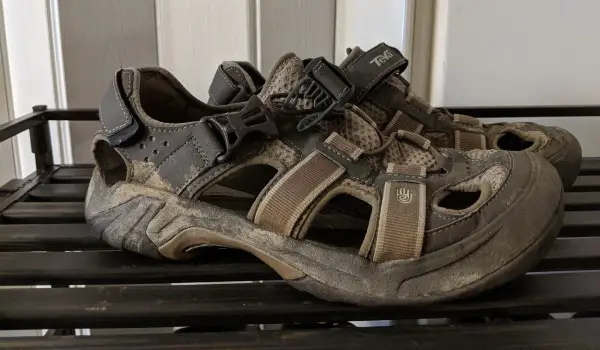 I heard about Teva hiking shoes years ago but was always hesitant to try them.  My main objection to them was my own vanity.
You see, one of the best pairs of Teva hiking shoes looks eerily similar to a pair of Crocs.  This kept me from considering them and I continued to go hiking in my trusty hiking boots and trail runners for many years.
About 5 years ago, things changed for me.  I was in a random shoe store that had a pair of Tevas and after seeing them in person, I decided to buy them and give them a try.
So, are Tevas good for hiking?  Teva hiking shoes are great for hiking in warm weather and through wet conditions.  They're great because they have a fantastic amount of traction on the sole and they are breathable and easy to clean.
Just to be clear, Teva does make hiking footwear that doesn't look like Crocs.  In fact, they make Teva hiking boots, Teva hiking shoes, and Teva hiking sandals.  And honestly, the shoes I once thought looked like Crocs wasn't quite so "Croc like" when I saw them in person.
Here is a quick review of some of the top Tevas that the company sells.
The Forebay
The Teva Forebay is a hiking sandal that offers protection for your toes and heels.  It also has a partially enclosed upper that provides support and protection while still allowing in plenty of air.
I love these hiking sandals because I can walk through streams, dirt, and even mud puddles without having to worry about them.  They naturally dry right out as you hike and when you're done hiking, they're easy to clean.  The traction on them is also pretty great so I never worry about slipping on a rock or tree branch as I navigate over or through shallow streams.
These shoes clean up easily too.  I run the hose over them to clean them at home now but when I lived in an apartment I found that they cleaned off just as easily with just a quick rinse in the bathtub.
As I'm writing this post, my Tevas are asking me why I didn't hose them off the last time I went out.
These shoes really came to my rescue the day that I accidentally stepped right into a pile of horse manure.  Any other pair of shoes would have had to have been cleaned vigorously by hand and then tossed into the washing machine but my Forebays just needed to be hosed off and tossed into a bucket of water and Dawn soap for good measure.
Another aspect of these shoes that I like is the way you put them on.  Instead of laces or traditional sandal straps, you make use of a web-like system at the tongue and a strap that locks in like the belts you find built into some pairs of hiking pants.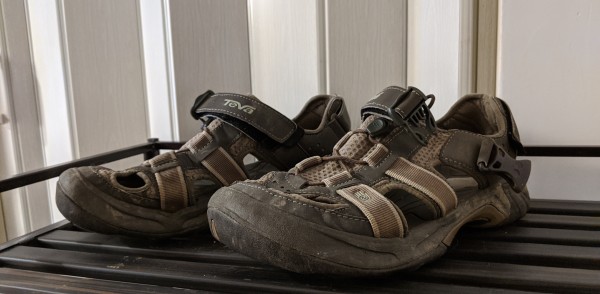 This makes the shoes really easy to put on and to take off and getting them to fit comfortably is incredibly intuitive.
The only drawback that I've found in these shoes is that they can give my Achilles and my toes blisters at the start of the season.  To get around this, I'll often wear socks with them on long hikes.
This stops the blisters and gives me the opportunity to wear them earlier in the season.  It also gives me the opportunity to look a little ridiculous but I'm OK with that as long as my feet are comfortable.
The Arrowood Riva
The Arrowood Riva is a hiking boot that comes in mid and mid-high models.  This hiking boot is made from thick full-grain leather and in my opinion, it's a lot more attractive than all of the other hiking shoes and sandals that Teva sells.
Normally, I don't like leather hiking boots as they tend to be heavy and hot but these boots are an exception.  Teva built a vent system into the boot that helps to keep your feet both comfortable and dry.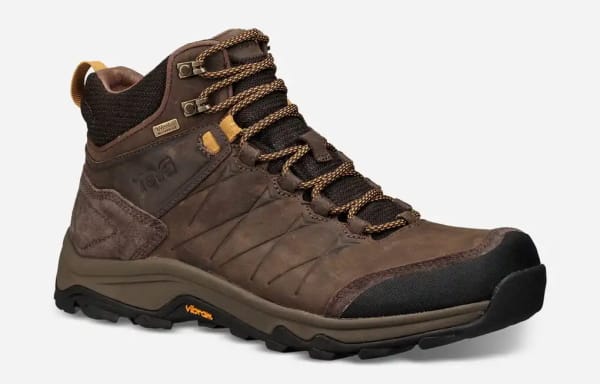 This venting system is built mostly into the tongue of the boot so you don't lose any durability and you end up with a more comfortable fit.  To provide even more durability, they've also added a rubberized toe cap.
The lower version also offers all of this technology but in a lower profile.  In exchange for more flexibility and less weight, you'll lose a bit of warmth as well as a bit of support at the ankle.  Of course, this can be said about any hiking shoe versus hiking boot so it isn't novel to the two Arrowood Riva models.
The Hudson
The Hudson is one of Teva's original minimalist hiking sandals.  It doesn't offer any additional toe or heel protection but it does have a thick sole with a lot of support.  This makes it a viable hiking sandal for tough terrains in warm climates.
These shoes definitely feel like hiking sandals on the trail but they don't look like them.  They're made from suede material and the only feature of them that really distinguishes their looks from more fashion-oriented sandals is the word Teva emblazoned in orange on the side of them.
The website says that a size 9 in men's or a size 7 in women's will weigh in at 12.5 ounces.  This makes them a nice lightweight option for backpackers who want to bring an extra pair of footwear with them.
Teva Competitor Comparisons
Teva isn't the only company that makes hiking sandals.
Here are two Teva alternatives that you might want to consider.
Tevas Vs Chacos
Anybody who's considering Teva hiking sandals will probably consider Chacos as well.  These two hiking sandals dominate the market and you really can't go wrong with buying either one of them.
My personal opinion is that Teva sandals look a little better which makes them a better alternative to Chacos for casual hikers and backpackers who want a mixed-use hiking sandal.
This being said, I think Chaco hiking sandals offer more traction and a thicker and presumably more durable sole.  If I were looking for a primary backpacking sandal to go on a thru-hike with, I might choose a Chaco over a Teva Hudson.  But again, either one should get the job done.
As for me, I'm sticking with my Teva Forebays as they're a really nice alternative to both true hiking sandals and hiking shoes.
Tevas Vs Keens
If you're looking for an alternative to the Teva Forebays, you might want to look into a pair of Keens.  The Keen Newport sandal has a similar build to the Forebay but with a lot more protection at the toe box.
While this does reduce some of the breathability of the sandal, it does make it more durable.  It'll also provide you with more protection as you hike over rocks and other land features.
I even find them to be more aesthetically pleasing when compared to the Forebays.  The downside is that they can cost about twice as much.  On top of this, the website says that a pair of them weighs in at 1 pound 12 ounces which are about 4 ounces more than the Forebays.
Final Thoughts
A good pair of Tevas are a joy to hike in and you can't go wrong buying a pair.