The question, "are Timberlands good for hiking", seems to come up a lot and I've seen a lot of answers that aren't exactly true.  I think the reason for this is that people are confusing Timberland work boots with Timberland hiking boots.
So, what's the real answer?  Are Timberlands good for hiking?
Timberland hiking boots are great for hiking.  They're often made using Gore-Tex which makes them both lightweight and breathable.
How do I know Timberland hiking boots are good for hiking?
I own two different pairs of Timberland hiking boots and I used to hike in them every day.  I also own a pair of Timberland work boots and a pair of Timberland boots that I'd consider more fashionable than anything.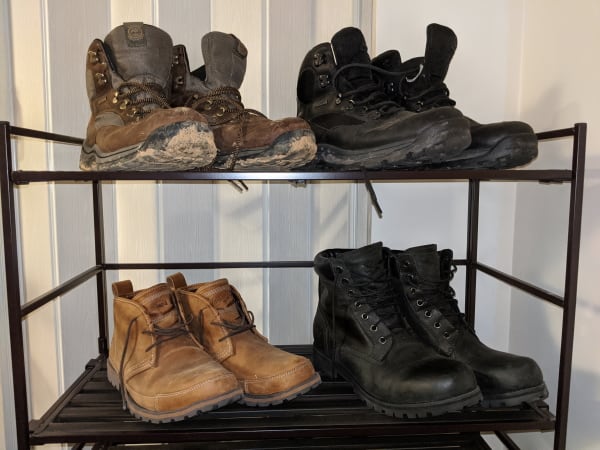 Timberland Boots You Shouldn't Hike In
Timberland does make many boots that aren't good for hiking.  Their work boots are heavy and are usually made of thick leather.  Hike in these and you're sure to get blisters.
Also, some of their boots have steel toe boxes.  These aren't good for hiking in general and can be extremely dangerous for hiking in cold weather.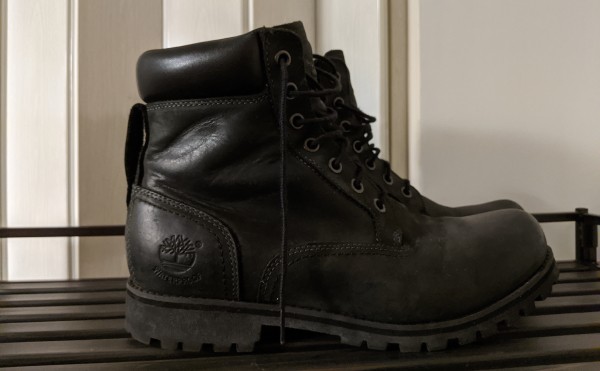 Never wear steel-toed boots in cold weather as they'll increase your chances of getting frostbite on your toes.
Timberland's more fashionable pairs of boots aren't good for hiking either.  The suede isn't going to survive a hiking trail and they won't be comfortable to hike in either.
Timberlands You Should Consider Hiking In
Timberland makes a lot of hiking footwear.  They make hiking boots as well as hiking shoes for both men and women.
Here are 5 Timberlands you may want to consider hiking in.
The Chocorua Trail 2.0 Hiking Boots
The Mt. Maddsen Hiking Boots
The Garrison Trail Waterproof Hiking Boots
The Garrison Trail Gore-Tex Hiking Shoes
The Garrison Trail Hiking Sneakers
Chocorua Trail 2.0 Waterproof Hiking Boots
These are by far my favorite hiking boots from Timberland.  They've been making the Chocorua Trail for well over a decade and I've bought multiple pairs over the years.
These boots are lightweight and I find them comfortable to hike in during the winter as well as the summer.  The reason for this is undoubtedly the Gore-Tex that's used in the boots.  It keeps your feet warm and dry while allowing sweat to freely move out of the boots.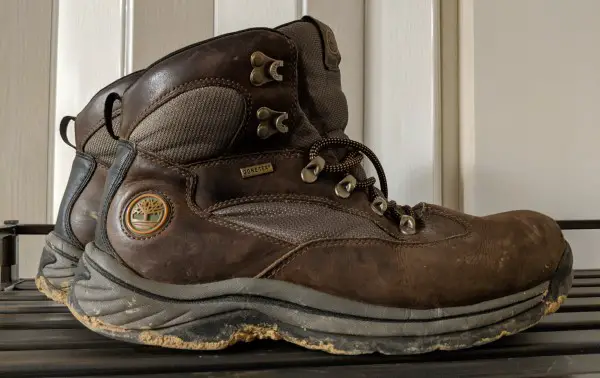 According to the manufacturer, each boot weighs in at 1 pound 6 ounces on a size 9.  I'm not sure how accurate this is though as my scale at home has my size 10s weighing in at 1.2 ounces each.
I found these boots to be comfortable as soon as I put them on and I never had to break them in.  They've never given me blisters or caused my feet any pain.
I've also never had any durability issues with them.  I even have a pair that are over 8 years old now and while they don't have a whole lot of tread left on them, they are still great boots for wearing on top of my snowshoes.
If I had to find fault with these boots, I would say that they don't hold their tread on concrete for as long as I'd like.  I bought a pair of these in black to wear for my walk to work in the winter and I noticed that after a couple of seasons they weren't doing as well in the ice and snow.
This being said, they weren't really built for that, so I may have been asking too much of them.
Overall, I'd highly recommend these boots to anyone who is searching for a comfortable, lightweight, and waterproof hiking boot.
Mt. Maddsen Mid Waterproof Hiking Boots
If you're looking for a more traditional leather hiking boot, the Mt. Maddsen waterproof hiking boots may be just what you need.  These hiking boots aren't quite as breathable as the Chocorua Trail boots but they are a bit lighter and appear to be more durable.
According to the manufacturer, a size 9  Mt. Maddsen boot weighs 1 pound 1 ounce.
They're also less expensive, so you'll save about 25% by buying these over the Chocorua Trails.
These boots feature the same speed lace system at the top that the Chocoruas have and I think it's a great feature.  It makes putting on and taking off the boots easier.
At the end of a long day of hiking, you'll definitely be glad you have this feature on your boots.
With an upper that is made from leather, I think I'd be hesitant to make these my primary boots in warm weather but user reviews seem to be comfortable with them even in warmer weather.  Also, I'd imagine they excel in cooler temperatures.
Garrison Trail Waterproof Mid Hiking Boots
Timberland's Garrison Trail hiking boots are made using 50% recycled plastic.  The leather is made in a tannery that has been built to maximize energy and water use while reducing the production of waste.
This means you'll have a head-start on "leave-no-trace" before you even hit the trails.
The Garrison Trails are designed to be more rugged than some of their other hiking boots and they have some serious tread on the bottom of them.
The shape of them is unique in that the upper almost looks like an Air Force One.  This gives them a decidedly modern look but if there is any question as to whether or not they're actually hiking boots, it's answered with the word "Trail" emblazoned at the top of the boot.
I really like the look of this boot but I'm not impressed with the colors.  They seem a bit over the top and the fact that someone would make a trail shoe in white is baffling to me.
This being said, I really like the one in all black and I think most people would agree.
Garrison Trail Gore-Tex Hiking Shoes
The Garrison Trail Gore-Tex hiking shoes feature my favorite outdoor material.  In case it isn't obvious, this would be Gore-Tex.
These hiking shoes are also made to be environmentally friendly and a significant amount of recycled plastic is used in its construction.  It has a Gore-Tex bootie and an upper made with leather.
This helps to keep the shoe lightweight and breathable without sacrificing durability.  The shoe also has a thick sole with a solid amount of traction built into it so you shouldn't have any trouble navigating tough trails with these on.
The colors are a little bit funky and you'll definitely be a walking advertisement for Gore-Tex and Timberland when you wear them but they do have a nice sporty look to them.
I'd classify these hiking shoes as decent 3 or even 4 season hiking shoes that should offer you a lot of miles throughout their life.
Garrison Trail Hiking Sneakers
The Garrison Trail hiking sneakers have a lower profile than the Garrison hiking shoes and they consist of more mesh material in the upper.  The manufacturer doesn't list specific weights for these shoes but I'd imagine they are lighter than the hiking shoe version.
These sneakers come in a few multicolored versions as well as a muted black version.  If you'll be hiking or running through dry trails you can probably choose whichever model you like, but keep in mind that the soles will be white when you get them.
Buy the sneakers instead of the shoes and you'll save a bit of money and some weight.  You may also have a better time with them in warm weather as the mesh upper should be more breathable.
Additional Questions
Can you use Timberland work boots for hiking?
Don't use Timberland work boots for hiking.  They're too heavy and they won't be nearly as breathable as a good pair of hiking boots.
This means you'll sweat more, you'll be more likely to develop blisters, and you'll be miserable by the time your hike ends.
Are Timberland 6 inch boots good for hiking?
Timberland's 6-inch boots aren't designed for hiking and I wouldn't recommend doing so.  If you really want to hike in a pair of Timberlands, buy the ones they make specifically for hiking – your feet will thank you for it.