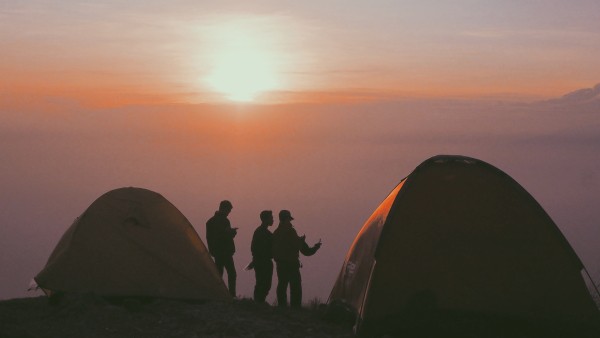 According to studies done by outdoorindustry.org, family camping is the most popular type of camping there is.  Just about 91% of campers have children that they bring along with them.
The camping industry has taken notice of this and they've created some great family tents for camping.  In this post, I'll review them for you.
Without further ado, here are the best tents for families.
10 Person Instant Dark Room Cabin Tent by Coleman
Coleman's Instant Dark Room Cabin Tent is a great family tent for people with young children that will need to take naps during your camping trip.  It blocks 90% more sunlight than a standard Coleman Instant Tent so not only will you be able to sleep in each morning, you'll also have the option of taking naps with the little ones each day.
This darkening feature has a side benefit as well.  The material that is used is designed to keep the sun out so your tent won't heat up quite as bad.  This makes nap time a lot more realistic during the heat of a summer day than it would be with any other tent.
The tent isn't just for people with young children though.  Its two-room design makes it great for parents who have children that are old enough to want to stay up late.
Just set up the room divider and they can stare at their tablets and phones late into the night without keeping you and the younger children awake.
If the older kids are out after dark, they'll have an easy time finding the tent without tripping over the guy lines as they come in reflective material.  This is nice since it saves you from having to add reflective material to the guy lines yourself.
Being an instant tent, this model is easy to set up but you'll have to put the rainfly on if you expect to be fully protected from rainy weather.  Unlike some of the other models, the rainfly is included with this one.
Reasons to Buy the Coleman Instant Dark Room Tent
Quick set up.
Darkroom technology.
Two rooms.
Reflective guy lines.
Core 9 Instant Cabin Tent
The Core 9 is the opposite of the Instant Dark Room Tent.  I like it because it offers a lot of visibility.
With a front that completely opens up, two large windows on each side, and one large window at the back, you shouldn't have any trouble keeping an eye on everyone.  Combine the windows with the mesh roof and you'll have plenty of airflow while doing so.
Of course, the mesh roof also means that you'll have to put the rainfly on or the tent won't be waterproof at all.  Even so, the tent can be set up in under 5 minutes with just one person.
Here is a good video that shows how easy it is to set this tent up.
As you can see, the entryway makes it easy to move gear in and out and there is even a room divider you can place in it for additional privacy.
The center has a hoop for hanging a tent light and there are a few additional areas for storage built into the side of the tent as well as an electrical cord access port.
Reasons to Buy the Core 9 Tent
Large entryway door.
Plenty of windows.
Great airflow.
Easy setup.
The Eureka Copper Canyon 12 Person Tent
Eureka makes the Copper Canyon in a few different sizes but the 12-person model is one of the largest.  Its dimensions are 14 feet by 12 feet and it weighs in at almost 39 pounds.
This tent was built for car camping and the zippered power port makes it really easy to send an extension cord through the tent without compromising it.
The tent has a standing height of 7 feet, which is taller than both of the other models we reviewed earlier.  Inside, there are two doors, six windows, two gear lofts, and six storage pockets built into the tent.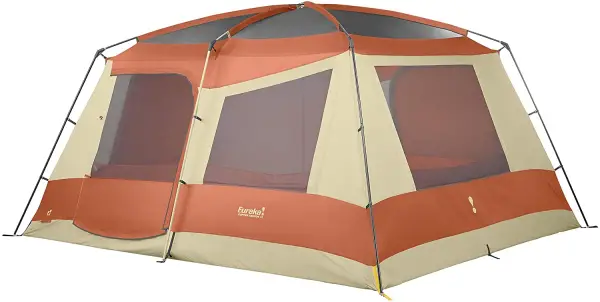 There is an included rainfly and you'll definitely need it if you want to keep the tent dry during a rainstorm.  Luckily, if it does rain, you'll be in a tent that is larger than some people's living rooms.
The only real downside to this tent is that its size could be an issue.  This is a big tent and it isn't going to fit in a small campsite.
Also, it doesn't go up as easy as some of the other family camping tents so you may want to practice with it at home before you head out to the campsite with it.
Reasons to Buy the Eureka Copper Canyon 12
It's BIG.
It has two doors and two rooms.
There are a lot of additional storage options built into the tent.
The extension cord zipper makes modern car camping even easier.
REI Co-op Base Camp 6
As I mentioned in my post titled, "Are Instant Tents Good", instant tents make setting up easy but they can be problematic in extreme weather.  For this reason, I included the REI Co-op Base Camp 6 on this post.
This tent isn't going to go up instantly and you won't have as much space as you would with some of the other tents, but you'll fare better in windy and rainy weather with it.
It's a dome tent and it has a sleeping capacity of 6.  Realistically, you'd be better off with about four people instead.
If you have a larger family, get a second tent and let the older ones sleep in it.  This way, you'll all have more room and you'll all be happier.
I like that the tent is full of built-in storage and that it includes a nice center hoop for hanging a tent light or fan.  This tent comes with a serious rainfly with a great vent system that can be operated from inside and I'd trust sleeping in it during a heavy downpour.
Reasons to Buy the REI Co-op Base Camp 6
It performs well in wind and rain.
It offers ample storage.
The vent system is great for reducing condensation.
There are reflective trims built into the tent to help you see it easier at night.
KingCamp Oversize Extra Wide Portable Privacy Shelter Tent
One tent that can't be overlooked when family camping is the privacy shelter tent.  This tent gives you the ability to bring a portable bathroom with you on your trip.
It's a real life-saver when you or your kids have to go to the bathroom in the middle of the night and you don't want to have to make the dark and cold walk to the bathrooms or even to the treeline.  It can also be used as a place to get dressed in or even to take a camp shower.
I like the KingCamp because it's large enough that a parent can take their child into the tent to help them "go potty".  Even if you don't have young children camping with you, the KingCamp is still a great privacy shelter option.
The large size will make showering, changing, and even using the toilet much easier and you'll be able to store more toiletries in this tent than you would in a smaller privacy tent.
Reasons to Buy the KingCamp Oversize Extra Wide Portable Privacy Shelter Tent
You don't want to have to go to the campground bathrooms all the time.
The tent offers more room than most privacy tents.
There are built-in storage areas and even a place to hang your towel inside.
Built-in windows make the tent easy to vent when not in use.
How to Choose the Best Family Camping Tent for You and Your Family
The tents above are all great family camping tents but the best family tent for you could be different than the best family tent for someone else and their family.
Here are some questions you should ask yourself before committing to any of the tents above.
How Much Space Do I Really Need
Tents are often rated to sleep more people than is comfortable for that tent.  This means that your 6-person family tent probably isn't going to comfortably sleep, 6 people.
Personally I probably wouldn't want to sleep in a six-person tent with more than four people.
On the other hand, sometimes people bring massive family camping tents meant to sleep 12 people when they only have three.  While this might be more comfortable, it could make setting up camp difficult.  Some camping areas have tent size restrictions too so you might want to think about the areas you'll be camping in before you decide to buy a giant tent.
If you aren't quite sure where you'll be camping yet but you're itching to buy a tent, my advice would be to keep your tent size down below the 12-person range.  A large nine or ten person camping tent will still offer a lot of room and you'll likely be able to set it up in most state and national parks as well as family campgrounds.
How Much Help Will I Have Setting Up
Families with older children will have help setting up their tents.  This means they won't be restricted to instant tents and will be able to camp in places with high winds and heavy rains.
Newer families with young children might leave the set up to just one adult while the other watches the children.  In this case, you'll definitely want to go with an instant tent.
How Much Room Do I Have in My Vehicle
A large instant cabin tent can take up a lot of room in your vehicle.  It can also weigh a lot as well.
Always be sure to check the size of the tent's closed dimensions before buying as some tents might be difficult or even impossible to fit inside of smaller vehicles.