Let's give a cheer for budget car camping gear!  Sorry I just couldn't resist.
One of the great aspects of car camping is that it can be as cheap or expensive as you want it to be.
In this article, I'll go over buying budget car camping supplies without sacrificing any of the must-have car camping equipment that you need to have a good trip.
I'll give you the three best options in order of price so that you'll be able to decide how cheap you really want to go.
Here are the items we will cover:
Budget Car Camping Gear Checklist
Shelter
Warmth
Lighting
Refrigeration
Cooking
Eating
Safety
Camp Shelter
The first item on our list is shelter.  Most people would consider a small tent to be the cheapest form of shelter you could use when camping.  If you're camping someplace warm, dry, and windless, you can really get away with buying the cheapest tent you can find.
Otherwise, you may want to look for a small pole tent with a nice rain fly.  This won't be the easiest tent to put up and it won't be lightweight, but it will help keep you warm and dry throughout the night.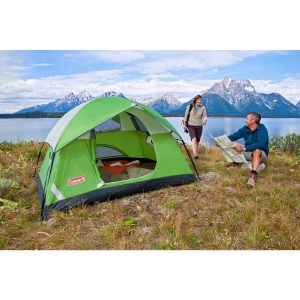 Shelter Option 1 – $40.00
Your next option is to get rid of the tent altogether and sleep under a tarp.  A tarp will help keep light rain off of you and will cut down on the wind.
Just keep in mind that heavy rain will soak the ground and you'll need to sleep elevated off of the ground to stay dry.  Buying a tarp and a cot could be more expensive than simply buying a tent.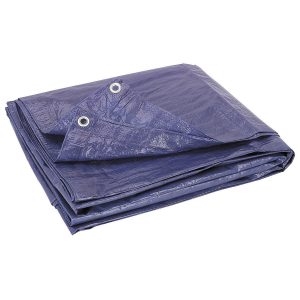 Shelter Option 2 – $4.00
The last inexpensive car camping idea is to just sleep in your vehicle.  Your car or van will provide more protection against the elements than any tent ever could and you won't have to buy anything.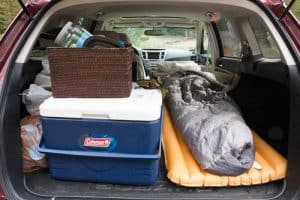 Shelter Option 3 – Free
Keeping Warm
When I talk about staying warm while car camping, I specifically meanwhile you are sleeping.  Sleeping bags can be dreadfully expensive, but they can also be had at very reasonable prices.
Keep in mind that you will be driving to your camping destination, so you don't have to buy a lightweight sleeping bag.  Also, if you're a summer camper, you don't have to buy a very warm sleeping bag.
In fact, if you wear enough clothes to sleep, you can get away with a cheap sleeping bag even when camping in the Spring or Fall.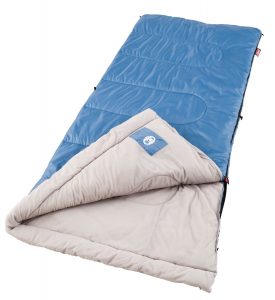 Warmth Option 1 -$20.00
The next option is to skip the sleeping bag and just bring some blankets from home.  Blankets work just as well in a tent as they do in a house.
Just make sure you wrap the blanket around you so that there is some space between you and the ground.  The cold ground is known for stealing the warmth right out of a sleepy camper.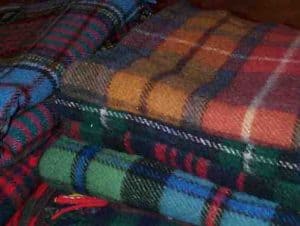 Warmth Option 2 – Free
If you're on an extreme budget and it isn't very cold, just sleep in your clothes.  I've slept outside in the summer with nothing more than a sweatshirt and was more than comfortable.  In the morning I was ready to go and didn't have to worry about rolling up a sleeping bag or putting blankets away.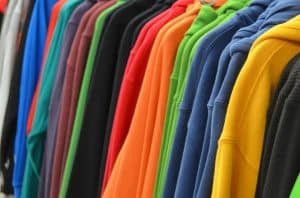 Warmth Option 3 – Free
Camp Lighting
An led lantern is so useful and so inexpensive that it doesn't make any sense not to add one to your list of budget car camping gear.  Buy a lantern that can also be used as a flashlight and you'll have a multi-purpose light to use throughout your camping trip.
Lighting Option 1 – $9.00
Another option would be to buy an inexpensive led tent light.  You can find these at stores like Wal-Mart for less than $10.00.  These lights are great for hanging in your tent and are small enough to flip sideways to use as a flashlight.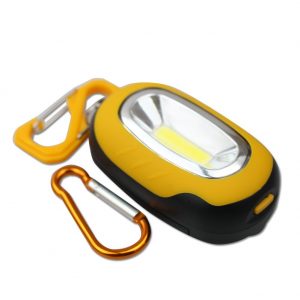 Lighting Option 2 – $5.00
Of course, you could skip the lantern and tent light altogether and go with a cheap flashlight.  Buy your camping tarp from Harbor Freight with a free flashlight coupon and you'll get two pieces of budget car camping gear for the price of one.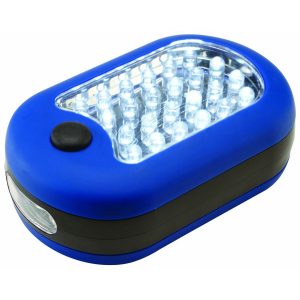 Lighting Option 3 – Free
Refrigeration
Yeti coolers are great, but you don't need to spend $300.00 to keep your food cold over the weekend.  A marine cooler can be a budget-friendly cooler that can easily keep your ice-cold even on a hot and sunny summer camping trip.  The Coleman 120 Quart Xtreme 5 Marine Cooler can keep ice for up to 6 days in 90-degree weather.  It's also large enough for a long weekend with the whole family.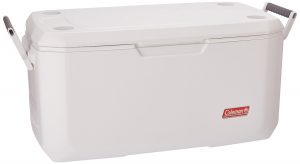 Cooling Option 1 – $78.00
Although a marine cooler is a great buy, it still isn't exactly cheap.  For this reason, you may want to go with a cooler like the Coleman 48 Quart Cooler.
This cooler is the official cooler of the National Park Foundation and can keep ice for up to three days.  For only $27.00, you'll have cold food and a nice camp seat to use.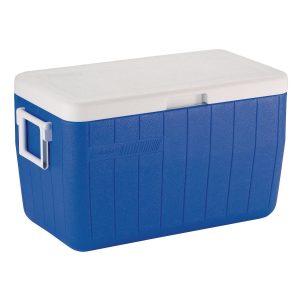 Cooling Option 2 – $27.00
If you're on an extreme budget, you can find small Styrofoam coolers at the dollar store.  These coolers won't hold a ton of food, but at a dollar each, you could always buy four or five of them to take with you.  Just keep in mind that these coolers probably aren't going to be ice cold over the weekend.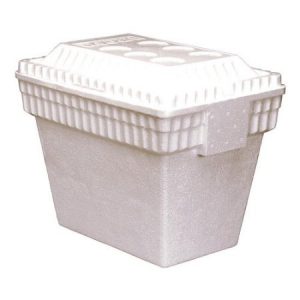 Cooling Option 3 – $1.00
Camp Cooking
A small butane stove can be had for around $20.00 This stove has one burner, but it is large enough to put a nice sized pan or pot on.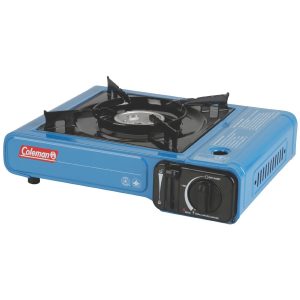 Cooking Option 1 – $20.00
Another option would be to buy a smaller hiking propane stove.  These stoves can usually be purchased for $10.00, but they won't hold a very large pot.  Expect to use this type of pan to boil water and not much else.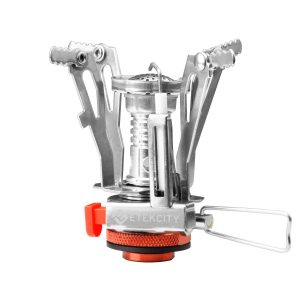 Cooking Option 2 – $10.00
The least expensive option would be to simply build a fire.  Most campgrounds will have a fire ring, but you'll have to check with the campground to make sure there are not any fire alerts in place.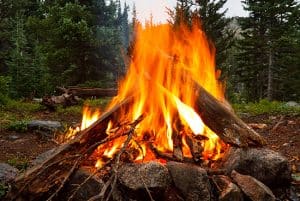 Cooking Option 3 – Free
Camp Eating
Even though you're out in the wild, you'll still want to eat like a human being.  Pots, pans, plates, and utensils will all need to be a part of your car camping gear.  Car camping gear for cooking can be purchased in small kits for as little as $17.00  A good kit should include a pot to boil water and soup, a pan to cook meals on, and a spork to eat with.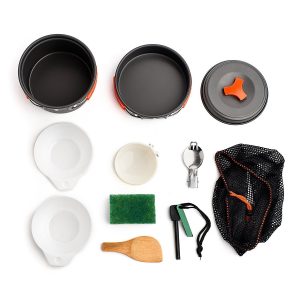 Camp Eating Option 1 – $17.00
Another way to go would be to bring pre-made food and eat off of paper plates with plastic cutlery.  For about $3.00 you could buy a pack of plates and a small assortment of cutlery and even have some leftover for your next trip.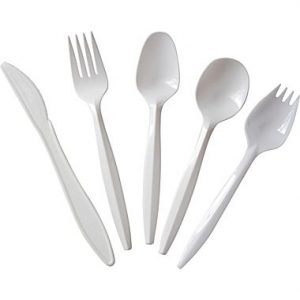 Camp Eating Option 2 – $3.00
Of course, you may be thinking why buy anything when I have perfectly good pots, pans, plates, and silverware in my kitchen?  If you are really determined to save money, this is exactly what you'll do.
Backpackers looking to carry everything they need for their camping trip on their backs are limited to what they can bring.  However, if you're car camping, the only limit you have is the size of your vehicle.  If you have space, go ahead and bring your entire kitchen camping with you if you like.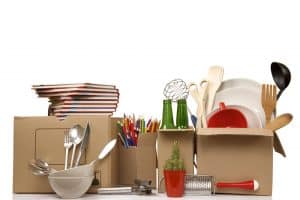 Camp Eating Option 3 – Free
Camp Safety
A first aid kit is an essential part of a car camper's camping gear.  Not only this, but it really isn't something you should be too frugal with.  If you don't already have a first aid kit, just make sure to get a kit that covers all of the essentials.  For as little as $15.00, you can get an all-purpose first aid kit that has all of the basics.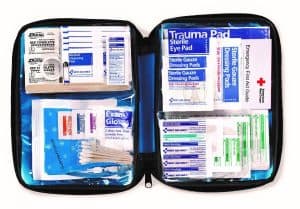 The Only Option – Spend a little bit of money and keep yourself safe. – Kits really don't cost that much.
Budget Car Camping Gear Break-down
Now that we have all of the options laid out, let's look at how much you would spend if you went completely with options 1, 2, or 3.
Option 1 – With option 1, you'll end up spending $199, but you'll have a tent, a sleeping bag, a camping lantern, a marine cooler, a butane camping stove, a cookware kit, and a first aid kit.
Option 2 – With option 2, you'll end up spending $64, and you'll go camping with a tarp, blankets, a tent light, a standard cooler, a backpacking stove, paper plates, plastic cutlery, and a first aid kit.
Option 3 – With option 3, you'll spend $16, and you'll sleep in your vehicle in your clothes with a small flashlight, and a Styrofoam cooler.  You'll use your kitchen's pots and pans to cook your food over the campfire.
All of these options are quite do-able and can provide a fun car camping experience.  Also, keep in mind that you can mix and match each option to come up with the best budget car camping gear for your particular needs.