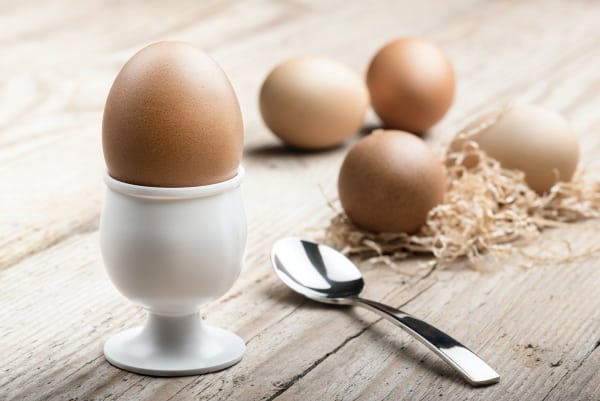 I eat an egg almost every day.  I eat them when I'm at home, I eat them when I'm car camping, I eat them when I'm canoe camping, and I've even been known to eat them on backpacking trips.
At this point, you're probably wondering how I do it.
Maybe you're asking, can you put eggs in a cooler?  The FDA states that uncooked and untreated shell eggs should be stored at a temperature of 45 degrees Fahrenheit or below.  Eggs that have been cooked need to be kept at temperatures of 41 degrees and below.  Tests have shown that coolers can achieve these temperatures so it's certainly possible to keep eggs in a cooler.
Just how long you can keep your eggs in your cooler will be determined by a few different factors.  The size of your cooler, the amount of ice in your cooler, the type of cooling used in your cooler, the type of cooler you have, and the weather can all play a role in how long you'll be able to safely keep eggs in your cooler.
Let's take a closer look at how to stay safe while eating eggs in the outdoors.
Keeping Your Eggs Cool
The key to keeping your eggs cool is in buying a decent cooler to keep them in.  You'll know your cooler is still working well if it's ice is still holding solid.
People over at CoolersonSale.com ran a test a few years ago to compare how long 20-pound bags of ice would last in a wide variety of coolers.
Here is what they found:
| | |
| --- | --- |
| Cooler | Results |
| Grizzly 20Q | 4+ Days |
| Engel 25Q | 4 Days |
| Canyon 35Q | 4 Days |
| Grizzly 40Q White | 3.5 Days |
| Grizzly 40Q Tan | 3 Days |
| Siberian 40Q | 3 Days |
| Igloo Sportsman 40Q | 3.5 Days |
| Pelican ProGear 45 | 3.5 Days |
| Orion 45Q | 3.5 Days |
| K2 Summit 50 | 3 Days |
| Engel 50Q | 3.5 Days |
| Black Rock 52Q | 3 Days |
| Eddy Gear 52Q | 3.5 Days |
| Pelican Tailgating 55Q | 2.5 Days |
| Orca Cooler 58Q | 3 Days |
| Siberian Cooler 80Q | 2 Days |
You can see each cooler's progress by watching the video below.
As you can see, they run the heat guns through pretty fast on the video but if you pause things you'll see that as long as there is ice in the cooler, the interior temperatures all seem to stay well below 41 degrees.
Keep your cooler in the shade while you're camping and your ice should last even longer.
Storing Your Eggs In Your Cooler
One of the easiest and safest ways to store eggs in a cooler is to buy a plastic egg container made for camping.  They don't cost much and they'll keep your eggs from breaking and leaking all over your cooler.
This is the exact one that I bought over five years ago and it's still going strong.  https://amzn.to/34ZoylJ
Alternatively, you could cook your eggs in advance and pack them in ziplock bags or plastic containers.  Personally, I like to make egg muffins.  They reheat quickly and they'll stay fresh inside the cooler for 2 – 3 days.
Another option is to beat the eggs up and then place them in a jar or plastic water bottle.  I prefer a jar because then I can drop in cut up bell peppers and any other vegetables I have on hand.  With a standard plastic water bottle, you'll have to go with a plain old scramble.
Packing Eggs That Don't Require Refrigeration
Did you know that fresh, unwashed eggs don't need to be refrigerated?
The reason we refrigerate them in the United States is that eggs are all washed before they are sold.  This is good because it washes off chicken poo and anything else that might have gotten on them, but the downside is that it also washes off the egg's natural protective layer.
Buy unwashed eggs straight from a local farmer and you won't have to worry about keeping them cool.  According to tests done by MotherEarthNews.com, these eggs will stay fresh at room temperature for at least a few weeks!
Dehydrating Eggs for Camping
Dehydrated eggs are another form of eggs that don't require refrigeration.  They're good for making camping meals and they're great for making backpacking meals.
You can dehydrate eggs yourself with a food dehydrator or you can buy pre-made dehydrated eggs from a wide range of companies online.  They may cost you a bit more but you'll save money on ice and you won't have to wonder whether they've gone bad or not.
Just be careful which brand you buy as some brands will recommend refrigerating after opening while others will not.  Alternatively, you could get around this by purchasing single-use packages of dehydrated eggs like the ones you find in most backpacking meals.
One of the last times I went canoe camping I ate this breakfast skillet meal with shredded potatoes, scrambled eggs, and pork sausage.  I would have rather of had a fresh egg but this wasn't bad and it was easy to pack.
Summing It All Up
You can put eggs in your cooler for camping.  They'll last in there for as long as you can keep your cooler colder than 41 degrees Fahrenheit.
If you can't achieve this, don't give up on eating eggs.  You can still pack dehydrated eggs and they'll still taste great.