The adventure of a lifetime by Lester Harper. Car camping equipment isn't just for recreational campers.
Before heading out on an adventure or just setting out across the country on a move, it is imperative to plan your trip accordingly.
As for my family and I, we set out a year ago to move from West Virginia to Texas.
Our trip had to be planned down to the finest of details.
We were on a tight budget with eight of us traveling in two cars and a twenty-eight-foot moving truck trekking over a thousand miles.
In order to save money on hotels and other expenses, we decided to camp along the way.
In this article, I want to cover some of the car camping equipment you will need to make even the simplest of journeys.
Essential Car Camping Equipment Checklist
Tent
Sleeping Bag
Cooking Equipment
Utensils
Cutting Tools
Light Sources
First Aid Kit
The Tent
One of the first pieces of equipment we considered dealt with the issue of where we will sleep. For us, we opted to bring a compact set up that would not take up a lot of space in our already overcrowded vehicles.
We chose to bring with us two tents, both of which were your standard inexpensive pop-up tents. We chose these because of cost and ease of setting up and tear down.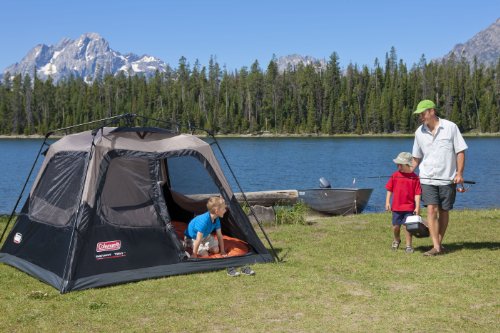 There are numerous styles of tents to choose from: pole tents tend to be bulky and heavy, pop-up tents are compact and portable, there are even tents that will set up out of the hatch of your SUV.
Take the time and research all that is out there to see which best suits your needs. You may not be on a tight budget like we were, and if you find yourself in this situation then the sky is the limit for tents.
For more information on choosing a tent, visit our page on choosing a tent.
The Sleeping Bag
For the second piece of car camping gear, we needed sleeping bags. After all, we have some shelter from the elements now it is time to protect ourselves from extreme temps and find some comfort.
For us, it was June and over 100 degrees in every state we camped in so a thick extreme cold temperature sleeping bag was definitely not needed. We opted for the lightweight Summer bags that would add some comfort to where we slept and protect us in case the temps dropped a little at night.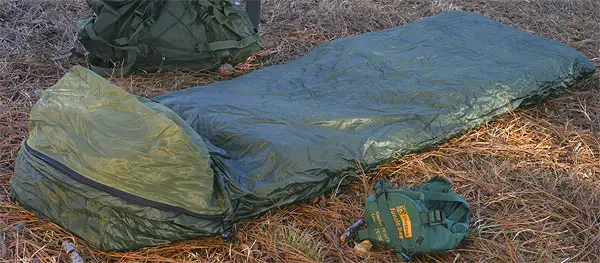 If you are traveling through the Northern states and the temperature is expected to drop throughout the evening then a good choice might be a sleeping bag that is rated for temps below zero. Use proper judgment by planning ahead and researching the weather before heading out on a trip.
Military-style sleeping bags offer a great multi-element to them, they have removable layers that will accommodate extreme cold weather to hot Summer weather.
The only downfall to these style bags is the price. Quality gear can be expensive but well worth the investment if you intend on making car camping a hobby.
Camp Cooking
We were now prepared to battle the elements of car camping with our new tents and sleeping bags but the question still remains as to how will we eat?
Now some of you as I said earlier may not be on a budget like ours. You may be traveling through areas where you can stop and eat at restaurants or other places, and there is nothing wrong with this as for us our budget was already tight.
As far as car camping equipment for cooking, we chose to bring with us a portable propane camp stove. You can find stoves like these that will be a great addition to any camping set up.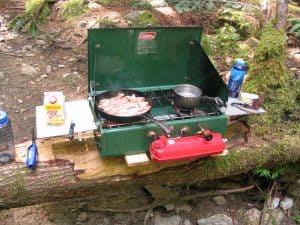 Along with the stove make sure you pack cooking utensils, pots, even a coffee maker. This stove will become crucial in boiling water for sanitation purposes, or just heating up some dinner.
Anytime you head out for a journey where you will be sleeping out in the elements, you should have a checklist of items that will be needed for everyday use.
Light Sources
Good light sources such as a rechargeable lantern, a good flashlight, or a headlamp will become your best friend on a dark night.
I prefer to pack any of my clothes or pillows in a vacuum sealed bag that I can easily stow away in a carrier, as well as save space.
First Aid Kit
Always bring a quality first aid kit along on your journey into the wilderness. The time may arise when you need to bandage that wound or wrap a sprained ankle, always be prepared.
Cutting Tools
Do not forget to place a knife or a hatchet on your car camping equipment checklist for cutting campfire wood or kindling. There are some hatchets on the market today that will not only provide you with a blade for cutting but a hammer for driving in those stubborn stakes on your tent.
In Closing
The basics for car camping equipment can be as elaborate as the buyer would like, but it doesn't have to drain your bank account either. As a veteran of the military, I learned to pack light and only use the basics, you may want to be a little more luxurious in your experience.
In writing, this article I wanted to clue you in on some essential gear that would save you a lot of headaches as you travel and camp. For us, this was a one-time journey across the U.S.
It was a time for our large family to enjoy car camping at various locations in different states, to bond with one another, and most importantly have fun. For you, it may be a family vacation or a cozy getaway for the nomad at heart, whatever your purpose for car camping start with the fundamentals and then expand as you have the need.
The wonderful thing about car camping is that it is versatile. In a society driven by technology, and comfort take the time to enter into the wilderness and enjoy life!