The Shenandoah Valley is one of the most beautiful places in the United States.  Lucky for me, I got to experience it and test out my new Eureka Sunriver 2 at the same time.
In this article I'll review the Eureka Sunriver 2 Person Tent and tell you a little about my trip as well.
Test Conditions – The shoreline of the Shenandoah River
The trip started out with my brothers and I renting a canoe and a kayak from Down River Canoe Company.  We drove our vehicles to our campsite and then the nice people at Down River drove us to our launch site.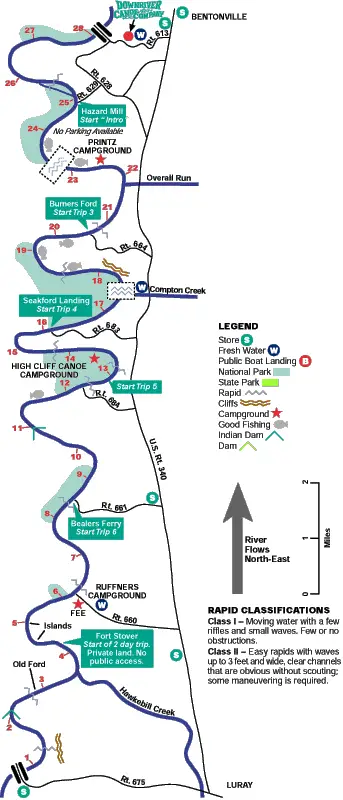 We launched our boats and spent the rest of the day floating back to our campsite.  It was a long day out on the river and although I had a lot of fun, I ended up coming back tired.
The first thing I did when I landed was to go to my car and grab my tent.  This tent is only 4 pounds and packs down to a size of 5" x 18", which meant I was able to grab all of my other gear as well.
In fact, one of the reasons I decided on this tent over some of the others is that the tent is small enough and light enough that had we decided on doing a longer trip, I could have brought the tent with us in the canoe.
Also, this Fall I'll be able to take this tent out with me on hiking trips as well.  This tent really packs up tight and I know I'll get a lot more use out of it than some of my larger tents.
The Eureka Sunriver 2 is also a breeze to set up.  To pitch this tent, all I had to do was to put 2 poles together and link them through some slots in the tent.  A couple of minutes of work and I had my tent set up by the river and ready to use.
Another aspect of this tent that I like is the fact that without the rain-fly, you really get a lot of airflow.  I ended up eventually putting the rain fly up for privacy purposes, but I can definitely see myself laying in it at a remote location without the rain-fly at all.  In fact, when I first set the tent up, I laid in it and gazed up at the stars through the mesh screening and had a fully unobstructed view.
Once I put the rain-fly up, I decided to hang my little tent light up.  The Sunriver has a small strap to hang a tent light and a small loft to put gear on as well.  I found that since the gear loft and tent light strap were in the same area, it didn't really make sense to use both at the same time.
The tent light I brought was just a small led one that I picked up at Wal-Mart a few years ago, but the bright green coloring of the Sunriver seemed to make the light really shine.  It was so bright inside that I was able to read a book before bed without any extra lighting.
Also, when I left the tent to visit the tree line, I didn't have any trouble finding my way back to my tent as it was lit up like a neon light.  This was a real advantage on this trip, but I could imagine some people may want a tent that is a bit more stealthy.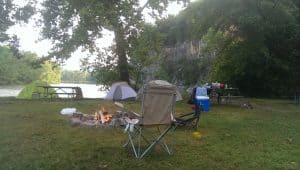 Advantages of The Eureka Sunriver 2 Person Tent
Lightweight
Compact Size
Ease-of-setup
Color
Cost
The only real issue I had with this tent was the amount of condensation that built up inside of it.  With the rain-fly on, you really don't have much in the way of air flow and the sides of my tent were soaked in the morning.
This being said, I didn't get any water on me and I think I could have reduced the amount of condensation by putting a footprint under the tent.  Also, this is a small tent and with small tents, you have to expect some condensation.
While we're on the subject of this being a small tent, you should realize that this tent is not going to comfortably sleep two people.  I'm about 5'9" and 150 pounds and I had plenty of room, but I didn't bring my gear into the tent.  I can't imagine successfully sleeping in this tent with another person, let alone another person as well as gear for 2 people.
Disadvantages of The Eureka Sunriver 2 Person Tent
Condensation
Color
Lack of a footprint
Final Thoughts
Overall I think the Eureka Sunriver 2 person tent is a great tent.  I plan on using this tent for hiking trips, canoe trips, and solo car camping trips.