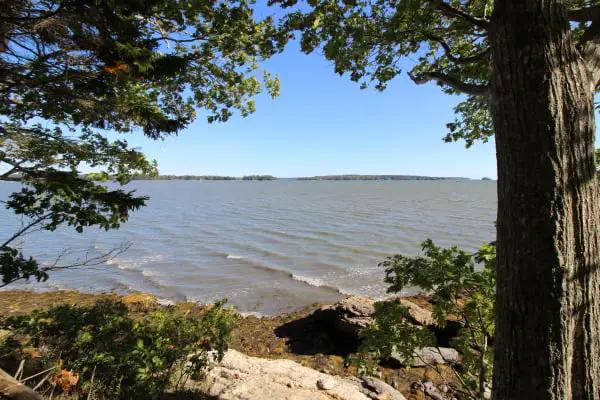 Wolfe's Neck Woods State Park in Maine offers a few nice and relaxing hiking trails to explore.  It's one of the places I got to hike through on my visit to Maine and I really enjoyed my experience.
Thinking about hiking there yourself?
Here is some information you might find useful.
Location and Hours
You can find Wolfe's Neck Woods State Park at 426 Wolfe's Neck Rd, Freeport Maine, 04032.  It sits at Lat 43.825823 / Lon -70.085570.
This is really close to the shopping areas so it's a great place to sneak off to when you're with somebody who likes to shop more than you do.  Also, you'll have plenty of places to stop and eat at after your hike so it's a good incentive to put a few more miles on your trail shoes.
The park's open year-round from 9:00 am to sunset.
The parking lot is easy to find and you pay to access the park through the honor system.  Basically, you put some cash in a box at the open gate and then you park your car.
There was plenty of parking when I was there and I wouldn't hesitate to bring a larger vehicle if I had one.
Amenities
The park has restrooms and clean drinking water.  It also has picnic tables and charcoal grills that anyone can use.
There are even group shelters that people can rent out for the day.  However, this is definitely a day-use only state park and you won't be able to rent spots there for camping.
Hiking at Wolfe's Neck State Park
The hiking trails don't pose much of a challenge and there aren't that many of them.  In fact, all of the trails combined only amount to 4.4 miles.
This could provide a few hours of fun for snowshoers but a hiker is likely to finish everything in less than an hour and a half.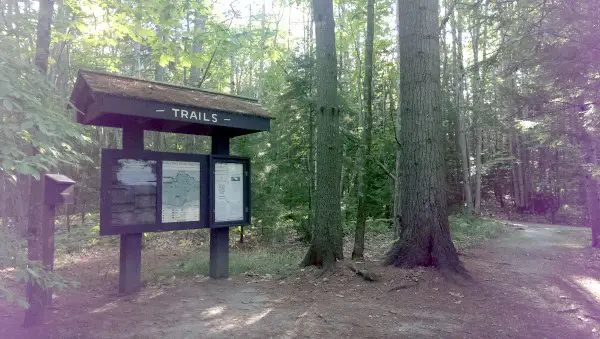 Don't let this discourage you from going there though.  The hiking trails are nice and they offer up nice wooded views as well as views of the Casco Bay.
There is even a nice overlook to relax on and the cool breezes that come off the water must feel fantastic on a hot summer's day.  On top of this, you'll have easy access to the waterfront where you can walk along the beach.
The above photo was taken in September and I had the area all to myself.  If I had more time, I think I would have been content just watching the water as the sun went down.
Osprey Viewing
I'm not a bird watcher but I'd imagine this is a great place for people who are.  There are interpretive trails with signs that talk about the local osprey and the other birds of the area.
There is also an Osprey viewing area and it's handicap accessible so you can bring everyone who wants to come.
Final Thoughts
Don't go too far out of your way to visit Wolfe's Neck, but if you're in the area plan to stop by.  You'll enjoy the short hikes and you'll get to relax in a nice setting with beautiful views of the water.