Pennsylvania has a diverse landscape with many opportunities for tent camping.  I've been tent camping all over the state.  I've done it along rivers, on islands, by lakes, in the woods, and even on farms.  Some camping spots were great and some were just so-so.  Which camping spots were the best you ask?
Here are the 10 best tent camping spots in PA.
Cherry Springs State Park
Cherry Springs State Park is located in Potter County Pennsylvania.  It only has 30 spots to camp and this is shared between RVers and tent campers.
There aren't any cabins, cottages, or yurts at this state park so you'll have to bring your own shelter.  Full-service hookups are not available but there are out-houses that you can use.
Activities at a Glance
Hiking – 1 Mile of Trails
There aren't any true hiking trails but there is a one-mile long exhibit that showcases the forest and general forestry practices.
Hunting – You can access hunting areas within the Susquehannock State Forest from the park but you cannot hunt within the park.
Star Gazing – There is an amphitheater at this park that provides education on star gazing.  The programs presented there are free.
The Woodsmen Show – This show is held every year in August.  It features lumberjack contests that include: tree-felling, log rolling, springboard chopping, standing block chopping, as well as chain-saw events.  The show has been around for almost 70 years now and attracts thousands of people each year.
What is Special About Cherry Springs
Cherry Springs doesn't really have places to hike, bike, kayak, swim, or fish, it does have one feature that most camping spots do not.  What is this feature?  A really dark night sky.
This state park is one of the best places to star-gaze in the United States.  At night, you can see over 10,000 stars with the naked eye.  If you've never had the pleasure of seeing the Milky Way or taking breath-taking night photography then this is the next place you should go camping.
At this point, you're probably thinking this is great, but what will you do all day while you wait for the stars to come out?  Luckily this state park is surrounded by a state forest that offers all the usual activities of hiking and biking.  Close by, you'll be able to take advantage of the Susquehannock Trail System of Potter and Clinton counties which offer up 85 miles of hiking.
This trail connects to several other trails including the Hammersley Wild Area.  Hammersley is one of the most remote and untouched areas of nature that you can find in Pennsylvania.
Prince Gallitzin State Park
Prince Gallitzin State Park is located in Patton, Pennsylvania.  It has 400 campsites which give it more campsites than any other state park in Pennsylvania.  There are spots for RVs and tents.  Electricity is available at the sites and you can even bring your dogs and cats along with you.
The bathrooms have plumbing as well as showers so you'll be able to camp in comfort.  This is important since there are many activities and opportunities to get dirty.
Activities at a Glance
Hiking – 32 Miles of Trails
You'll find 24 separate hiking trails at this park.  They run through different habitats with some running lakeside.  These trails can also be used for biking as well as horse riding.
Biking – Around the campground is an outer loop that consists of 2.3 miles of trails for cyclists to enjoy.
Mountain Biking – Cyclists with mountain bikes can take advantage of the snowmobiling trails which consist of over 20 miles of trails.
Horse Riding – Equestrian trails and riding stables near the park are available for riders of all skill levels.
Swimming – People can swim along Muskrat beach between may and Septemeber.  The beach is open from 8:00 AM to sunset each day.  This beach features a modern bathhouse as well as an area for dressing.
Boating – The park is home to Glendale Lake which is over 1,635 acres.  People can use boats with 20hp motors as well as sailboats.  You can bring your own boat to one of the nine public boat launching areas or you can rent boats from the marina.
Fishing – You'll find bass, bluegill, crappie, muskellunge, perch, pike, and trout in the lake.  You can also ice fish for crappie, perch, pike, and walleye during winter months.
Hunting – 5,900 acres are open to hunting, trapping, and dog training.  The most common game animals in this park are deer, turkey, and small game.
Disc Golfing – There is an 18-hole disc golf course located near Muskrat beach.  You can even pick up scorecards near the first tee.
Orienteering – There is an orienteering club which offers three different orienteering courses.  Maps, control cards, and answer codes can all be picked up at the park's main office.
Cross Country Skiing – 7 Miles of Cross Country Skiing Trails
Snowmobiling – 20 Miles of Snowmobiling Trails
Trails are available between December and April 1st.
Wildlife Watching – The large lake provides many opportunities to view waterfowl.  Wildlife viewing areas are also being created throughout the park.
What is Special About Prince Gallitzin
Prince Gallitzin has more to do in it than any other park.  It is hard to find a park with so many different opportunities to engage with the outdoors.  Combine this with an extraordinary number of campsites and modern amenities and you have a great place to take your family for vacation.
Parker Dam State Park
Parker Dam State Park sits on 968 acres of land in Penfield Pennsylvania.  It lives alongside Moshannon State Forest which holds 50,000 acres of wilderness that backpackers can use for hiking and wilderness camping.
There are 109 camping spots to choose from.  There are tent sites and RV sites as well as electric hookups.  The campsites are pet-friendly and there are shower facilities and bathrooms on site.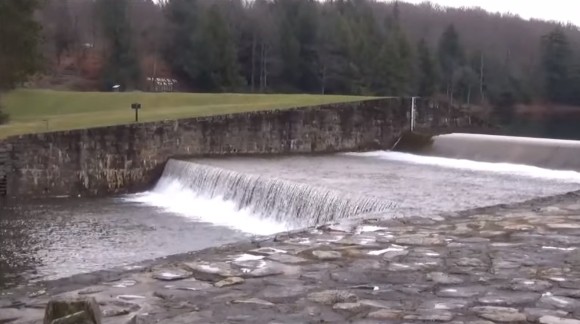 Activities at a Glance
Hiking – 16 Miles of Hiking Trails
Although there are only 16 miles of trails within the park, some of these trails lead out into the Quehanna Wild Area.  This area features 73 miles of wilderness trails that can take up to seven days to traverse.
Mountain Biking – There are multi-use trails that lead out into Moshannon State Forest which hold many more trails to mountain bike on.
Swimming – There is a sand beach that runs about five feet deep.  The beach is open from May to September and there are bathrooms and a snack bar located nearby.
Boating – The lake is 20 acres large and you can use boats with electric motors on the lake.  Paddleboats, canoes, kayaks, and rowboats can all be rented on-site.
Fishing – Bluegill, brown bullhead catfish, largemouth bass, and trout can all be caught within the lake.  Brook trout are stocked and trout can be fished for through the ice during ice fishing season.
Hunting – 807 acres of the park are open to hunting deer, turkey, grouse, bear, rabbit, and squirrel.  There is also a short season for training hunting dogs as well.
Geocaching – There are many different geocaches setup by the park.  These can be hunted for through basic orienteering as well as through more high-tech GPS scavenger hunts.
What is Special About Parker Dam State Park
This park is similar to Prince Gallitzin State Park in that it has a wide variety of activities.  The difference is that it is not nearly as crowded and it provided more opportunities for backpackers and wilderness campers to enjoy.
With this state park, you could go on a backpacking trip through the Quehanna Wild Areas and still be able to come back to take a hot shower within the campground.
Additionally, Pennsylvania elk can be found in the Wild Areas.  In fact, many people come to this area of PA just to view the Pennsylvania elk herds that can be found here.
The Allegheny National Forest
Allegheny National Forest is the only national forest located within the state of Pennsylvania.  Most of the trees in this area are less than 100 years old as this forest was once subjected to human deforestation.  Since then, the area has been resurrected as a forest that is teaming with wildlife.
According to the Forest Service, primitive tent camping within the forest is allowed almost anywhere unless signs have been posted saying otherwise.  You can legally stay in one area for up to 14 days.  If you'd like to extend your camping trip past this time period, you just need to move to another area for another 14 days.  After this, you can always go back to the first area for another 14 days.
Activities at a Glance
Hiking – 201 Miles of Hiking Trails
There are 201 miles of hiking trails spread out over 13 different trails that run through the Allegheny National Forest.  One of these trails runs a full 96.3 miles from start to finish and it is designated as a National Scenic Trail.
Wildlife Viewing – You can find black bear, deer, elk, and a wide variety of birds and other small animals within the forest.  In years past, there was talk of bringing red wolves into the forest to help keep deer populations down but this never came to fruition.  However, you will find coyotes in the area.
What is Special About Camping in The Allegheny National Forest
For starters, this is the state's only national forest.  It is mostly man-made and has a long history of human use.  This is BLM land and you can primitive camp throughout most of it.  In fact, if you've ever dreamed of moving into the forests of Pennsylvania, this would be the place to do it.
Nearby are many unique attractions with the Kinzua Bridge Skywalk being one of the most famous of all of them.  This skywalk was built from the remains of a train bridge that was partially destroyed by nature after the bridge was no longer in service.
Tioga State Forest
Tioga State Forest covers 161,890 acres across two different counties.  This forest is what is known as a "working forest" in that it is still actively being harvested in some areas.  Don't let this stop you from camping here though as there are many great natural areas to enjoy and camping opportunities can be found throughout the forest.
Some areas of the forest require you to get a free permit to camp while other areas do not.  This being said, it is best to get a permit no matter where you decide to camp as this will help to increase your safety as rangers will know where you are in an emergency.
Activities at a Glance
Hiking, Biking, Horseback Riding, Cross Country Skiing and Snowshoeing – There are over 100 miles of trails within this forest.
Rafting, Fishing, Canoeing, Kayaking – Pine Creek offers many miles of enjoyment for anyone who loves the water.
What is Special About Camping in The Tioga State Forest
Tiogo State Forest has over four different natural areas to camp in.  These are the Pine Creek Gorge Natural Area, the Black Ash Swamp Natural Area, the Reynolds Spring Natural Area, and the Asaph Wild Natural Area.
You may know the Pine Creek Gorge Natural Area as the Grand Canyon of Pennsylvania.  This area is registered as a National Natural Landmark and it offers spectacular views.  The gorge can drop to depths greater than 1,000 feet deep and is even wider than this in some areas of the gorge.
Gifford Pinchot State Park
You don't have to always go to the north of the state to experience great camping in PA.  Gifford Pinchot State Park is located in York County and it offers up 2,338 acres of enjoyment to outdoor lovers in the southern part of the state.
You can find 289 different campsites in Gifford Pinchot State Park.  Electric is available at campsites and a bathroom with showers is also nearby.  The park is pet-friendly and if you want to get away from tent camping for a while you can always rent an RV site, a cottage, or even a yurt.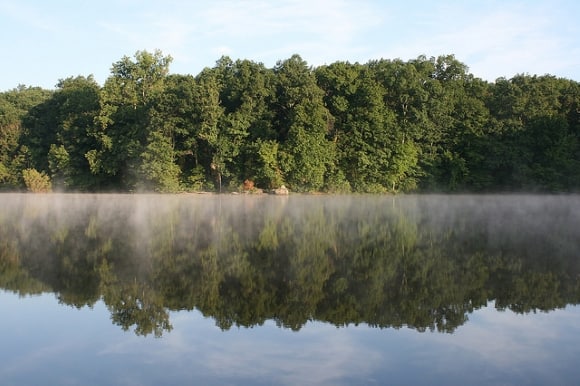 Activities at a Glance
Hiking – 18 Miles of Hiking Trails
There are 11 different hiking trails within the park.  Many of these trails are quite challenging and one of them leads out into the Mason-Dixon National Recreation Trail.  This trail is 200 miles long and runs through Delaware, Maryland, and Pennsylvania.  If you decide to through-hike the Mason-Dixon trail, the only public place to tent camp along it is Gifford Pinchot State Park.
Biking – 4 Miles of Biking Trails
Swimming – There is a swimming beach where you can rent boats.  A snack bar is located just off the beach.
Boating – The park is home to Pinchot Lake which is 340 acres large.  Only electric motors are allowed to be used.
Fishing – Lake Pinchot is home to carp, catfish, crappie, hybrid striped bass, largemouth bass, muskellunge, sunfish, and walleye.  You can also ice fish in the winter for crappies, largemouth bass, muskellunge, sunfish, and walleye.
Disc Golfing – There are two 18-hole disc golf courses.  One was designed to be easy and the other was set up to be more challenging.
What is Special About Camping in Gifford Pinchot State Park
This state park offers something for everyone and it is convenient for those of us that live in the southern part of Pennsylvania.  It has a full-service campground and connects to one of the largest hiking trails in the state.
It is also far enough south that our neighbors in Maryland can access and enjoy it.  From a personal standpoint, I live in PA and my brother lives in MD so this is a great place for us to meet up and camp out.
Seven Points Campground
The Seven Points Campground is located along the Raystown Lake which consists of 8,300 acres.  The lake is 27 miles long and provides a great place for boating, fishing, camping, hiking, and swimming.
This campground provides sites with and without electricity.  The sites are large either way and you can even choose sites with tent pads or platforms already on them.  Bathrooms with showers can be found on site.
Activities at a Glance
Hiking – This campground provides access to three separate trails.  The Allegrippis Trails, the Hillside Nature Trail, and the Old Loggers Trail.
Biking – Bikers can access the Allegrippis Trails which is a premier single-track mountain biking trail system.
Boating – The Seven Points Marina provides access to the lake where you can use your motorboat.  If you get tired of your tent, you can even rent houseboats to use on the lake.
Swimming – Seven Points has a nice sand beach for visitors to enjoy.
Water Sports – Because gas motors are allowed on the lake, you can water tube, water ski, kneeboard, and participate in whatever other water sports you'd like to engage in.
What is Special About Camping in Seven Points
This campground is not a state park and doesn't have all of the rules and regulations that you'd find in one.  Personally, I don't mind camping somewhere quiet where alcohol is not permitted but some people do.  If you'd like to get out camping while still enjoying a drink or two late into the night then this might be the place you're looking for.
There are plenty of outdoor activities to enjoy here without giving up modern amenities.  I'd compare it to living in the suburbs versus the city or the country.  You get some of the benefits of both without the full benefits of either.  A nice compromise for casual campers to enjoy.
Hickory Run State Park
Hickory Run is located in White Haven, PA.  It is at the bottom of the Pocono Mountains and consists of almost 16,000 acres.  Among the states eastern parks, it has the most campsites totaling 380.  There are spots for RVs and tents and you can get electric at these sites.  Many sites are also pet-friendly so you can go camping with your dog.
There are three other state parks and a state forest located nearby so if you get bored of Hickory Run you can always pay a visit to them as well.  The AT runs close by as well so hikers can head out on the Appalachian Trail as well.
Activities at a Glance
Hiking – 44 Miles of Hiking Trails
There are a total of 24 trails, meaning many of these trails are short.  However, some of these trails are challenging and you're sure to have a lot of fun on them.
Swimming – There is a sand beach at Sand Spring Lake.  A snack bar is on-site.
Fishing – Some streams are catch and release only while other streams are stocked with brook and brown trout.  However, there are many nearby fishing opportunities along the Lehigh River.
Disc Golfing – This park has a 19-hole disc golf course.
Orienteering – The Delaware Valley Orienteering Association and the Pocono Orienteering Club have gotten together to create three permanent orienteering courses.
Geocaching – Geocaches are located throughout the park.  If you get permission from the park office, you can even put together your own geocache.
Cross-country Skiing – There are 14 miles of cross-country skiing trails.
Ice Skating – Ice skating is allowed on Sand Spring Lake.  Just keep in mind that the ice thickness is not monitored and it is recommended that you wear a life jacket.
Snowmobiling – There are 21 miles of snowmobile trails at the park.
What is Special About Camping in Hickory Run State Park
This is one of the best centrally located state parks on the east side of Pennsylvania.  It is surrounded by other state parks and it is within a reasonable distance to Philadelphia.
Of course, the park also has its own unique features that make visiting it for its own sake fun as well.  It is home to Boulder Field, Sand Spring Lake, and a large number of hiking trails.
Ricketts Glen State Park
Ricketts Glen State Park is over 13,000 acres large and runs through three different Pennsylvania counties.  These include Columbia County, Luzerne County, and Sullivan County.
There are 120 camping spaces and the campground is open to visitors all year long.  The campground is pet-friendly and there are showers and flush toilets.  RVs are also welcome.
Activities at a Glance
Hiking – 26 Miles of Hiking Trails
The hiking trails can be difficult but they offer spectacular views of waterfalls.  While Falls Trail is open all year, inexperienced hikers may want to stay away from it during the winter months.  In fact, to hike this trail in the winter you'll need crampons, an ice axe, and rope.
You can also use hiking trails for cross country skiing.
Horseback Riding – Equine lovers will be glad to know that this park offers up 12.5 miles of trail hiking.
Swimming – There is a 600-foot beach to enjoy from May to September.  A concession center, as well as a bathroom, are located nearby.
Boating – Lake Jean is a 245-acre lake that resides within the park.  Only boats with electric motors are permitted.
Fishing – Lake Jean is the home of panfish, trout, and other game fish.  Ice fishing is also permitted.
What is Special About Camping in Ricketts Glen State Park
Ask anyone why they love Ricketts Glen and they'll most likely tell you it's because of the waterfalls.  The waterfalls are long and beautiful and they're a great place for hiking and taking pictures.
In addition to this, you have a nice lake for swimming and fishing as well as a nice modern campground with clean bathrooms to use.
The Susquehanna River
One of my favorite places to camp is in the middle of the Susquehanna River.  Along the river near Harrisburg, you'll find 23 primitive island campsites that can only be accessed via watercraft.  These islands are maintained by the Susquehanna River Trail Association.
The best part about camping on these islands is the adventure it takes to get to them.  You can take a canoe and fish along the way or you can take a kayak.  Either way, you'll have to look out for their locations as the water can move quickly and you may not be able to get back to them if you miss them.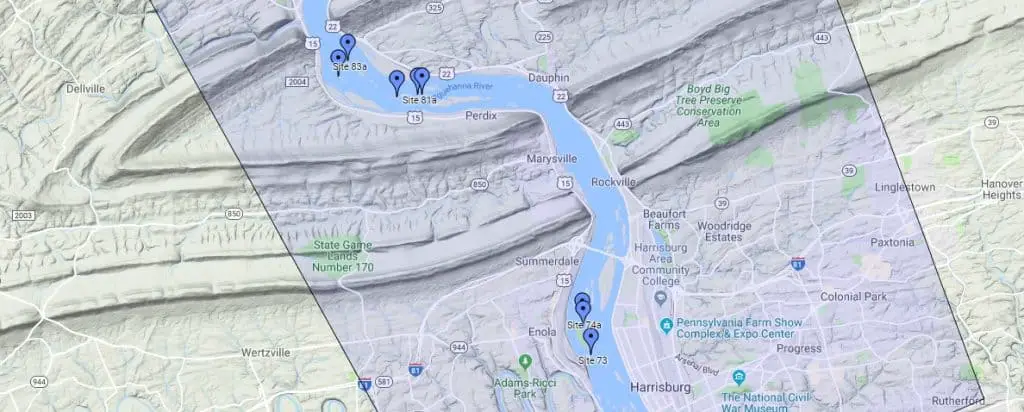 Luckily, the islands are spread out over a 50 miles radius.  If you do miss an island, you can always camp on the next one instead.  These spots cannot be reserved and you have to camp on them on a first-come-first-served basis.  Sometimes you may have to share an island with others so if you're leery of camping with strangers you may not want to do this trip alone.
Once you're on the island, you'll be able to relax by the campfire and fish off of the island.  Since there are multiple islands, you could decide to hit the water far upstream and camp on a few of them as you paddle downstream.  You'll just have to try to time the trip so that you end up on one of the islands before it gets too dark to find them.
To organize a trip like this, you can contact one of the many riverside companies that rent canoes and kayaks.  Some of these will let you park at their place downstream and then they'll drop you and your boat off upstream.  The trip ends when you reach the rental company's shores.
In Closing
There are so many great places to go tent camping in the state of Pennsylvania and it was hard to choose only ten.  I tried to pick my favorites from different parts of the state so that everyone reading this can easily access one of them.  If you find a campsite that isn't listed on this list it doesn't mean that it isn't great or at least worth looking into.
Thanks for reading!