There are several notable short thru-hikes in the US that offer stunning scenery and a chance to immerse yourself in nature without committing to a long-distance trek.
Here are the seven best short thru hikes in the US:
1. The Long Trail, Vermont
Located in the beautiful areas of Vermont, the Long Trail is a great place for people who love hiking to get closer to nature. This trail is 272 miles long, making it the oldest long trail in the USA. It goes all through Vermont and is surrounded by the stunning Green Mountains, making it a calm yet exciting setting for a hike. Whether you are very experienced in hiking or just starting, the Long Trail welcomes everyone.
If you aren't ready to hike the whole 272 miles, don't worry! The trail has shorter parts that you can do on their own, and they each offer a different mix of beautiful views, mountains, and forests. This means that you can pick the part of the trail that fits best with what you can do and what you want to see. The Green Mountains are a beautiful place to explore, with lovely plants and interesting landscapes that change as the seasons do.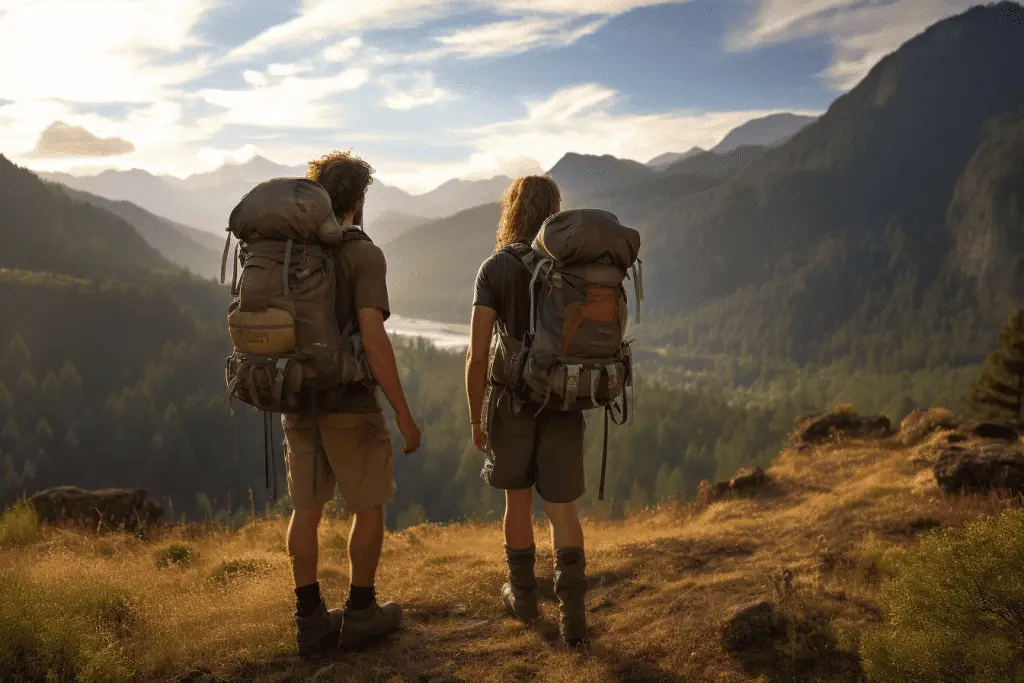 One significant tip is to carefully plan your resupply points. The trail passes through various towns where you can restock on essentials; thus, mapping out these stops in advance can be a real game-changer. Also, considering the length of the trail, it's advisable to break in your hiking boots well before starting your journey to prevent blisters and other foot ailments. Investing in a pair of lightweight, yet sturdy trekking poles can also provide additional support and balance during your hike.
While the Long Trail offers a magnificent experience year-round, choosing the right season can enhance your adventure exponentially. The late summer to early fall is often considered the ideal period for a thru-hike as you avoid the muddy conditions of spring and the bug-infested days of early summer. The colorful foliage of early fall paints the trail in vibrant hues, offering a visually stunning hiking experience. Additionally, ensure you carry a reliable water filtration system, as sourcing water from backcountry streams is often necessary.
| Section | Length (miles) | Difficulty Level | Notable Features |
| --- | --- | --- | --- |
| Southern End | 50 | Moderate | Green Mountain vistas, streams |
| Central Section | 70 | Challenging | Mountain summits, dense forests |
| Northern End | 75 | Strenuous | Alpine environments, waterfalls |
| Mansfield Area | 27 | Strenuous | High peaks, stunning views |
2. The Wonderland Trail, Washington
If you're looking for an adventure that takes you through some of the most breathtaking natural scenes, the Wonderland Trail in Washington is your go-to destination. This trail, which loops around Mount Rainier for about 93 miles, is like stepping into a live painting, where every day brings new, stunning views – think lush forests, meadows that look like they're out of a fairy tale, rivers that sparkle with clear, icy water, and fields dotted with colorful wildflowers. The best time to do a thru-hike here would be in the late summer when the weather is nice and you can see a variety of plants and animals.
Getting ready for a big hike like this one needs some serious planning. First off, because a lot of people want to experience this trail, you have to get a permit, which is given out through a sort of lottery system in the spring. You'll need a good plan that considers the different landscapes you'll cross and the weather changes you might encounter. It's smart to have a map that shows the details of the land and a GPS device to help you find your way. And remember, being ready to face and solve any problems that come up is a big part of making your hike successful and enjoyable. It's all about enjoying the quiet moments and the jaw-dropping sights that make this trail a once-in-a-lifetime kind of journey.
| Section | Length (miles) | Difficulty Level | Notable Features |
| --- | --- | --- | --- |
| Longmire to Mowich Lake | 23 | Moderate | Forests, waterfalls |
| Mowich Lake to Sunrise | 21 | Challenging | Alpine landscapes, stunning vistas |
| Sunrise to White River | 18 | Moderate | Meadows, glacial views |
| White River to Longmire | 31 | Strenuous | Varied terrain, Mount Rainier views |
3. Lost Coast Trail, California
Imagine stepping onto a trail where the wild ocean waves meet majestic cliffs and untouched forests – that's what awaits you on the Lost Coast Trail in California. This trail isn't just a path through the woods; it's a 25-mile adventure where you can truly get lost in the beauty of nature. If you're someone who likes a short yet enriching thru-hike, this trail offers a perfect blend of sea and forest experiences. While walking, you can sometimes spot whales in the distance or explore tide pools brimming with marine life, giving you a little taste of the vibrant life that thrives in the Pacific Ocean.
But before you get too excited, remember, preparing for a hike like this is key to enjoying it fully. You'll need to be aware of the tide schedules because parts of the trail can get covered during high tide, making it a bit tricky to move forward. A handy tide chart and a detailed map of the area will be your best companions on this hike. And don't forget, packing light but nourishing snacks and a system to filter water will keep you fueled throughout your adventure. This journey is not just a walk; it's an experience that connects you deeply with the wild and wonderful parts of California's nature.
| Section | Approximate Distance (miles) | Difficulty Level | Notable Features |
| --- | --- | --- | --- |
| Mattole Beach to Shipman Creek | 10 | Moderate | Coastal views, wildlife spotting |
| Shipman Creek to Big Flat | 7.5 | Moderate to Challenging | Tide pools, secluded beaches |
| Big Flat to Black Sands Beach | 7.5 | Moderate | Dramatic cliffs, sunset views |
4. The Presidential Traverse, New Hampshire
If you're up for an adventure that not only tests your stamina but also rewards you with some of the most breathtaking views, then the Presidential Traverse in New Hampshire is your go-to destination. This trek is more than just a walk in the park; it's a challenging 23-mile journey across a series of mountain peaks named after U.S. Presidents, with Mount Washington being the star attraction. Picture yourself scaling heights where the vistas stretch as far as your eyes can see, making you feel on top of the world. This trail is a perfect pick for those who want to immerse themselves in the raw beauty of nature over a couple of days.
However, a successful hike here requires some thoughtful preparation. You should be physically fit as the terrain is quite rugged and the weather can change quickly, sometimes turning harsh. It's a smart move to have sturdy hiking boots and clothes that can handle various weather conditions. Also, packing sufficient provisions and keeping a close watch on the weather forecasts can help you avoid unwanted surprises. Remember, it's not just about reaching the end, but soaking in the stunning landscapes and perhaps learning a bit more about yourself along the way. The Presidential Traverse isn't just a hike; it's a personal challenge with nature as your witness.
| Peak (Presidential Range) | Elevation (ft) | Difficulty Level | Notable Features |
| --- | --- | --- | --- |
| Mount Madison | 5,367 | Challenging | Rocky summits, alpine flora |
| Mount Adams | 5,794 | Strenuous | Breathtaking vistas, rugged terrains |
| Mount Jefferson | 5,712 | Strenuous | Alpine zones, picturesque views |
| Mount Washington | 6,288 | Very Strenuous | Highest peak, unpredictable weather |
| Mount Monroe | 5,372 | Challenging | Panoramic views, alpine lakes |
| Mount Eisenhower | 4,780 | Moderate | Subalpine zones, gentle slopes |
| Mount Pierce | 4,310 | Moderate | Forested trails, scenic overlooks |
5. The Four Pass Loop, Colorado
Imagine embarking on an unforgettable adventure amidst the towering mountains and pristine alpine lakes of Colorado. The Four Pass Loop, a popular 26-mile trek nestled in the heart of the Rocky Mountains, offers just that. As you hike, you'll cross four high mountain passes, each offering a new perspective of the rugged beauty that surrounds you. This trail is a haven for those who have a spirit of adventure, as it presents a moderate to difficult challenge, weaving through forests and meadows that seem to have sprung from a painter's canvas. It's a true taste of the wilderness, where each step brings you closer to the natural wonders that Colorado has to offer.
Now, heading onto this trail isn't just a spur-of-the-moment decision; a successful thru-hike requires some planning and preparation. Since you'll be hiking at high altitudes, it's essential to get acclimatized to prevent altitude sickness. Don't forget to pack layers of clothing, as the weather can shift quickly from warm to cold. Equipping yourself with a map and compass is a wise move, helping you navigate through the loop without losing your way. Remember to carry enough food and water to keep your energy levels up throughout the hike. As you prepare to conquer the Four Pass Loop, brace yourself for an exhilarating journey that promises to be both challenging and incredibly rewarding, a memory to cherish for a lifetime.
| Section | Approximate Distance (miles) | Difficulty Level | Notable Features |
| --- | --- | --- | --- |
| Trailhead to West Maroon Pass | 6.5 | Moderate | Wildflower meadows, scenic vistas |
| West Maroon Pass to Frigid Air Pass | 6.5 | Challenging | Alpine landscapes, crystal clear streams |
| Frigid Air Pass to Trail Rider Pass | 7 | Strenuous | High elevation, panoramic views |
| Trail Rider Pass to Buckskin Pass | 6 | Strenuous | Rugged terrains, breathtaking descents |
6. The Teton Crest Trail, Wyoming
The Teton Crest Trail in Wyoming is a hiker's paradise stretching over 40 miles. This trail, nestled in the heart of the Grand Teton National Park, promises an adventure that is both thrilling and rejuvenating. As you walk, you'll be treated to jaw-dropping vistas of the rugged Teton Range, a sight that can stir the heart of any budding adventurer. This thru-hike offers a perfect blend of challenge and beauty, making it an experience that you'll cherish and remember for years to come.
But venturing on this iconic trail demands preparation and respect for the wilderness. It's essential to plan your journey meticulously, considering factors like weather conditions and the availability of water sources along the route. Equip yourself with the necessary gear, including a reliable pair of hiking boots and a sturdy backpack to carry essentials like food, water, and a first-aid kit. Moreover, obtaining a backcountry permit is a vital step, as it helps in preserving the natural habitat of the area. As you set out on this exciting expedition, remember that this isn't just a hike; it's an opportunity to connect deeply with the magnificent natural world, fostering a sense of respect and admiration for the wonders of Wyoming's outdoors.
| Segment | Approximate Distance (miles) | Difficulty Level | Notable Features |
| --- | --- | --- | --- |
| Phillips Pass to Marion Lake | 10 | Moderate | Alpine lakes, scenic vistas |
| Marion Lake to Alaska Basin | 10 | Moderate | Lush meadows, mountain panoramas |
| Alaska Basin to Cascade Canyon | 10 | Challenging | Rocky terrains, waterfall views |
| Cascade Canyon to String Lake | 10 | Moderate | Picturesque canyons, tranquil streams |
7. Superior Hiking Trail, Minnesota
The Superior Hiking Trail in Minnesota is a beacon for nature enthusiasts, offering a rich hiking experience that stretches over 310 miles, showcasing the pristine beauty of the North Shore. This trail, often revered as a hiker's paradise, meanders through dense forests, crosses babbling brooks, and offers panoramic views of the majestic Lake Superior. Whether you are a newbie or a seasoned hiker, this trail has something to offer for everyone, promising an immersive experience in the heart of nature.
Embarking on a thru-hike on this remarkable trail requires thoughtful preparation. Since the trail offers varying degrees of difficulty, it's prudent to assess your physical condition and prepare accordingly. Additionally, it is wise to plan your stops and resupply points in advance, so you can manage your provisions effectively throughout the journey. Equip yourself with sturdy footwear, a comfortable backpack, and essential gear to navigate through different terrains seamlessly. And of course, carry a reliable map and compass to guide you on your adventure. As you hike, remember to adhere to the principles of Leave No Trace, ensuring the trail's beauty remains untouched for generations to come. The Superior Hiking Trail isn't just a walk through the woods; it's a journey of discovery, offering a chance to reconnect with nature in its purest form.
| Segment | Approximate Distance (miles) | Difficulty Level | Notable Features |
| --- | --- | --- | --- |
| Gooseberry Falls to Split Rock | 10.7 | Moderate | Waterfalls, river gorge |
| Split Rock to Tettegouche | 26.5 | Moderate to Challenging | Coastal views, Carlton Peak |
| Tettegouche to Caribou Trail | 17.2 | Moderate | Birch forests, Bean and Bear Lakes |
| Caribou Trail to Cascade River | 27.2 | Challenging | Rugged terrains, overlooks |
Looking to do a longer thru-hike? Check out this post on the best thru-hikes in the US.