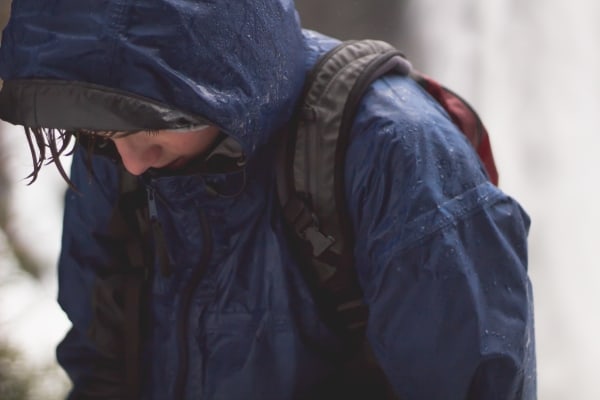 Hiking in the rain can often be more fun than hiking in the sun.  The trails are less crowded, it isn't as hot, and the bugs aren't as bad.
I've done a lot of hiking in the rain and while it does have its drawbacks, there are some steps you can take to minimize them.  Here are my best tips for hiking in the rain.
Beware of Flood Plains and Loose Slopes
A rainstorm can quickly divert water into flood plains and down slopes.  When you're hiking, you'll want to avoid dry river beds and flood plains whenever possible.  As little as 6 inches of water can knock a person off of their feet.  Land on your head and you could drown before you regain consciousness.
Water can also loosen slopes.  A weak slope can quickly turn into a mudslide.  Be careful while walking on or underneath slopes and be prepared to move quickly to avoid falling rocks if needed.
Watch Out for Wildlife
Wildlife just seems to get weird around rainstorms.  Animals begin to frantically look for food and shelter and their behavior can sometimes become unusual.
This can be a great experience as you'll probably see more animals than you usually do while out on the trail.  Just be careful as it can also be a little more dangerous as you may not be able to interpret an animal's behavior as easily as you might under normal circumstances.
Consider Trekking Poles
The trail is going to get slick during a rainstorm.  This is especially true in the fall when large groups of fallen leaves may be sitting over the top of wet rocks.
Consider bringing along trekking poles to help you keep your balance.  If you don't have trekking poles, consider finding a sturdy stick to use in lieu of trekking poles.
Bring a Tarp and Some Rope
At some point, you'll want to take a break during your hike.  Bring a tarp and some rope and you'll be able to take a break from getting rained on as well.
Set the tarp up off to the side of the trail and eat lunch, drink water, or just relax underneath of it.  If you see an especially wet looking group of hikers passing by, consider asking them to stop and share your tarp with you.  The foresight to bring a tarp just might make you some new friends.
Pack an Alcohol Stove
Nothing makes the rain more enjoyable than a hot cup of coffee or a warm bowl of soup.  Bring a small alcohol stove with you while you hike and you'll be able to have a warm meal and a hot drink during your rest periods.
Avoid Forested Areas During High Winds
With rain, often comes heavy winds.  These winds aren't just cold and irritating, they're dangerous.
Rain makes the ground softer and weakens the support base of large trees.  The rain also soaks into the branches of the trees and makes them heavier.  Combine this with heavy winds and you can see why so many trees come crashing down during rainstorms.
Avoid being crushed by a tree on your hike by simply avoiding forested areas.  If forested areas are your only option for hiking, you'll have to be especially vigilant during your trip.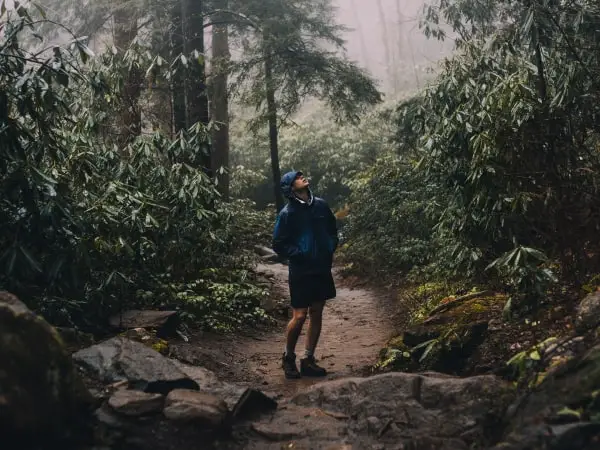 Bring Wet Wipes
Instead of packing emergency toilet paper, consider wet wipes instead.  Toilet paper won't last long in the rain while wet wipes won't have any issues.  I won't go into detail on this, so you'll just have to use your imagination.
Pack Dry Bags
Even waterproof backpacks are susceptible to water.  Instead of relying on your backpack to keep your gear dry, you'll want to pack some dry bags.
These bags don't cost much and you can usually buy an assorted pack so you'll have different sizes available to you.  You can find the dry bags that I use here on Amazon.
Alternatively, you can use trash bags for the inside of your backpack but they will wear out much quicker and they aren't quite as good for keeping dry.  If you're short on cash, start off with trash bags but consider upgrading as soon as you have an extra $10.00 to $20.00 to spare.
Bring A Waterproof Case for Your Trail Map
A wet and soggy trail map will quickly become too hard to read.  Keep your trail map from getting wet by putting it into a waterproof case.
You can buy a waterproof trail map case with a neck strap on it or you can make a DIY one out of a large ziplock bag.  As long as you keep your trail map dry, it doesn't really matter how you go about doing it.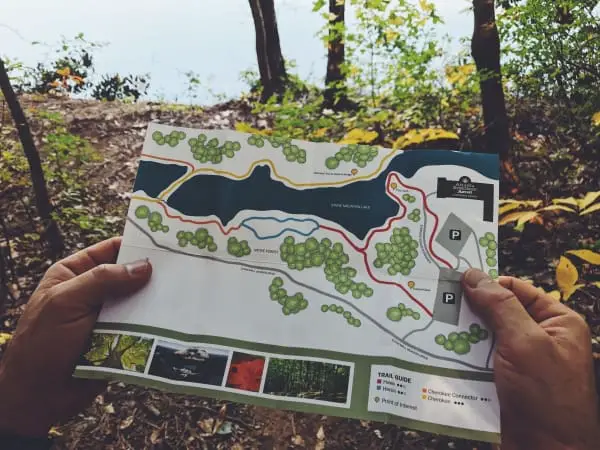 Wear Wet Weather Gear
This might seem obvious but many people decide to skip the wet weather gear and opt to just get wet.  Yes, you will end up wet even with wet weather gear, but not nearly as much as you would if you didn't have it on.
In the army, I spent many rainy days outdoors and I always found the wet weather pants, overcoat, and overshoes to be invaluable.  They kept me completely dry while laying in fighting trenches and mostly dry while hiking.  I say mostly dry while hiking because you do tend to sweat a lot in wet weather gear so you won't be dry at the end of a rainy day of hiking regardless of what you wear.
The difference is that sweat isn't quite as chilling as rainwater is and it isn't as drenching either.  Wear a moisture-wicking layer against your skin and you'll be much dryer in your wet weather gear than you would be without it.
Avoid Cotton
I love wearing cotton.  It's breathable, it's soft, and it's natural.  Unfortunately, cotton retains moisture which makes it a poor choice on rainy days.
Instead of cotton, consider synthetic materials meant for dealing with moisture or natural materials like wool.  These materials won't stop you from getting wet but they will dry out quickly.  This is especially true when choosing undergarments as a pair of cotton socks or underwear will never dry out while you're wearing them.
Choose Fleece Over Wool
If it's cold out, you might want to consider wearing fleece instead of wool.  This is especially true if you're one of the many people that finds wool to be too itchy or too smelly.
Personally, I like to wear wool socks but opt for a fleece jacket over wool one.  This jacket is of course worn underneath of a wet-weather jacket or poncho.  The poncho keeps me from getting rain on me and the sweat and condensation that accumulates on the fleece dries out quickly.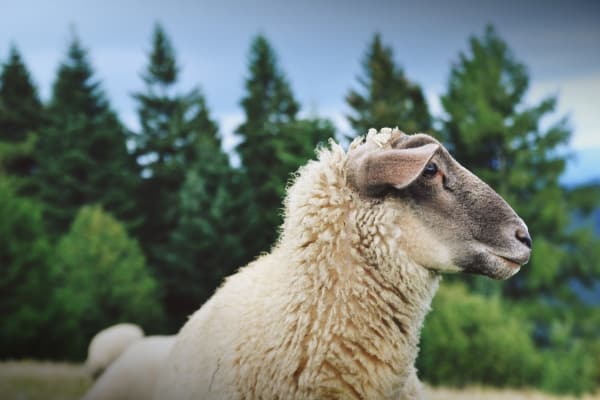 Wear Aquatic Shoes or Hiking Sandals
For warmer weather, consider leaving your boots at home and put on your aquatic hiking shoes or hiking sandals.  In this case, your feet will get wet right away but it won't really matter.
Whenever the sun comes out, both your feet and your footwear will quickly dry out.  As an added bonus, when your hike is over, you can hose your shoes down to clean the mud off of them.
For more information on aquatic hiking shoes and hiking sandals, check out my post titled, "Do You Need Hiking Boots – The Rundown On Hiking Footwear".  This post will tell you everything you need to know about these shoes and will even give you tips on how to buy them.
Wear a Hat With a Bill or Wide Brim
You're probably thinking, "If I have a hood on my poncho, why do I need a hat"?  The reason is that a hat with a bill on it will keep the rain from directly going into your face.  This can be especially useful when you're hiking through driving rain or trying to read from your trail map.
I'd say to go with a hat with just a front bill on it when wearing a hood or to go with a water-proof wide-brimmed hat when wearing a jacket without a hood.  Alternatively, you could even put your hood up and then put your wide-brimmed hat on overtop of that.  This will keep your head, your face and your neck dry but it could end up making you hot.  If you're having trouble picturing this, just think of your mail carrier.
Resign Yourself to Getting Wet
Whether it's the rain, the puddles, or the condensation and sweat, you will get wet.  Learn to embrace it quickly and you'll have a pleasant hike regardless of whether or not it is raining.
Final Thoughts
Take your time while hiking, regularly analyze your surroundings, and take frequent breaks.  Wear the right clothing and pack the right gear and you'll soon find that you enjoy hiking in the rain almost as much as you enjoy hiking in fair weather.