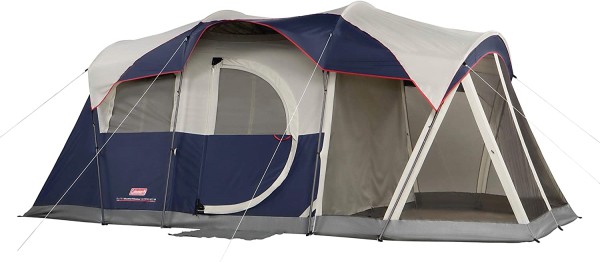 Coleman tents are everywhere.  You can find them in almost every big box store in America.
But are Coleman tents good?  Coleman tents are great for casual campers who won't be using and abusing their tents very often.  They're also great for campers who won't be carrying their tents very far.
Coleman tents aren't so great for backpackers and campers camping out in harsh conditions.  Let's talk a bit more about when you'd want to use a Coleman tent and when you might want to go with a different tent brand.
Coleman Tent Advantages
When you buy a Coleman tent, you'll get to take advantage of the following benefits:
Coleman tents are big.
Coleman tents can be set up quickly.
Coleman tents are reasonably priced.
Coleman specializes in large tents that can be set up quickly.  Their tents are generally classified as instant tents or popup tents.
These two features make them absolutely fantastic for car campers, boat campers, and anyone else who wants a large tent and isn't concerned about the size and weight of the tent.
On top of this, Coleman tents usually cost a lot less than other tent brands.  Many of their tents can be had for less than a hundred dollars and even their largest tents won't cost you much more than $200.00.
Coleman Tent Disadvantages
As we mentioned earlier, there are a few downsides to buying a Coleman tent.
Coleman tents won't withstand extreme weather.
Coleman tents can be large and heavy.
The resale value on Coleman tents isn't great.
You'll find that Coleman's most popular tents are 6 person tents that you can stand in.  These tents are large and heavy and they often come in one piece so you can't break them up to share among different backpacks.
This means that you'll struggle to find a good backpacking tent from Coleman.  I've found a few smaller dome tents that could make viable backpacking tents but they are few and far between.
Also, these smaller backpacking tents from Coleman aren't well-suited for extreme weather.  Even their 2-person dome tent can only handle 35 mile-per-hour winds.
While 35 mph might sound like a lot of wind, these speeds can easily be found on mountain tops, on beaches, and in deserts so you're better off going with a more robust tent in these situations.
Lastly, you'll find a lot of Coleman tents on eBay and Craigslist.  This is great if you're looking to buy used but it isn't great if you're looking to sell used.  You'll find the hassle of posting up your used Coleman tent often isn't worth the amount of money you'll get from it.
Are Coleman Tents Waterproof
Coleman tents are built to be waterproof but you may need to buy an additional rainfly to fully waterproof some of their models.
Also, as your tent ages, you'll need to apply tent sealant to the seams to keep it waterproof.  However, this isn't unique to Coleman and you'll find all tents require some maintenance to keep them dry.
Here is a great video by Coleman that shows the process they use to test each tent's ability to stay dry in rainy weather.
Which Coleman Tent is the Best Choice
Coleman makes many different tent models for different situations.  Here is a quick look at some of their most popular tent models.
Coleman Cabin Tents
There are a few reasons why I like Coleman's line of cabin tents.  For starters, they're easy to set up and takedown.  I can set these tents up by myself, which is rare for tents of this size.
I also like the fact that I can stand up and walk around in these tents.  The 6-person version is just over 6 foot tall inside and the 10-person version is 6'7″ inside.  I'm not quite 6′ so either of these options works for me.
On top of this, you can get the Coleman 6-person cabin tent at an incredibly reasonable price.  Take a look at what they cost right now by clicking here.
The Coleman Elite WeatherMaster 6 Screened Tent
Another great Coleman tent option to consider is the Coleman Elite WeatherMaster 6 Screened Tent.  This tent doesn't set up as easily as the cabin tent but it does offer a lot more.
With the Coleman Elite, you get a 6′ 8″ tall tent with an attached screen room.  It also has a port for bringing electrical cords into the tent so it is great for modern campsites with electricity.
You get a rainfly with this tent, but if you can leave it off, you probably should.  The reason I say this is that the roof of the tent offers a screened mesh that serves as a nice skylight.
Staying at a campsite without electricity?
No problem.  The tent comes with a built-in overhead light and an illuminated wall switch that you can use to control it.  The light is an LED light and it runs off of four D-cell batteries.
Built-in hooks also give you the option to attach battery-powered fans and additional lights throughout the tent.
Take a trip through this link to buy one before they sell out again.
The Coleman 2-Person Pop-Up Tent
Sometimes you get to a campsite late and you don't want to spend any time setting your tent up.  For these times, it's nice to have a Coleman pop-up tent with you.
These tents literally pop up into place as soon as you open them.  They aren't very tall and they would make poor backpacking tents due to the way they pack down, but they are great for quickly setting up while car camping or festival camping.
The 2-person version of this tent has a center height of fewer than 3 feet but a length of 7'6″ and a width of 4'5″ so it's perfectly adequate for sleeping in.
A rainfly is included with this tent and you can roll it up into different positions to give yourself as much ventilation as you need.
Final Thoughts
Coleman tents are great for their intended purpose and I'd highly recommend them for standard car camping trips.  On the other hand, if you're looking for a rugged backpacking tent, you'll probably want to look elsewhere.