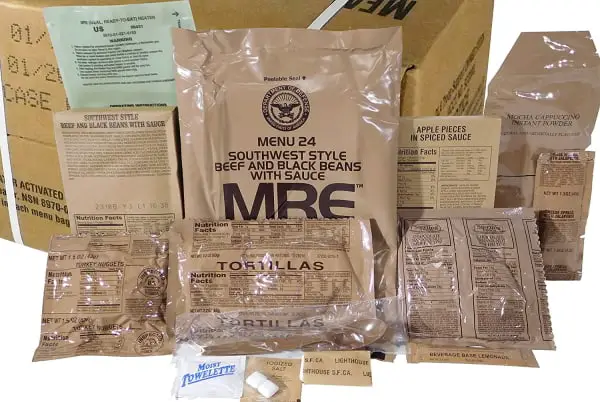 My first real introduction to an MRE was at Fort Benning Georgia.  I was there for Basic Training and we were all issued MREs when we went on day hikes and overnight backpacking trips.
For the most part, I loved the way they tasted and they always left me feeling satisfied.
But are MREs good for backpacking?  MREs were specifically designed by the United States military for backpacking and other down-range excursions.  They are good for backpacking because they don't need refrigeration, pack down small, and provide their own heat source.
There really is no denying the fact that MREs are good for backpacking.  The better question is, are MREs the best backpacking meal option?
In the rest of this post, we'll go over the pros and cons of using MREs when you go backpacking.  We'll also talk about some of the other meal options you might want to consider when backpacking.
The Advantages of Backpacking With MREs
MREs last a long time.
MREs have a lot of calories in them.
MREs have been thoroughly studied by the United States government.
An MRE usually costs less than other pre-packaged backpacking and camping food.
An MRE has everything you need to make and eat a meal.
MREs are durable.
MREs taste good.
MRE Shelf Life
An MRE has a minimum shelf-life of 3 years.  This being said, combine the air-tight packaging with the fact that they're full of preservatives and you end up with a backpacking meal that usually stays fresh long after it's reached its expiration date.
The main factor in how long your MRE will last will be in how well you store it.  MREs that are kept in areas with high temperatures won't last nearly as long as ones kept at lower temperatures.
MRE Calories
MREs are high in calories.  Just one MRE is going to provide you with around 1,200 calories.
You can use this reality to do one of two things.  If you're burning a lot of calories on your backpacking trip, you might just eat three MREs a day to ensure that you don't lose any weight on your trip.
On the other hand, you might be able to get away with buying fewer meals.  If you're still aiming for around 2,000 calories a day, you'll only need to eat 2 MREs each day.  With other backpacking meal kits, you'll have to eat three or even four meals just to hit 2,000 calories.
MREs Are Well Studied
The United States government has run countless numbers of studies on MREs and their potential effects on the people who eat them.  They've studied an MRE's effects on gut health, how many days straight that a person should eat a diet consisting of only MREs, the nutritional content of an MRE, and even how long an MRE can be stored before it goes bad.
What all of this means is that when you eat an MRE, you know what you're getting.  Other backpacking meals will be regulated by the FDA, but you'll have to trust each company's own studies as to how healthy and effective each meal actually is for backpacking.
MREs Are Cost-Effective
MREs aren't cheap but they are less expensive than most other pre-packaged backpacking meal kits.  A 1,200 calorie MRE can usually be had for about $7.00 while a 400 calorie meal from Mountain House will cost you about $10.00.  You'll end up having to spend $30.00 just to get the same amount of calories that you can get for $7.00.
This benefit might not hold true for people in other countries though.  I've never ordered them outside of the United States but I'd imagine they could be harder to get in other countries and therefore more expensive.
MREs Are A Full Meal Kit
An MRE doesn't just contain food.  It also contains a heater to cook the food as well as plastic utensils to eat it with.
When you're done eating the MRE, you'll also have a napkin and a moist towelette to clean up with.  On top of all of this, the MRE even contains some toilet paper so it really contains everything you need from start to finish.
MREs Are Durable
MREs might be good for backpacking but this isn't what they were meant for.  These meals were built to withstand combat situations.
The Department of Defense demands that MREs be able to withstand parachute drops, heavy vibration, and even free-fall drops from certain heights.  This durability could come in handy when your bear bag falls out of a tree or when you drop your backpack off the side of a ravine.
MREs Taste Good
This is of course a matter of opinion, but I really like the way most MREs taste.  Not only do the entrees taste good but many of the desserts are top-notch.  The first lemon poppy pound cake I ever ate was from an MRE and just thinking about them makes my mouth water.
With 24 different meals to choose from, I did find that some of them didn't taste that great.  I found the beef and pork patties to be unappealing, but your tastes might vary.
You can view all of the meals that military MREs have to offer and everything that comes with them at DLA.Mil  A civilian MRE might be slightly different so you'll have to check with the dealer to see what they have to offer.
The Disadvantages of Backpacking With MREs
While I think MREs are great, they do have some drawbacks.
Here are 6 disadvantages of backpacking with MREs that you might want to consider.
MREs are more expensive than DIY backpacking meals.
MREs mimic the standard American diet.
MREs have a lot of calories.
The packaging is wasteful.
MREs are heavy.
True military MREs that are sold have probably been illegally obtained.
MREs Cost More Than DIY Backpacking Meals
While an MRE might be cheaper than other pre-packaged backpacking meals, it still isn't the most economical option.  A careful planner can create their own tasty and nutritionally sound backpacking meal for a fraction of what it would cost them to buy an MRE.
MREs Follow The Standard American Diet
The Standard American Diet, otherwise known as SAD, isn't very healthy.  We don't eat enough protein or fiber and we eat too much fat and too many carbohydrates.  As a result, our country's average lifespan is ranked 49th in the world.
Nevertheless, Army researchers state that "The MRE contains similar amounts of carbohydrates, fat, protein and fiber as the average American diet".  In my opinion, a backpacker should strive to eat better than "average".
MREs Contain a Lot of Calories
As we stated earlier, this can be a good thing or a bad thing.  On a hard or long backpacking trip, you may want the extra calories.
On the other hand, if you're trying to lose weight while eating 3 square meals a day, you might find that 3,600 calories are just way too many.
The Packaging of an MRE Is Wasteful
An MRE is packaged to be durable.  This is great, but it also creates a lot of waste.
When you're done eating your MRE, you'll be left with a large pile of plastic packets and a set of plastic utensils to pack out with you.
MREs Are Heavy
The downside to having a complete meal kit with every meal is that you'll end up carrying a bunch of extra weight.  For example, why carry a fresh set of plastic utensils for every meal when you could just bring one set that you wash after each meal?
Luckily, this isn't as big of an issue as you might think.  Because everything is wrapped individually, you can pick and choose what you decide to take with you and what you decide to leave behind.
Military MREs Aren't Allowed to Be Resold
Military MREs are made specifically for soldiers and for humanitarian missions.  In fact, a military MRE will state right on the package that it is illegal to resell it.
Because of this fact, you're better off buying a civilian MRE from one of the companies that make the MREs for the military.
MRE Alternatives
While I think it's worth considering taking some MREs with you on your backpacking trips, there are some alternatives that you might want to consider instead.
Here are a few MRE alternatives to take on your next backpacking trip.
Mountain House
Good To-Go
Meal 2 Go
Omeals
AlpineAire Foods
Backpacker's Pantry
Heather's Choice
Peak Refuel
Patagonia Provisions
Wild Zora
All of these backpacking meals are readily available on Amazon.com or at your local REI.  Everyone has different tastes, so I'd suggest giving a few of them a try before stocking up on any one brand.
Additional Questions About MREs
Here are answers to some of the most frequently asked questions about MREs.  If you have a question that you don't see listed here, feel free to reach out to me on my contact page.
How much do MREs weigh?
MRE weights will differ with each meal but expect them to be somewhere between 18 to 26 ounces or 510 to 740 grams.  This weight does not include the water that you'll need to use the heater so you'll have to account for that as well.
How many calories are in an MRE?
There will be slight caloric variations between different MREs, but they are all aimed at providing about 1,200 calories for each meal.
Do MREs taste good?
I love the way most MREs taste but there are some that I personally do not like.  As tastes vary so much from person-to-person, you won't know whether they taste good until you try one for yourself.
Do MREs cause stomach problems?
Research on MREs has shown that they do not significantly change gut bacteria and that they can easily be eaten for up to 21 days without cause for concern.  Your mileage may vary.
Are MREs healthy?
An MRE is designed to meet the nutritional needs of active individuals.  However, these meals do contain a large number of preservatives.
How long do MREs last?
An MRE is rated to last upwards of at least 3 years.  This being said, a properly stored MRE might easily last as long as 10 years.
Is it illegal to have MREs?
It is illegal to resell military MREs.  However, civilian MREs are legally available for sale.