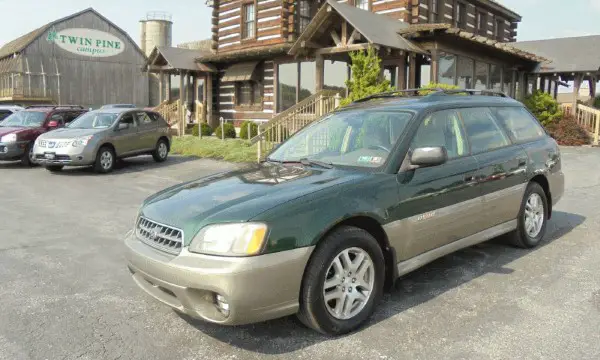 Cars for camping can be new and expensive, but they certainly don't have to be.  I'd love to go buy myself a Sportsmobile to go camping with, but it just isn't in the budget right now.  This being said, I've had a lot of great car camping trips in inexpensive vehicles.
Take a look at this list of used cars for camping and find the perfect vehicle for your next car camping trip.
Used Cars for Camping – In no particular order:
1.  The Subaru Outback
If you've ever seen a list of car camping cars, you probably knew a Subaru was going to be on this one.  With a budget of $5,000.00, you should easily be able to get a vehicle built within the last 10 – 15 years with less than 200,000 miles on it.
Advantages of The Subaru Outback
All-Wheel Drive
Cargo Space
High Ground Clearance
Gas Mileage
Maintenance
The Outback comes standard with all-wheel-drive which makes getting in and out of your camping destinations that much easier.  Subaru's all-wheel-drive system is a symmetrical all-wheel-drive system which provides more stability as the system is always powering all four wheels all of the time.  This is in contrast to other all-wheel-drive systems which only operate in front-wheel drive mode until the vehicle senses a loss of traction.
Additionally, this vehicle has high ground clearance.  A 2006 Subaru Outback has a ground clearance of 8.4 inches which is good for a vehicle that isn't specifically designed to be an off-road vehicle.
You'll also find that this vehicle has a lot of cargo space inside and outside as well.  The Outback comes standard with roof racks so you won't have to drop a few hundred extra dollars just to put your cargo or kayak on top.
Gas mileage is between 25 miles per gallon combined which is high for an older all-wheel-drive vehicle.  Even a brand new Subaru Outback will only get you about 28 miles per gallon combined.
The maintenance on this vehicle is easy for the DIYer and you won't have to go to a special shop to get any maintenance done for you like you would have to do with a VW or other highly engineered vehicle.  This is especially important as you are buying an older vehicle so you can expect more maintenance issues than if you had purchased a brand new vehicle.
Disadvantages of The Subaru Outback
May burn oil.
Possible transmission issues.
Older Subaru Outbacks have been known to have some transmission issues.  At this point, however, any of these issues should have already been fixed by previous owners.
The vehicle will probably burn oil as well.  Unfortunately, Subarus are known for burning oil so you'll have to keep an eye out for this.  My brother owns a Subaru and his mechanic recommended that he check his oil levels each month so that he can add oil between changes.
2.  The Honda Civic Hatchback
The Honda Civic typically isn't thought of as a car camping car, but it really should be. The reasons for this are many.  I personally owned a standard Honda Civic sedan for 15 years and with over 200,000 miles on the odometer, it still lives on today in my younger brother's garage.
With a $5,000.00 budget, you could buy 2 used Honda Civics to use for camping and they'd still have plenty of life left in them.  In fact,  these have gotten so inexpensive that you'd probably still have some money left over.
Advantages of The Honda Civic Hatchback
Reliability
Driveability
Maintenance
Gas Mileage
Firstly, Honda Civics are incredibly reliable.  When you're driving out to remote areas with limited cell phone service, you want to make sure you have a reliable vehicle.
The 2000 Honda Civic was nicknamed the car with the bullet-proof engine and I can personally attest to this.  I wouldn't hesitate to buy another one even if it had over 200,000 miles on the odometer.
Additionally, Honda Civics are great on gas.  A Civic will typically give you a combined gas mileage of over 35 miles a gallon.  This is great for those long trips to far-away camping destinations and it will certainly save you money in the long run.
The maintenance on this vehicle is inexpensive at the shop and as a DIYer.  Parts are common and plentiful and the vehicle is easy to work on even for a novice.
On top of all of this, the car is easy to drive.  It is small and maneuverable which makes it great for parking on trailheads and the front wheel drive makes it great in the snow.
Disadvantages of The Honda Civic Hatchback
Low Ground Clearance
Limited Hatchback Availability
One drawback to the Honda Civic is that it has low ground clearance.  You'll get less than 6 inches of ground clearance which isn't a problem on paved roads but you may experience some trouble with unpaved back roads so I'd recommend you be careful to avoid any deep holes on the road.
Additionally, Honda stopped making its Civic hatchback in 2000 and it didn't start making them again until around 2014 or 2015.  Because of this, you may have some trouble finding a used hatchback for under $5,000.00.  This is OK though as the sedan still gives you plenty of space in the trunk as well as the rear of the vehicle.
3.  The Chrysler Town and Country
If you're looking for more space, a car camping van might be the best way to go. A good Town and Country will be at the upper end of your $5,000.00 budget, but it can still easily be found at this price point.
Advantages of The Chrysler Town and Country
Cargo Space
Sleeping Capabilities
Comfort
The Town and Country often comes with Stow-and-Go seating which means that the back benches will completely fold down into the floor.  This is great for campers that want to make full use of the van's storage area without having to lug the back benches in and out of the house before each camping trip.
With all of the extra space in the back, you could leave your tent at home and opt to sleep in the back of the van.  The 8 foot long and the 4 foot wide dimensions make it easy for two adults and one small child to sleep inside.  This reduces the amount of gear you have to pack and gives you a little more comfort and safety.
Just remember that bears can rip vehicle doors right off so don't think you're safe to leave food in your van in bear country.  Always follow proper bear protocol in your area regardless of what you happen to be sleeping in. 
Additionally, the Town and Country was built for comfort, so those long drives to your camping destinations will be a lot more comfortable.  Some options that were available in this vehicle were leather seats, superior interior gauges, dual climate control systems, and DVD players.
Disadvantages of The Chrysler Town and Country
A set of sliding doors can be great for getting in and out of the vehicle in a tight parking space.  I've actually come to my vehicle to find out that the person next to me parked so close that I couldn't fully open my front doors but was able to get in thanks to my sliding doors.
Unfortunately, sliding doors are more complicated than standard doors and they are more prone to problems.  Some people have reported that their doors stopped sliding over time and the cost of fixing them wasn't worth it.
Additionally, vans are much longer than hatchbacks and sedans so you'll have to keep this in mind when parking in tight campgrounds or parks.
4.  The Honda Element
Honda Elements were built with outdoor adventures in mind.  They were a niche vehicle that ran for about 8 years with the last ones being made in 2011.
This vehicle can be had in one of its earlier models for less than $5,000.00.  4-wheel drive models will cost you more but are probably worth it for the extra versatility you get with a 4-wheel drive vehicle.
Advantages of The Honda Element
4 Wheel Drive
Camping Options
Fold-up Seating
Plastic Floors
Reliability
These little crossovers come with four-wheel drive, suicide doors, and a flat plastic floor that can easily be wiped down after your trip.  This makes them perfect for camping since you'll be able to get it as dirty as you like inside without having to worry about ruining the interior.
For example, a torrential downpour starts and you decide to pack up camp and leave.  You end up throwing your muddy tent and camping gear into the back.  With a normal vehicle, you'd have to shampoo the carpets and you'd still probably have stains afterward.  With your Honda Element, you just have to get a hose and maybe a sponge and some soapy water to be good as new.
If you want to upgrade your Element in the future, you can buy the E-Camper conversion kit which turns your rooftop into a sleeping area.  This also gives you some neat options for camping inside the bottom of your vehicle as well and you'll be able to get dressed while standing up inside.
The Element is made by Honda, so you'll also have Honda's legendary vehicle reliability to fall back on when you're out on the road.
Disadvantages of The Honda Element
To the dismay of many Honda Element enthusiasts, Honda stopped making this vehicle many years ago.  As a result, you may find the availability of parts to be lacking.  There won't be any more of these vehicles so once the availability of used replacement parts runs dry, you'll have to find custom solutions to any problems that may arise.
Additionally, the gas mileage on this vehicle isn't that great.  The Element is small so you'd expect it to get around 25 – 30 miles per gallon but you end up with a vehicle that only gets about 20 miles per gallon combined.  To put it into perspective, I own a small 10-year-old truck and it gets better gas mileage than this.
5.  The Nissan Xterra
The Nissan Xterra is another vehicle with a big fan base that doesn't have any new vehicles to look forward to.  2015 was the last year this vehicle was produced so you'll still be able to buy a used Xterra for quite some time.
At a price point of under $5,000.00, you'll have to go with a first or second generation Xterra but you should be able to find one with less than 175,000 miles.
Advantages of The Nissan Xterra
4 Wheel Drive
Off-road Capability
Fan Clubs
For those of you who plan on doing a bit more off-roading during your car camping travels, you may want to consider a used Xterra. The Xterra is built on a truck platform, meaning it has a uni-body construction that makes it easier to go off-road without damaging your vehicle.
Combine this feature with standard roof racks, a full-size spare tire, four-wheel drive, and an easily accessible hatch and you have one of the best used cars for camping on the market.  Not only this, but you can get skid plates for the undercarriage to make this a rugged adventure vehicle.
There is also a big fan club of this vehicle and you'll find many after-market parts, upgrades, and add-ons that you can use for camping.
Disadvantages of The Nissan Xterra
Suspensions
Availability
Price
Many Xterra owners have said that the first step you need to take when buying a used Xterra is to upgrade the suspension.  Unfortunately, this moves the Xterra out of budget car camping territory.
Also, because of its limited availability, you may find that newer used models fall out of the $5,000.00 budget range.  In fact, to get a used Xterra in good enough shape to take on far-away camping trips you'll probably need to spend a few thousand more or put a few thousand into fixing up your less-than $5,000.00 purchase.
6.  The Ford Explorer
The Ford Explorer can be had at low mileage for a surprisingly low price.  These vehicles have been around for a long while and they're still made today.  In fact, if you get lucky you can find a Ford Police Interceptor Utility version of this vehicle as the Ford Explorer was used by police forces for many years.
For under $5,000.00 you'll most likely be looking at a vehicle made around 2005 with about 150,000 miles on it.  Pricing will vary wildly depending on the model you get as well as the options available on your vehicle.
Advantages of The Ford Explorer
Space
4-Wheel Drive
Towing Capacity
Ford Explorers are big and offer a lot of cargo-carrying possibilities.  They also come with a roof rack so you'll be able to stow even more gear on top of the vehicle.
You can also fit a lot of passengers in this vehicle and some people have even built platforms for sleeping in the back of their Explorer.  The interior width is actually wider than a minivan and the length is comparable to one as well.
Models came standard as rear-wheel drive models but you can find many 4-wheel drive models as well.  I'd recommend that you stay away from the rear-wheel drive models if you plan on using this vehicle as a camping vehicle.
If you plan on camping with some of your larger toys, you'll be happy to know that the Ford Explorer can probably tow most of them.  Four-wheelers, dirt bikes, ATVs, and small boats can easily be towed by a Ford Explorer.
Disadvantages of The Ford Explorer
Parking Difficulty
Safety
Gas Mileage
These vehicles are big and they are wide.  This makes them difficult to park in everyday situations which means you may find them impossible to park in campground parking lots and at hiking trails.  Luckily you won't have to worry about this if you've rented a camping spot in a state or national park as you'll have plenty of space to park your vehicle once you get to your site.
Just beware that older models were prone to rolling over.  If you're used to driving a newer SUV or even an older car, you'll be surprised at how poorly older Explorers take sharp turns or roundabouts.
Additionally, getting to your destination might cost you more than it is worth.  The gas mileage on a Ford Explorer is less than 20 combined which isn't terrible considering its size but it certainly isn't good either.
7.  Your Used Vehicle
Do you already own a vehicle?  If so, you might want to take your $5,000.00 and use it to turn your current vehicle into the ultimate camping car.
Using your own vehicle reduces the number of vehicles you'll have to maintain and insure and you won't have to worry about going through the stress of buying another used car.  You already know what you like and don't like about your current vehicle so you can put your money directly into changing what you don't like and improving on what you do like.