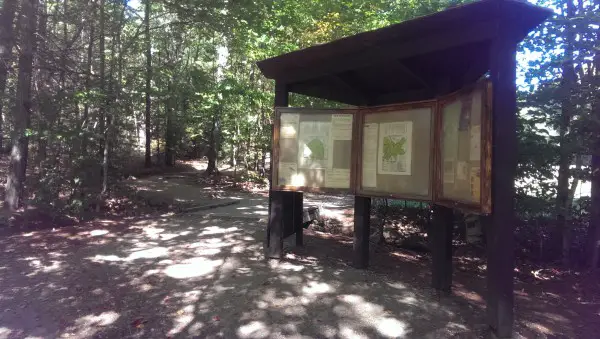 Bradbury Mountain State Park offers a few easy hiking trails and a great overlook.  I hiked it during my visit to Maine and if given the chance, I'd probably do it again.
Here are some more details on hiking in Bradbury Mountain State Park.
Location and Hours
The park's address is 528 Hallowell Rd, Pownal, ME 04069.  To be more precise, you can find it at Lat 43.899190 / Lon -70.179102.
It's open year-round from 9:00 am to sunset and there is a gate you'll need to pass through to get into the parking area.
Parking is pretty easy but admittedly, I did drive right past it on my trip there.  If you end up seeing the park's campground on your right, then you've passed your parking lot.  On the other hand, if you see it on your left, know that your parking lot is coming up shortly.
You'll have to pay to access this parking lot.  This seems to be normal in Maine's state parks, but it was a surprise for me as visiting state parks in Pennsylvania is free.
Hiking at Bradbury Mountain State Park
There are a bunch of different hiking trails at the park to enjoy but they're all pretty short.  The longest trail is only 2.6 miles long and some are as short as .2 miles.
One of the nice things about the trail though is that many of them lead to the same overlook.  This overlook is really pretty and offers a great view of the surrounding area but it was pretty crowded when I was there.
I think I would have enjoyed it better if I had gone at a time when I'd likely have it all to myself.  I'd have also taken more pictures as well.
Here is one of the few pictures that I did manage to take while I was at the overlook.  Even here, you can see the back of someone's head towards the bottom of the photo.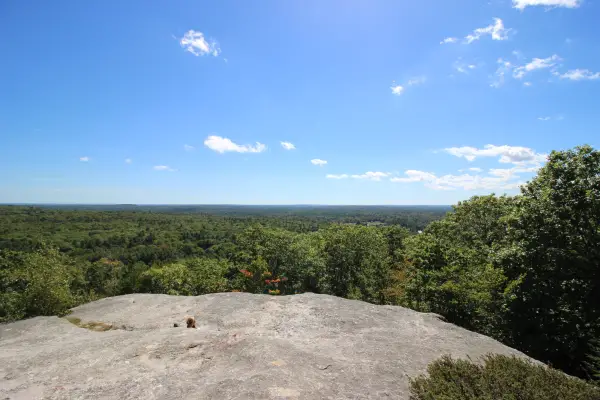 Camping at Bradbury Mountain State Park
I didn't camp here, but I did take some time to stop at the campground for a quick look.  The campground was quiet and clean and they had playgrounds and picnic areas.
They also had toilets and showers for campers to use as well.
The cost of camping at the park is $15.00 for state residents and $25.00 for out-of-state residents.  On top of this, they have a 9% lodging tax.
This campground also has snowshoe, snowmobile, and cross-country ski trails that will see significant amounts of snow each winter.
While I wouldn't consider this campground to be a must-visit campground by any means, it does look like a nice quiet place for local residents to enjoy.