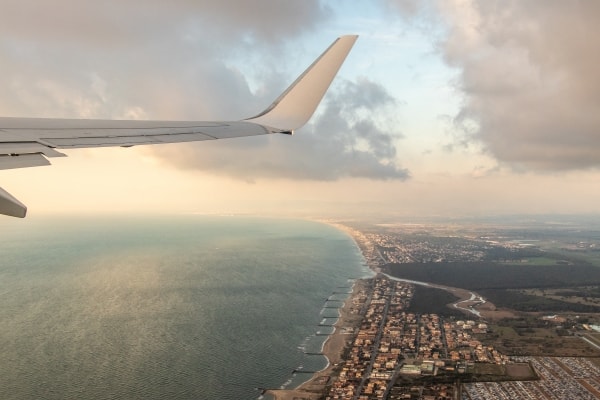 If you're older like me, you might remember a time when flying was easy.  You didn't have to worry too much about what was allowed on a plane and what wasn't.  Times have changed though and it can be difficult to bring everything you might need for camping with you on a plane.  I researched and wrote this post to help make flying with camping gear easier for everyone.
At this point, you're probably wondering what camping gear can I fly with?  You can fly with your clothing, your footwear, your backpack, 4 ounces of insect repellant, camp stoves, lighters, safety matches, air activated hand warmers, small quantities of personal hygiene products, and stick sunscreen.  If you check a bag, you'll be able to take even more camping gear with you on your trip.
Items like camping knives, pickaxes, hatchets, trekking poles, tents, flare guns, larger bottles of suntan lotion and personal hygiene products can all be placed in your checked baggage.  The same holds true for fishing and hunting gear.  You can technically bring your fishing pole without hooks onto the plane as a carry-on item but you'll need to make sure you meet the airline's size restrictions before doing so.
Camping Items You Can't Bring on A Plane
Animal repellants.
Fuel.
Insecticides.
Two important camping items that you'll have to leave behind are fuel and animal repellants.  Fuel cannot be packed in your carry-on or checked bag and animal sprays that have more than 2% of CS gas or phenacyl chloride must be left behind.  This means you'll have to buy bear spray when you get to your destination and you'll have to leave it behind when you head home.
My first thought was that you could leave it behind at the end of the trail as a sort of "trail magic" but bear spray and fuel could be dangerous in the hands of children or foolish teens so it may be best to actively give it away, use it (the fuel at least), or throw it away.
Another item you can't bring in either your carry-on or your checked baggage is insecticides.  These are the sprays you use to kill ants, roaches, and spiders.  This type of insecticide is not meant to be sprayed onto people so you probably wouldn't bring it camping with you anyway.
Camping Gear to Put in Your Carry-on Bag
Always check with your airline to determine what size carry-on bag you can bring before you begin packing.  Here are the items that work for me when I travel with my camping gear.
Backpack.
Clothing.
Hiking shoes.
Medicine.
Emergency blanket.
Small flashlights.
Paper and pen/pencil.
Phone charger/tablet charger.
Camera and camera gear.
Bringing a carry-on bag helps to reduce the amount of money I have to spend checking bags and ensures that even if my luggage is lost I'll at least have some of the things I need for my trip.  I pack everything into my backpack with the camera on top in case I need to take it out for the nice TSA agents.
I put the paper and pen in the outer pockets along with my phone and tablet chargers.  The tablet is carried in my hand as it's small and it gives me the ability to watch movies while I wait at the gate and on the plane.  The Internet is usually pretty good at the airport and watching Netflix on my tablet makes the time go by much faster.
*Quick Tip – Tape up your backpack's straps so that they don't get snagged on anything.  This is helpful when you're loading and unloading it into the overhead storage compartments and it's helpful when checking the bag as you'll ensure that it doesn't get snagged on the conveyor belt.
Camping Gear to Put in Your Checked Luggage
Before deciding on what to pack in your carry-on bag, you may want to determine how much it costs to check a bag.  Some airlines will charge you by size and weight and in some cases it is less expensive to just rent some equipment when you get to your location.  This is especially true for items like tents and sleeping bags which can take up a lot of room.
Also, some consumables may be better off bought on location.  For example, why pack sun-tan lotion and insect spray when you won't need it until you get there?  Buy it at your destination, use it, and throw the rest out before you head home.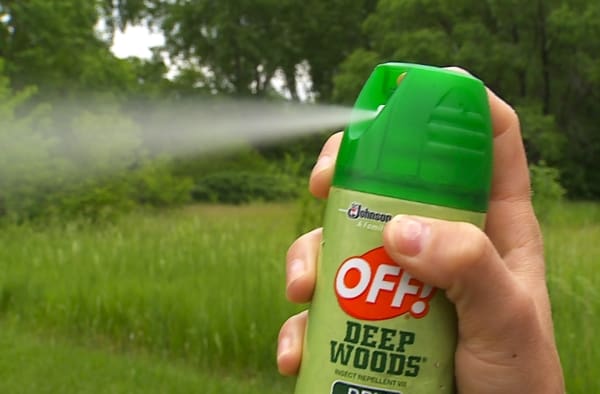 If you're an ultra-light hiker, this might not apply to you for obvious reasons.
Here is what I'll typically pack away in my carry-on bag.
Tent.
Sleeping bag.
Sleeping pad.
Lanterns and large flashlights.
Anything sharp.
Personal hygiene items.
Sun-tan lotion.
Insect spray.
Small camp stoves.
If there is a good rental location near my camping spot I'll skip all of this and just rent equipment on-site.  The reason I'll do this is that checking a bag often costs $50.00 each way and I can sometimes rent gear for less than a $100.00.  It also gives me a chance to try out new gear before buying it and it saves me the hassle of having to go to baggage claim.
When I have to pack a bag and I have up to a certain weight to use I'll pack as many items as I need.  In this case, I'll pack the half-used sun-tan lotion and insect spray I have in my house as well as any cheap personal hygiene products I think I'll need.  This does save money over buying them on location and helps offset the cost of checking a bag.
*Quick-tip – Use a fold-up duffel bag as your checked bag so that you can fold it up and put it in your backpack when you get to your camping or hiking destination.  This way you won't have to worry about storing a piece of luggage while you're on your trip.
Additional Tips For Packing Camping Gear
Wear bulkier items so you don't have to pack them.
Use compression bags to make items smaller.
Choose an airline that lets you check a bag for free.
Make sure your camp stove does not have any fuel inside of it.
Bring dual purpose items.
It might be a hassle to take boots off at the security terminal but I always find it is easier to wear my boots then to pack them.  I wear my boots and I pack my hiking sandals as this gives me more room in my carry-on or checked bag.
Some people use vacuum bags to make their clothing smaller but I always wonder how they get their items back without vacuuming them up again.  Instead, I have a few compression bags that I use to tighten everything up.  I originally bought them for hiking but they work just as well for packing up items before a flight.
If you know you'll definitely want to check a bag, you may want to choose an airline that includes a checked bag in the price of the flight.  The flight might be a little more expensive but you may end up saving money in the end.
Camp stoves can be packed away in your checked bag but you'll want to be sure that they do not have any fuel inside them.  For this reason, I only pack up small gas stoves or wood-burning stoves as I find alcohol stoves are a hassle to empty out and clean before flying.  The little gas canister stoves fold up easily enough and the wood-stoves usually fold flat and I don't have to worry about buying fuel when I get there since I can use small sticks as fuel.
Using dual-purpose items like the mighty spork is also a good idea as you'll save both space and weight.
Related Questions
How To Pack a Sleeping Bag For A Flight
When packing up your sleeping bag for a flight, use a compression bag.  A compression bag will dramatically reduce the volume of space your sleeping bag takes up.  Just be sure to take it out of the bag as soon as you arrive at your destination as compressing the insulating materials in your sleeping bag for long periods of time is not good for them.
Should I Mail My Camping Gear
If you have a friend in the area it may not be a terrible idea to mail your camping gear in advance.  This being said, I've never found it to be worth the extra hassle.  Mailing your camping gear is expensive and you'll have to get insurance or risk losing it all.  Also, what happens if your camping gear doesn't show up on time?