*******************************
This trail has now been closed due to safety reasons.  I'll leave this post up for now as there has been some talk of making the trails safer so that it can be reopened one day.
******************************
Danger – people have been seriously hurt or killed in this area.
This is one of the first things you'll see when entering Glen Onoko Falls in Jim Thorpe, Pennsylvania.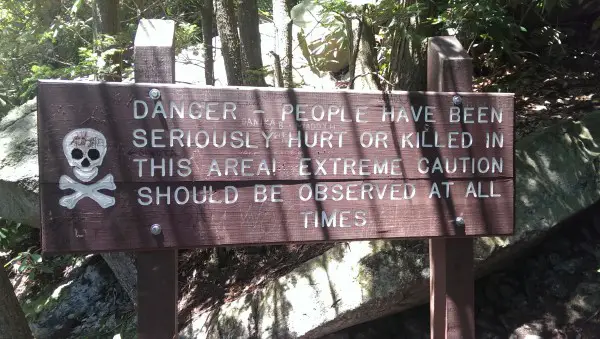 Unfortunately, this is true and people have died while trying to take in the beauty of Glen Onoko's waterfalls.
Don't let this discourage you though.
The Glen Onoko trail is challenging, but for careful hikers, it isn't as dangerous as the death toll would have you believe.
Of course, this doesn't mean you shouldn't take the signs seriously.  There are not one but four separate signs warning you to be careful and to wear the proper footwear.  This is rare for Pennsylvania hiking trails and the warnings should not be ignored.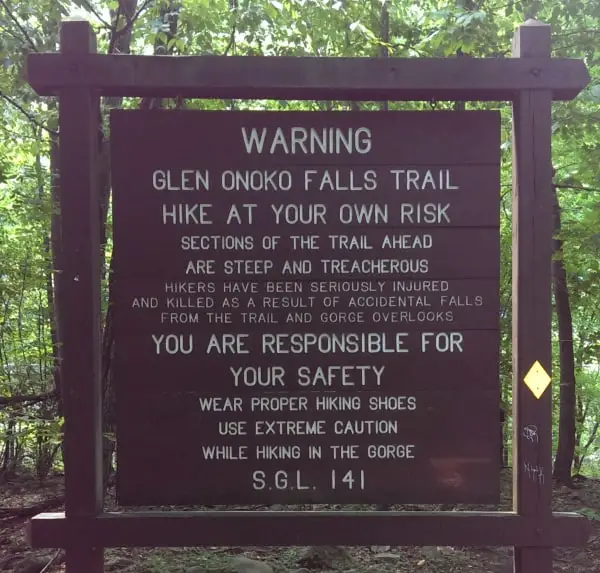 Here is the sign closest to the parking lot.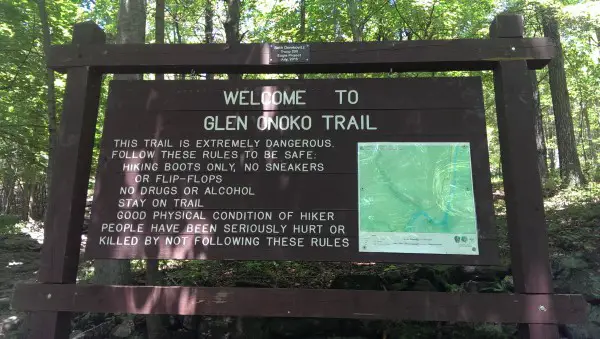 Here is another sign at the start of the trail.  It also tells you the elevation, which is just around 1,000 feet so the trail ends up being a pretty steep climb.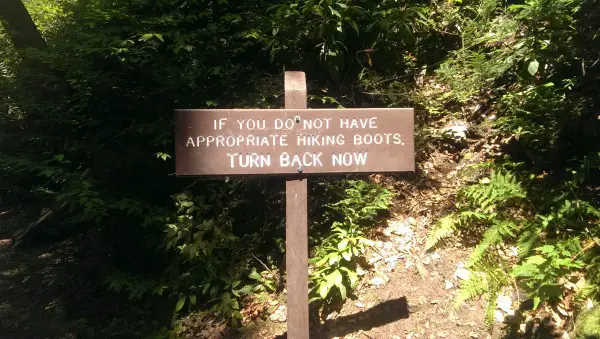 Here is one last sign, that unfortunately, many people on the trail were ignoring.  Most people were wearing shoes but I even saw multiple people making the journey with flip flops.
The Waterfalls
The Glen Onoko trails take you by not just one, but three unique waterfalls.  These include Cave Falls, Chameleon Falls, and the Glen Onoko Falls.
On your way up the trail, you'll first encounter Chameleon falls.  It is a unique waterfall in that two different cascades fall into each other at the top and then run down.  It's also about 30 feet tall so it makes a good opening act for the 60 foot tall Glen Onoko falls.
After you pass this waterfall, you'll make your way to the Glen Onoko Falls.  These falls come down to a nice little gorge with a shallow pool.
When I went to visit the falls it was in the middle of a heatwave so the temperature in this area was a welcome relief to the 97-degree temperatures back at the parking lot.  This being said, I would imagine it could be chilly in this area in the Fall or early Spring.
After passing this fall, you'll end your ascent at the Cave falls.  These falls were really pretty and I hope to be able to see them again without the group of teenagers smoking pot together underneath of them.
Tip – If the falls open up again, go on a weekday during the shoulder season to avoid all the teenagers. 
Unfortunately, the kids find the waterfalls to be a great place to hang out, to do drugs, and to drink alcohol.  Sadly, it's also probably the reason there were so many deaths there.
Additional Tips
If you've never been to Jim Thorpe, Pennsylvania, you should know that it is a very busy tourist town.  The traffic leading into the town can be brutal and there really isn't any way to avoid it.
My suggestion would be to arrive early or expect to sit in a bit of traffic on your way to the trail entrance.
When you're done with your hike, stop into town and get something to eat.  I really enjoyed the food, the pricing and the atmosphere at Molly Maguires.
Eat outside and you may have to hear the old steam train but you'll get a great view of the surrounding area.