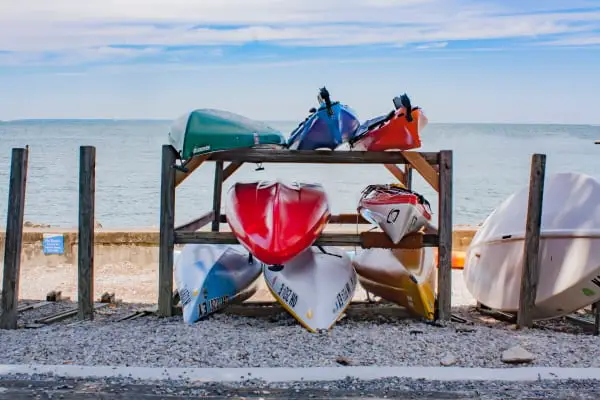 If you're like me, you've probably seen kayaks hanging out the back of pickup trucks, on top of SUVs and even on top of cars.  You've also probably seen them strung out on long trailers as well.
When you started to consider buying a kayak, you wondered to yourself, how long is a kayak?  Kayaks come in many different lengths ranging from around 6 feet long to well over 20 feet long.  The difference is usually determined by the type of kayak.
In the rest of this post, I'll go over the different types of kayaks by length so that you can get a feel for how long kayaks really are and what length kayak you'll most likely want to buy for yourself.
Short Kayaks
The shortest adult kayaks on the market are whitewater kayaks.  They'll range from six to ten feet but are most common around the eight-foot mark.
These kayaks aren't good for slow waters as they don't paddle very well.  The short length and lack of a rudder makes it so that they don't track in a straight line.  On top of this, the shape of their hulls do not allow for fast movement through the water.
The main advantage of this type of kayak is that it can navigate rapids very well.  It's also short enough that you could fit one inside of a van or truck bed without much trouble.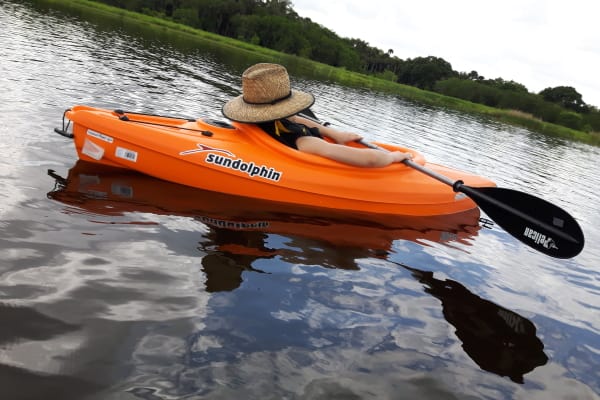 Examples of Short Kayaks
The Astro 54 Whitewater Playboating Kayak – The Astro is made by Riot kayaks.  It has a length of only 6 feet, a width of only 25 inches, and a weight of only 34 pounds.
This kayak is great for romping through rapids and is small enough to fit in an SUV or hatchback with the backbench down.  You could even toss it into the back of a short-bed truck without any issues.
Expect to pay around $900.00 for this kayak.
The Thunder 76 Whitewater River Running Kayak – This kayak is made by Riot Kayaks and it measures 8 feet long and 26 inches wide.  It has a weight of 45 pounds so it isn't very difficult to throw this onto a roof rack.
The cockpit opening on this kayak is 34 inches long by 20 inches wide.  Inside there are adjustable foot braces so even taller kayakers won't have a problem using it.
Expect to pay around $750.00 for this kayak.
The Dagger Axis 10.5 – This kayak is 10.5 feet long and has a width of 28.5 inches.  It weighs in at 50 pounds and has a weight capacity of 300 pounds.
The nice thing about this kayak is that you can use it to paddle slower lakes and rivers and you can also use it to navigate rapids as well.  Unfortunately, at 10.5 feet long it'll most likely have to go on top of your vehicle's roof.
This kayak usually comes in at over $1,000.00.
Medium-Length Kayaks
The next size up usually comes in the form of a recreational kayak. A recreational kayak will usually have a length between ten and fourteen feet.
These are good kayaks for calm lakes and slow-moving rivers.  They are more stable than the other types of kayaks and they're great for beginners, fishermen, and casual paddlers.
You could fit a recreational kayak on top of a vehicle via a kayak roof rack or in a truck bed with a truck bed extension rack.  Someone with a cargo van could also move a recreational kayak without much trouble but the kayak would have to be put in diagonally for it to work.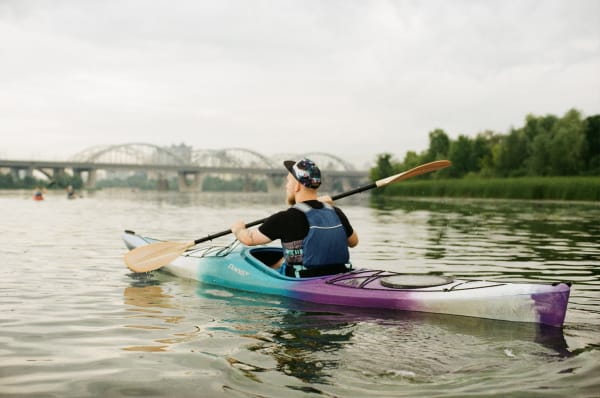 Examples of Recreational Kayaks
The Pelican Trailblazer 100 NXT Kayak – This kayak is one of the shorter recreational kayaks and it comes in at a length of only 10 feet long.  The width is 29 inches and the weight is only 36 pounds.  It's a sit-on-top style kayak which is pretty common among recreational kayaks.
The hull style of this kayak is great for paddling calm waters but it wouldn't do well in tough rapids.  However, this is a great kayak for beginners who are looking for something that is relatively easy to store and small enough to fit on top of a vehicle.
You can get this kayak for as little as $200.00.
The Pungo 105 Kayak – The Pungo 105 is made by Wilderness Systems.  It also has a length of 10.5 feet and its width is 30 inches.  It's a sit-inside kayak with a cockpit size of 51 inches long and 22 inches wide.  The weight on this kayak is 47 pounds.
The width on this kayak makes it a very stable kayak and it's best used on flat waters.  This is a good kayak for someone looking for a shorter kayak that is still lightweight and easy to use for beginners.
These kayaks usually range in the $800.00 to $1,000.00 price points.
The River Gorge 130X Tandem Kayak – This kayak is made by Pelican and it's designed to be used by two people.  It has a 13-foot length and a weight of 73 pounds.
You could realistically put this on the roof of a longer vehicle but you might be better off with a trailer at this length.
The price of this kayak is usually over $500.00.
Long Kayaks
Touring kayaks and sea kayaks typically start out at the twelve-foot range and can easily go well over twenty feet in length.  These kayaks move fast and straight in the water and they can handle larger lakes, fast-moving rivers, and even the ocean.
Traveling with kayaks of this size usually requires the use of a trailer but some longer vehicles and RVs can store them on the roof.
Touring Kayak Examples
The Dagger Stratos 12.5 L Kayak – This kayak has a length of 12.5 feet and a width of 25 inches.  It has a cockpit length of 35 inches and a width of 19 inches.  The weight is 53 pounds.
You'll be able to go sea kayaking in this kayak and with the built-in skeg, you'll be able to paddle straight with ease.  The downside is that you won't be able to fit this kayak inside of the average vehicle.
The Stratos sells in the neighborhood of $1,200.00.
The Eddyline Fathom LV Kayak – This kayak has a length of 15.5 feet and a width of only 21 inches.  The cockpit is 31.5 inches by 16.5 inches and the weight is 47 pounds.
An aggressively narrow hull makes this kayak great for cutting through seawater and fast-moving rivers.
The length on this kayak calls for a long vehicle or a trailer.  However, keep in mind that even if you do have a Chevy Suburban or some other vehicle that could potentially carry this kayak on top, you probably won't have an easy time getting it up there.
To buy this kayak, you'll need over $2,500.00.
Folding and Modular Kayaks
People with space and storage constraints might want to consider getting a folding kayak or even a modular kayak.  Folding kayaks and modular kayaks come in a few different versions and you can get some that come in two or three pieces or you can get ones that fold on in themselves like pieces of origami.
The origami folding kayaks fold down to the size of a suitcase so they are great for people looking to travel with a kayak in a small car.  The modular kayaks that come in pieces make it possible for people with SUVs and hatchbacks to comfortably carry the kayak inside the vehicle.
Kayaks that come apart in pieces are generally made from sturdier materials than the pure folding kayaks.  These kayaks also tend to set up easier than pure folding kayaks as well.  The downside, of course, is that they won't fold up quite as small.
Folding and Modular Kayak Examples
The Tucktec Folding Kayak – This kayak folds down to a size of 48 inches by 15 inches and folds out to a length of 10 feet.  The weight on the kayak is less than 30 pounds.
A nice thing about this kayak is that you could easily toss it into the back seat of your compact car or into your trunk.  Leave a paddle in the trunk as well and you'll be able to hop out and kayak whenever the mood strikes you.
These kayaks usually come in at less than $500.00.
The Point 65 N Tequila –  This kayak is a sit-on-top kayak that comes in two pieces.  The total length of the kayak is only 9 feet 3 inches and each section is less than 5 feet.
This kayak is easy to toss into a pickup truck or minivan but is still too large to fit inside of a typical sedan.
The advantage of this kayak is that it comes in a durable material and with the purchase of another section, it can be converted into a tandem kayak.
Look to pay over $800.00 for this kayak.

Inflatable Kayaks
The easiest kayak to travel with is the inflatable kayak.  An inflatable kayak folds down so small that you can fit it into a backpack.  In fact, when I was a kid my friends and I used to pack up our inflatable kayaks and bike with them to a nearby reservoir.
These kayaks can be used in various types of waters but I wouldn't recommend using them in areas where you might come in contact with rocks, logs, or anything else that could create a puncture.
An inflatable kayak can sell for as little as $50.00 or as much as a $1,000.00.  These wild price differences are usually dictated by the build quality of the kayak as well as the intended use of the kayak.
Final Thoughts on Kayak Length
It's good to have an idea of how long kayaks are before you decide to buy one.  This being said, I wouldn't let kayak length determine what type of kayak you buy.  You're better off determining what kind of kayaking you want to do and then matching that type of kayaking to the type of kayak you buy.