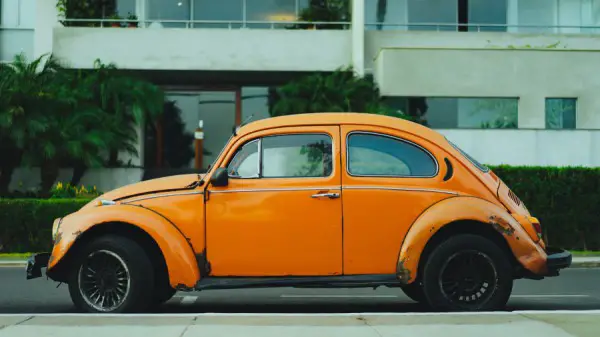 Kayaks and canoes are small but they can still be difficult to transport in a car.  Luckily, there are a few models that are built specifically to fit inside cars and other small vehicles.
In this post, we'll go over 10 kayaks and canoes that fit inside a car.
Kayaks That Fit Inside a Car
A standard kayak just isn't going to fit into a car.  Instead, you'll need to go with one of the three alternative kayaks that are out on the market right now.
These would include modular kayaks, folding kayaks, and inflatable kayaks.  Here are some options for you to choose from.
Modular Kayaks
Modular kayaks are kayaks that come in sections that can easily be dismantled and put back together.  These kayaks usually won't pack down as small as folding kayaks and inflatable kayaks but they do tend to be more sturdy.
Below are two of the best modular kayaks you can buy right now.
Point 65 Modular Kayaks
Point 65 makes modular kayaks that can be used as single person kayaks or tandem kayaks.  A single person kayak can add a single module that converts it to a tandem kayak which gives you the added benefit of being able to have two different kayaks in one.
I really like the fact that these kayaks provide a hard shell and that they even stay afloat after they've come apart.  These kayaks can fit into cars and even closets without too much trouble and you can find them in both sit-in and sit-on-top versions.
Sit-in kayaks come with keel rudders to make navigation easy and the company even sells modular fishing kayaks that can be operated with a foot-pedal system.
These kayaks are also easy to put together.  Place the pieces together and they snap together in just a few seconds.
Below is a video of one of the Point 65 Kayaks in action.
Want your own Point 65 kayak?  Take a look at what they have to offer on Amazon.
Pakayak
Pakayak currently makes one modular kayak model called the Bluefin 14.  It's a 14-foot sit-in kayak made from a hard plastic resin.
I love this kayak because it breaks down into 6 sections that fit into each other for storage and transport.  This nesting of modules makes the kayak so small that you can actually add it to your checked luggage when flying.
Another advantage of this kayak is that it was designed for the ocean.  Wave surfing and Eskimo rolling aren't a problem with this kayak and it's something you won't' be able to do with any of the other kayaks that fit inside of cars.
The only downside I can see to this kayak is that it does require a bit more assembly.  Below is a video of the Pakayak being assembled.
As you can see, it takes some work to get it all set up but it's still a lot easier than getting a 14′ kayak onto and off of a roof rack.
Folding Kayaks
A folding kayak packs down small while often still providing you with a hard-sided kayak.  Some folding kayaks fold easily while others require a bit more work.
Below are some folding kayaks for you to consider.
The TuckTec Folding Kayak
The TuckTec folding kayak is made from a single piece of foldable HDPE.  This material is carbon-fiber-reinforced along the fold lines to ensure that it won't suffer from tears or punctures.
TuckTec is so confident in their product that they offer a full 3-year warranty with every sale as well as a full 90 day return period.
It weighs in at less than 30 pounds and packs down small enough that you could easily slide it under your bed when you're not using it.
This is a sit-in kayak but its cockpit is large enough to make the kayak look more like a canoe.
TuckTec has been selling kayaks on their website for over a year, but they're currently working on a new version that will be made from recycled material.
Below is the Kickstarter video, that the company is using to promote this new development.
Being that they're using HDPE, it shouldn't be too difficult for them to make this a reality.
Oru Kayaks
Oru makes five different folding kayak models for you to choose from.
Their small Inlet model is less than 10′ long and only weighs 20 pounds.  When folded down, the kayak box is only 42″ by 21″ by 11″.
Move up to their Coast XT model and you'll have a kayak that is 16′ long.  Even so, this kayak only weighs in at 36 pounds and the kayak box is only 33″ by 12″ by 29″.
These kayaks seem to be easier to set up compared to the TuckTec kayaks and they're also a bit sexier to look at.
Take a look at the Oru below.
One thought to keep in mind is that the Oru Kayaks appear to be made from corrugated plastic.  This makes me wonder just how long they'll hold up under heavy use.
Pakboats Kayaks
If you're looking for a sturdy expedition kayak, a Pakboats kayak might be what you're looking for.
These kayaks are sit-in kayaks that consist of heavy canvas materials, inflatable materials, and aluminum frames.  The aluminum creates the skeleton and the canvas wraps around this skeleton to create a sturdy kayak.  Within this kayak sits an inflatable material that provides additional support, comfort, and a material that will allow the kayak to float even if water gets into it.
The company offers a multitude of different sizes but they all fold down into a small bag size.  They're also all really light with the largest of them weighing in at only 31 pounds.
These kayaks seem to be a great alternative to traditional folding kayaks and pure inflatable kayaks.  The downside of course is that they also require a lot more work to set up.
Below is a video of a Pakboat kayak.
Inflatable Kayaks
Inflatable kayaks are exactly what they sound like.  These are kayaks that must be inflated with air before they can be used.
These kayaks are lightweight and can easily fit inside any vehicle.
Here is a rundown on two of the most popular inflatable kayak brands on the market right now.
Sevylor Inflatable Kayaks
Sevylor kayaks are made from a thick and durable PVC that is strong enough to hold up to the rigors of kayaking.  This company has been making PVC products since the 1940s so it's no surprise that they were able to make an inflatable kayak that can be drug across a beach or along the bottom of a rocky river.
As such, there are a lot of different Sevylor models to choose from.  They make sit-inside kayaks, sit-on-top kayaks, and a wide range of other inflatable boats to choose from.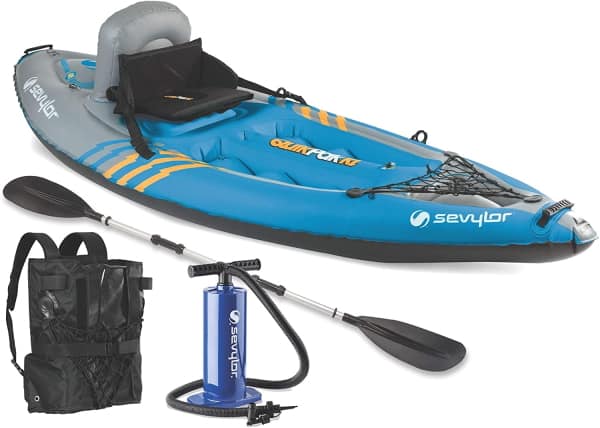 The kayaks can be pumped up manually and most people can get them out of the pack and into the water in less than ten minutes.  Again, this is less time than it would take to strap a kayak to a roof or onto a trailer.
You can see more of these kayaks by following this link.
Intex Inflatable Kayaks
Intex is Sevylor's main competitor and they've been around for a long time as well.  According to its website, the company has been in business for about 40 years.
Heavy-duty puncture-resistant vinyl is used to make Intex kayaks.  Additionally, the company makes use of 3 separate air chambers, so even if one is punctured, you'll still stay afloat.
You can get Intex kayaks in single-person models as well as tandem models.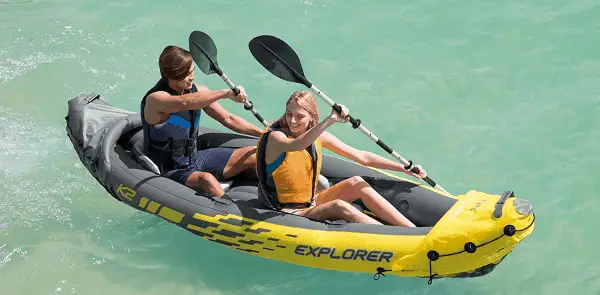 The Intex Explorer is their best selling model.
Canoes That Fit Inside a Car
I've yet to see a truly modular canoe, but you'll still be able to choose between folding canoes and inflatable canoes.  Here are some options to choose from.
Folding Canoes
Folding canoes work just like the folding kayaks we mentioned above.  These are less popular than folding kayaks but there are still a few good brands to choose from.
Here are two folding canoe brands to consider.
My Canoe Folding Canoe
This folding canoe is 14.5 feet long and it can be folded up and in the water in less than 5 minutes.  The canoe is a bit bulky when folded but it is still small enough to fit inside of any vehicle.
The hull on this canoe is made from polypropylene and the company says you can fold it up to 20,000 times.  This means that even if you use the canoe every single day of the year, you'll still get almost 55 years out of it.
Personally, I think 55 years of daily canoeing for less than $1,500.00 is a great deal, but maybe that's just me.
Pakboats Canoes
Pakboats makes 6 different folding canoe models for you to choose from.  These range in length from 14 feet to 17 feet and weights of 38 pounds to 56 pounds.
All Pakcanoes have a reinforced PVC skin that is framed out with tubular aluminum.  Because of this frame construction, Pakboats are said to take on less water than traditional canoes.
Take the canoe apart and it becomes a 35″ x 18″ x 14″ package that you'll be able to fit inside of any vehicle.
Inflatable Canoes
Inflatable canoes are similar to inflatable kayaks and both inflatable kayak makers Sevylor and Intex also make inflatable canoes.  I won't mention them again as the canoes are built in the same manner as the kayaks.
Here is a brand of inflatable canoes that I didn't mention earlier.
Sea Eagle Inflatable Canoe
Sea Eagle has been making inflatable canoes, kayaks, and stand-up paddleboards since the 1960s.  They also use PVC for the hull and offer a lot of different models to choose from.  Some of the smaller models are as light as 26 pounds.
One of the major advantages of the Sea Eagle inflatable canoe is that you can get a canoe, 2 paddles, an air pump, and a carrying case for less than $250.00.
Final Thoughts
You don't need to have a large vehicle or trailer to own a canoe or a kayak.  If you find yourself short on space in your home or car, consider one of the options above and you'll be out on the water in no time.