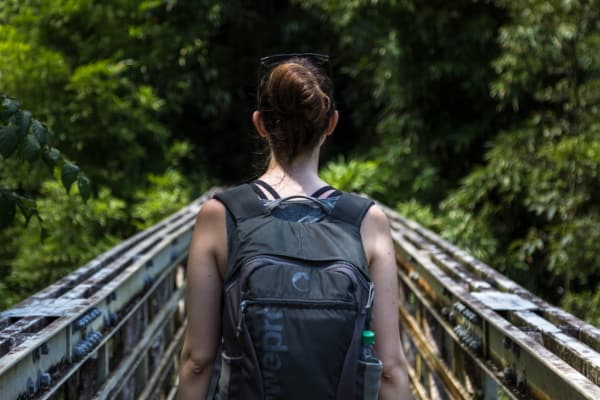 I bought this camera backpack in 2014 to carry my Canon Rebel t3i and have gotten A LOT of use out of it.
In this post I'll review the Lowepro Photo Hatchback 22L Camera Backpack and tell you about my first-hand experience with it.
I've taken my Lowepro backpack to Maine, Connecticut, New York, Pennsylvania, Virginia, and South Carolina.  It's given me the ability to easily take my camera out on hikes that I wouldn't have brought my camera on without the backpack.
Not only this, but the built in water bottle holders and daypack style top have replaced my typical daypack.
In fact, I sometimes use this bag as my carry-on when I fly as it allows me to pack my camera, my tablet, my kindle, a set of extra clothes and even an extra pair of shoes in it!
What I like about the Lowpro Photo Hatchback 22L Camera Backpack
Fit – I'm about 5'9" and 150 pounds and this backpack fits me very well. The waist belt and chest strap are easily adjustable and I find I don't have any problem lending the pack out and quickly adjusting it to fit me again.
Comfort – This pack has a breathable mesh padding on the back which helps keep your back cool on those hot summer hikes. I've hiked up Glen Onoko falls during a heatwave with this pack on and was completely comfortable.
Space – For how small this pack is, you really can pack a lot into it. The hatchback-style design makes it easy to get your gear in and out of it and the inner compartments make it easy to keep things organized.
Durability – As I said earlier, I've used this backpack for years now and I've yet to experience any durability issues with it. In fact, it's held up so well that I probably won't ever have to buy another one.
Options – Although I bought this pack primarily to use as a camera carrying backpack, I do love the fact that you can take out the camera padding elements to convert the bag into a standard backpack. I didn't even realize this was an option when I bought it, so it was a very pleasant surprise.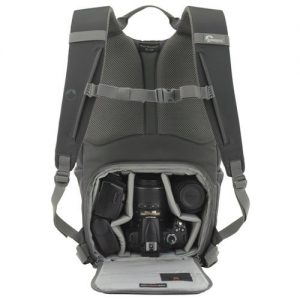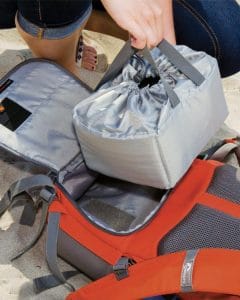 What I don't like about the Lowpro Photo Hatchback 22L Camera Backpack
The only real complaint I have about this backpack is the fact that the water bottle holders sit too far back for me to pull standard sized water bottles out while wearing it.
This means I either have to contort my body to get the bottle in and out or I have to take the backpack off every time I want to take a sip of water.
Fortunately for me, I typically hike with a partner so I usually just ask her to pull my water bottle out when she pulls hers out.  I figure since I'm carrying both of our water bottles, she won't mind pulling an extra one out from time-to-time.
Overall I think this backpack is a really great buy.  In fact, when I bought it I paid $99.99 and thought it was well worth the money, but you can get it on Amazon now for even less
.