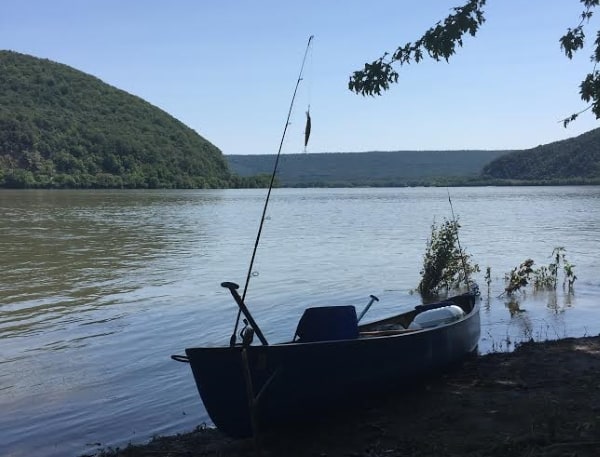 Canoe camping is one of my favorite types of camping.  It makes the entire trip feel more like an adventure and you get to engage in multiple outdoor activities for the price of one.
A day of floating or paddling down a river followed by an evening around a campfire just can't be beaten.
This kind of camping does come with a few extra challenges though and there are some issues you may want to be aware of before you head out on your trip.
In this post, I'll provide you with a complete beginner's guide to canoe camping so that you can have a fun and safe canoe camping trip of your own.
Why Take a Canoe Camping Trip
Canoe camping is a great way to experience the outdoors.  You get to paddle, camp, fish, hunt, and even hike if you want.  These trips can be physically challenging but they don't have to be.  In fact, I'd recommend you make your first canoe camping trip a gentle float downriver.
A canoe camping trip is a bit more rugged than a car camping trip but often less rugged than a backpacking trip.  This is because you don't have to carry your gear and you get to take more gear with you.  Also, if you're floating downriver, you don't have to put out nearly as much energy as you would have to during a trek through the forest, through the desert, or up a mountain.
An added benefit to canoe camping is that you'll be able to access areas that you wouldn't be able to otherwise.  Inaccessible wilderness areas and small islands can become quick day trips for canoe campers.  In fact, on a weekend trip, you may be able to hike and explore multiple islands as you take breaks on your downriver trip.
Lastly, you get to end the day with views like this.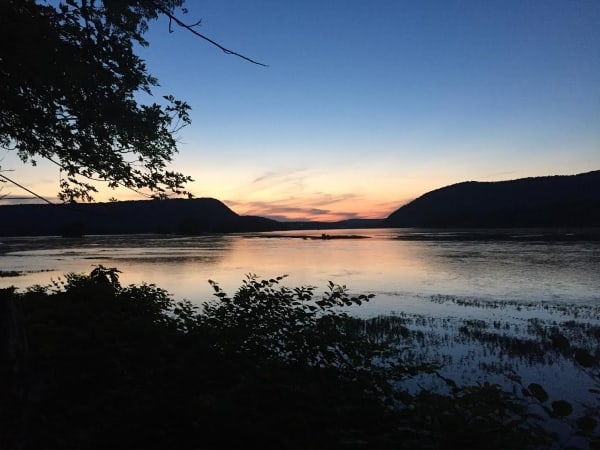 And, wake up to views like this.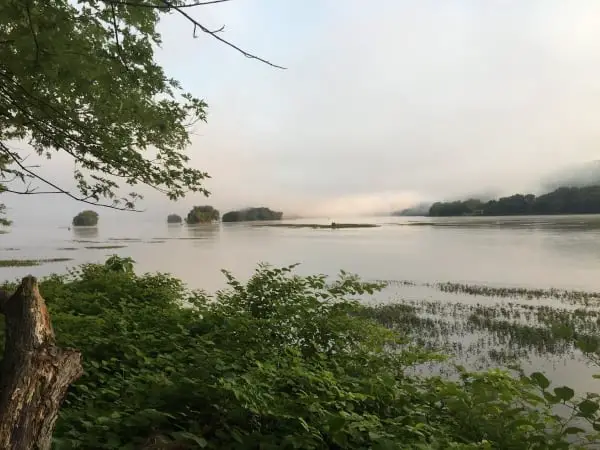 Don't worry, the fog lifted quickly and the trip out was just as enjoyable as the trip in.
Preparing for a Canoe Camping Trip
Before you go on a canoe camping trip, you might want to get acquainted with camping and canoeing in general.  Take a car camping trip to find out what you need and don't need while camping.  Car camping is much more forgiving than canoe camping and backcountry camping because if you forget something or want to go home early, you can always just hop in your car and leave.
The same can't be said for someone camping on an island or alongside a beach or lake miles away from their car.  This is especially true if you've decided to canoe camp somewhere remote.
Additionally, you'll want to get familiar with canoeing.  Canoes really aren't that hard to use but anytime anyone does anything for the first time it can be stressful.  This is especially true when taking a trip where a mistake can cost you your life.
Rent a canoe on a calm lake and take it out for an hour or two.  Get comfortable canoeing and it will be one less thing you have to worry about when you go canoe camping.
If you're not in the best of shape, start doing some light cardio a few weeks before your trip.  While canoe camping in still waters or on slow-moving rivers typically isn't very strenuous, it does require a certain level of physical fitness.  If you get tired carrying your gear to your canoe, you probably won't have a very fun trip.
Where to go Canoe Camping
Canoe camping can be done on a wide range of rivers throughout the United States.  You can also canoe camp alongside large lakes, along the bay or even the ocean.
My suggestion would be to find calm waters for your first trip.  Preferably not too deep into the wilderness and in an area that doesn't have many predators.
In the south, you may have to worry about mountain lions, alligators and crocodiles and in the west, you may have to worry about brown bears.  Alaska has brown bears as well as polar bears and I'd certainly steer clear of making Alaska the home of your first canoe camping trip unless you happen to live there and are familiar with the area.
The northeast and midwest have black bears but for the most part, you won't have to worry about any large animals when camping in these states.
Whatever you do, don't choose the most challenging trip you come across as your first trip.  Once you've done a few trips, feel free to go out white water canoeing in grizzly bear territory.  Just be sure to read my post on camping with bears first.
Some state parks will have campsites alongside the water that you can rent.  These campsites are sometimes located in state parks where you'll have access to bathrooms, water, and even electricity.  Canoe trips like this are great starter trips as you get the chance to learn about canoe camping without straying too far out into the wild.
Planning your First Canoe Camping Trip
As with everything, there are a few legal issues you'll need to consider when planning for a canoe camping trip.  For example, if you buy your own canoe, it may need to be registered with the state.  If you plan on doing any fishing, you'll probably need a fishing license.  If you're going to be camping in a state or national forest, you may need to get a permit first.
Are fires allowed in the area at this time?  You should find out the answer to this question before setting out on your trip.  The fines for starting campfires during fire bans are hefty and you can face serious legal trouble if your campfire ends up causing a forest fire.
Research the area that you've chosen to go camping in and find out what area-specific issues you may run into.  If you're unsure about anything, give the local rangers a call and they'll be happy to assist you.
Choosing a Canoe for Camping
For most trips, it's easier to contact a local outfitter that you can rent a canoe from.  I have my own that I use close to home but when I go on trips I don't bother bringing it as it's always easier to just rent one instead.  You'll probably be paying an outfitter to drop you and your canoe off at a dropoff point anyway and they may insist that you rent from them.
Even if they don't, you'll still end up paying almost as much for the dropoff alone as you would have if you had paid for the dropoff as well as the canoe rental.
With this in mind, you may not be able to choose the canoe you'll be riding in at all.  If you do get to choose, ask for the most stable canoe they have.  Typically the wider and longer the canoe, the more stable it will be.
Choosing a larger canoe will also give you more space to store camping gear and will give you a higher weight limit to work with as well.  Also, wider canoes are less likely to capsize which is a definite plus.
What to Bring Canoe Camping
When you go canoe camping you can bring more gear than you would pack on a backpacking trip.  Don't let this fact cause you to dramatically overpack though.  Remember, canoes have weight limits and the more gear you bring, the less space you'll have in your canoe.
Also, canoes can capsize and a canoe that is full of gear will be harder to flip back over than one packed with only what you need.  Practically speaking, you may want to bring what you'd bring on a backpacking trip plus a cooler filled with your favorites.
In my opinion, one of the worst things about backpacking is that you can't bring a large cooler with you which limits the types of foods and drinks you can pack.  With canoe camping, you don't have this issue.
Here is a general canoe camping checklist that you might want to use for your first trip.
Canoe Camping Checklist
Life jacket.
Paddles.
Dry bags.
Canoe seat or pad.
Throw bag.
Tent.
Sleeping mat.
Sleeping bag.
Folding shovel.
Rope.
Water filter.
Water.
Food.
Bear-proof canister.
Medicine
Gas or alcohol stove.
Cookware.
Utensils.
Waterproof matches.
Firewood.
Clothes.
Wide brimmed hat with ventilation.
Wet weather gear.
Aquatic hiking shoes.
Sunscreen.
Polarized sunglasses
Bug spray.
Lip balm.
First aid kit.
Emergency first aid field guide book.
Flashlights and lanterns.
Headlamp.
Whistle.
Maps of the area.
Any licenses needed.
Trash bags.
Personal hygiene items.
Most of the items on this list are self-explanatory but a few might be having you scratch your head.  You may want to bring firewood if you're going to a state park that does not allow you to collect firewood on site.
The whistle is for emergencies and for alerting other boats of your presence.  The trash bags are for packing all of your trash out so that you can follow the rules of no-trace.  Water may be needed in addition to the water filter since you may decide you don't want to drink from the local water even if it is filtered.
When packing your gear into dry bags, keep in mind that dry bags with double closures tend to work better than dry bags with single closures.  Also, if you're looking for a large dry bag, here is a review on the dry bag that I use for canoe camping.
Water-proofing Your Gear
One thing is certain, you're going to get water in your canoe.  Keep this fact in mind as you decide what to water-proof and what not to water-proof.  Showing up to camp with wet gear is frustrating, uncomfortable, and in some cases dangerous.
For this reason, you'll want to look into dry bags and water barrels to keep your gear dry.  I like bags as they pack down smaller and it is easier to conform them to the bottom of the canoe.  Other people like barrels because they are more durable and they can keep your gear safer.  They're also guaranteed to float so you don't have to worry about losing them if you capsize your canoe.
Some people also like to put a one-inch layer at the bottom of their canoe to help keep their gear out of any puddles that may form inside.  You can use a layer of sticks or a mat or anything else you like.  Personally, I don't bother as all my gear goes into dry bags, sometimes two if it is extra important that the items stay dry.
Getting Your Canoe Upriver
Getting your canoe upriver is usually a simple process that involves you calling a local outfitter and scheduling a dropoff and possibly a pickup.  Ideally, the outfitter will be located right on the water and you'll get dropped off upstream and will end your trip at the outfitter's location.
This is the best situation since you'll have a safe place to park your car and it will be right there when you get back.  Some outfitters will make you drop your canoe off before a certain time and others will allow you to drop it off after hours.
I've been to quite a few outfitters that didn't really seem to care what you did afterward as long as they got their canoe back.  In fact, the last two places I was at just had us leave our canoe alongside the building.  We didn't check out with anyone at all.  I feel like one day I'll leave my canoe behind and someone will steal it and I'll be blamed for it so I'm hoping these places at least have cameras posted alongside their drop-off locations.
Here is how your experience with an outfitter will usually go.
You'll reserve your canoe, a paddle, a life jacket, and maybe even a comfortable seat to put on your canoe.
The outfitter will make you fill out a bunch of forms saying that everything is at your own risk and that if you die it's all your fault.
You'll give them your emergency contact information.
You may have to watch a video on how to use a canoe or you may not depending on the place.
If you're new to canoeing, go ahead and watch it.
The outfitter will drive you to a dropoff location upstream and will give you some tips on finding the outfitter on your way back.
*Bring some cash to tip the person dropping you off.  Don't ask me how much.  Even though I'm notoriously frugal in other areas, my friends always tell me I over-tip everyone.
Most outfitters are professional and knowledgeable and they'll be able to give you information on the fishing, the speed of the water, and anything else you can think to ask them.  And, although I've never experienced it myself, you may be able to get into a banjo duel with the outfitter's son and even view some mountain dancing.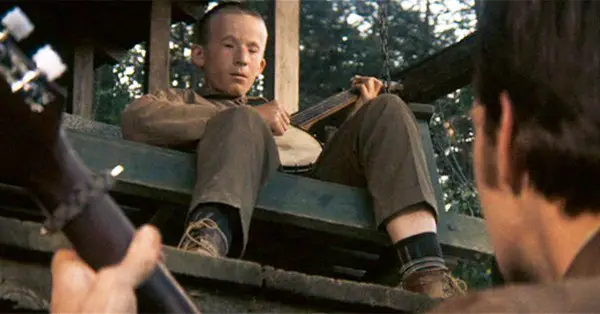 If you're not using an outfitter, you'll have to find points both upstream and downstream to launch and return your canoe.  You'll also need to have a friend drop you off and pick you up.  This will need to be timed pretty close or you or your friend will end up having to wait around at the pickup point.
This could be a practical option if you live close to a river with free camping options and if you own your own canoe.  Getting dropped off might save you a hundred dollars or two.
How to Load Your Canoe
Spread the weight of your gear out and place the heaviest items in the center of the canoe.  Also, keep everything as close to the floor as possible.  You want your canoe to have the lowest center of gravity possible.
Do all of the packing after the canoe has already been placed into the water.  While it might seem more convenient to pack the canoe up first, this can actually cause damage to your canoe.  You don't want to launch your canoe only to find that you've put a hole into the bottom of it by packing it up too early.
You'll also want to tie your gear down in your canoe.  The term for tying your gear down is called "rigging".  Rigging is especially important for swift-moving water but really should be done anytime you're traveling on a moving body of water.
When your gear is all tied neatly into your canoe, you won't have to worry about chasing it after your canoe capsizes.  Also, it can actually help to reduce the amount of water that gets into your canoe after the canoe has capsized.
What to do When Your Canoe Capsizes
Canoes capsize more often than you might think.  Because of this fact, it is important that you know what to do when your canoe capsizes.  This is especially important knowledge when you're canoe camping as you may be many miles away from civilization when you do capsize your canoe.
In the event your canoe does capsize, here is what you should do.
Stay calm.
Position yourself behind the canoe.
Hang onto the canoe and swim to shore with it.
It is extremely hard to flip a canoe back over in the water after it has been capsized.  If at all possible, swim back to shore.  Once on land, you can drain the water and flip the canoe back over.
When swimming with your canoe, make sure the canoe is in front of you.  If the canoe is behind you, it could end up pushing you into a rock or a log and you could become trapped between the two.
Sometimes you won't be able to swim back to shore.  In this case, stow your paddle safely inside of the canoe and then try to get as much water out as possible before attempting to flip it back over.  If another boat is nearby, they can help provide assistance from their canoe but they'll need to do it with their canoe perpendicular to yours so that their canoe doesn't capsize as well.
In this case, you'll actually lift the canoe onto their canoe and they'll flip it back over while it is out of the water.
How to Set Your Campsite Up
When you decide to camp for the night, take all of your gear completely out of your canoe and bring it on land.  Next, pull your canoe up onto land and flip it over.  Pull it far enough inland that it won't be taken out by the tide while you sleep.  I'm always a little paranoid about this so when I'm camping on small islands I'll tie it to a tree as well.
Be especially careful when beach camping as the tide may come in much deeper than you think it will.  For more information on how to stay safe while beach camping, see my post titled, "How to Camp on the Beach".
After your canoe is secure and your gear is in place, pick a dry spot to set your tent up in.  Check the area for glass and any other objects that could be a threat to you or your tent.  Unfortunately, the sides of rivers, lakes, and beaches are often filled with broken glass and other trash so you'll need to be extra careful when canoe camping.
In addition to this, you'll also have to take the normal precautions like setting up on away from flood paths and away from dead trees and dead tree branches.  The same holds true for your canoe as well.  You wouldn't want to wake up to find that a fallen tree had crushed your canoe would you?
Canoe Camping Hygiene
Following no-trace procedures is sometimes more difficult when canoe camping.  However, following no-trace rules is also more important when canoe camping.  When you cause pollution to a forested area, the ground can often act as a filter to reduce the negative effects.
When you cause pollution near a water source, it can go directly into that water source without being filtered first.  Take precautions like walking 200 feet inland before washing yourself with biodegradable soap.
Better yet, skip bathing all-together on short trips and just take a long shower when you get home.  If you want to wash the sweat and sunscreen off, take a dip in the water and scrub yourself with a clean washcloth.
Also, don't go to the bathroom on small islands where it is forbidden to do so.  I know, packing out your feces is unpleasant but it helps to keep at-risk water sources clean.  We've all used little bags to pick up dog feces before so it really shouldn't be that hard to do it for ourselves for one or two days.
Keep the waterways clean and you'll be able to continue to camp alongside them indefinitely.  Fail to do so and camping and even canoeing along these waterways could be shut down one day.
Final Thoughts
Canoe camping is one of the best ways to enjoy the outdoors.  Take a few extra precautions before you head out and you'll have a fun and safe experience that you'll never want to forget.