I've owned the Kelty Redwing 50 for about five years now and I've gotten a lot of use out of it.  Over the years, I've discovered some things I love about it, some things I like about it, and some things I don't like about it.
In the rest of this post, I'll give you the full rundown on my experience with the Kelty Redwing 50 backpack.
General Overview
The Kelty Redwing 50 is a 50-liter backpack that has been around for a while now.  It is made for both men and women and it comes in a variety of colors.
Veteran backpackers may remember this backpack by its former name, the Kelty Redwing 2900.   There have been a few minor changes over the years but for the most part, the backpack has remained the same reliable and trustworthy backpack of old.
What I Like About The Kelty Redwing 50
There are a lot of things to like about the Kelty Redwing 50.  Here are my top X favorite attributes about this backpack.
It comes at a reasonable price.
It offers superior ventilation.
Its pockets are ergonomic and easy to use.
It comes with a hydration bladder sleeve.
It's comfortable.
This backpack generally runs between $100.00 on sale and $150.00 at full retail for the latest model.  You won't find too many backpacks of this quality and size at this price point, so it's definitely a great selling point.
I also like the way the ventilation is built into this backpack.  Not only is it made out of a breathable mesh material, but it also has airflow channels that help create airflow between your back and the backpack.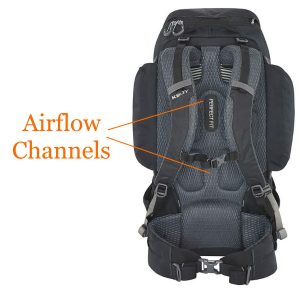 The pockets are also great on this backpack.  You'll find that using them is intuitive and you won't struggle to remember where you put things.  On top of this, the side pockets have a passthrough area so you can easily carry long items like trekking poles and small fishing rods on either side of the backpack.
Newer models also come with a hydration bladder sleeve.  This is something my older model lacks and it's one of the few things that turned me off about the backpack when I first bought it.
You won't struggle with comfort on this backpack either.  The fit of the backpack is highly adjustable and you can adjust everything quickly and easily without much fuss.  This is great for backpackers who might find themselves with a thick coat on during one section of their hike and just a thin t-shirt on in another section of their hike.
What I Don't Like About The Kelty Redwing 50
It's almost 4 pounds.
It's bulky.
Thin clips.
This backpack isn't a tank by any means but it is a bit bulky and heavy.  While I don't think you need to bulk up to be able to go backpacking with this pack, I also don't think it would be a great choice for an ultralight backpacker either.
Another point of contention with this backpack is the fact that the clips don't seem that sturdy.  I haven't broken one yet but I feel like it wouldn't be too difficult to accidentally break one either.  When I put the pack down, I'm always careful to put it out of the way of foot traffic because I'm sure that if anyone ever stepped on one of the clips it would probably break.
What Others Have To Say About The Kelty Redwing 50
Panzer from the bushcraftusa forums had this to say about the Redwing 50.
"Really comfy pack.  Too big for most day hikes but perfect for a weekend overnighter in the hammock."
Dave_M from the bladeforums says,
"It's very easy to load and get everything nice and tight."
TheRambler from the Trailspace forums said,
"I have a Kelty Redwing and for the price, it's an awesome pack."
These reviews as well as the others I've read pretty much mirror my thoughts on this backpack.  Overall it's a great backpack at a fantastic price point but not something I would consider as an elite piece of gear either.
Get It Now
Want to buy the latest version of the Kelty Redwing backpack?  Why not buy it through my affiliate link below?
Link to the Kelty Redwing 50: https://amzn.to/33pVdiG