Military Sleeping Bag Review
When I first joined the US Army National Guard, I was issued an army sleeping bag that appeared to have been designed in the 1970s.  This bag was thick and hard to pack up tightly and I would never recommend that anyone buy one.
Fast forward a few years and I was issued one of the new military sleep systems.  This bag was completely different from my first bag in every way and after leaving the service, I decided to buy one myself.
In this post, I'll review the US military modular sleeping system for you so that you can decide whether or not you'd like to buy one as well.
The US Military Modular Sleep System
The military likes to call their bag a sleep system rather than a sleeping bag because….well…the military likes to complicate things.  They also like to give their gear long names and confusing acronyms, but that's another story.
This being said, the sleep system is a little different than a typical sleeping bag in that it does consist of 3 different sleeping bags as well as a compression bag.  Not only this, but each bag can actually be used by itself.  This reason alone may be why you decide to buy this sleep system over another sleeping bag.
The Different Components
The Bivy Bag – The bivy bag is the outer most layer of the sleeping system.  This is a Gortex bag that is so good at keeping water out that you can actually sleep on top of a puddle if you wanted to.  Some people will use this bag alone as a summer sleeping bag, but I prefer to use the patrol bag for summer camping as it is a lot more comfortable.  This bag weighs in the neighborhood of 2 pounds.
The Patrol Bag – The patrol bag is a thin and lightweight sleeping bag that works great by itself in warmer weather.  It is army green in color and weighs about 2 pounds.  In the winter, you can clip this onto the ICW bag that comes with the sleep system to create a great winter camping sleeping bag.
The ICW Bag – The ICW bag or (inclement weather bag) is a thicker version of the patrol bag.  This bag is black and weighs about 4 pounds.  I find this bag to be incredibly comfortable, but it is overkill on a hot summer night.  At 4 pounds, the bag is also pretty heavy, so I typically leave it home unless it's cold outside.
The Compression Bag – The compression bag does exactly what its name suggests.  This bag helps make the military sleep system a lot more compact by compressing it.
Just put your sleep system into the compression bag and pull on the straps until you get the bag as small as possible.  When I'm packing just the patrol bag inside, I'll even toss in some clothes to compress inside there as well.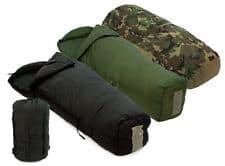 The Military Sleeping Bag – Final Thoughts
Overall the military sleep system is a great product that provides a lot of value.  It is a true four-season sleeping bag that can be broken down and used in warmer temperatures as well.  The upsides to the bag are that it is durable, versatile, warm, and will probably last the average person a lifetime.  The major downside is that the bag is heavy and could be difficult to use on a long backpacking trip.
You can buy these from the US Military on Amazon.com.  Prices vary from year-to-year, so check here for current pricing.
If you're still not sure what type of sleeping bag you should get, check out our page on how to choose a sleeping bag.