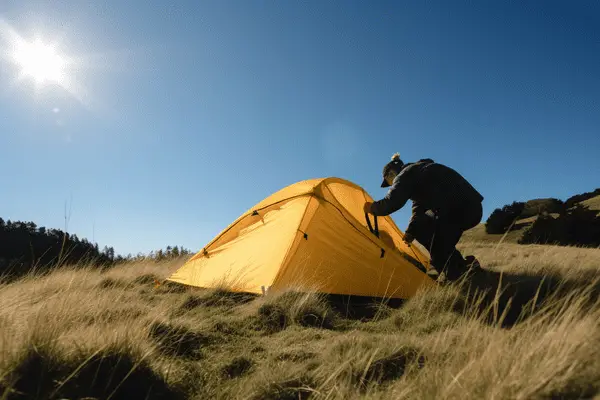 Choosing the right tent is one of the most crucial decisions you'll make when camping.  Campers frequently choose Eureka tents, myself included, but why is this?  Are Eureka tents good for your everyday camper?
Eureka Tents are highly regarded for their quality, durability, innovative designs, and long history.
I'll explain why in more detail, but first let's take a quick look at the history of Eureka tents.
A Quick Intro To Eureka Tents
Eureka was founded in 1895 in Binghamton, New York, by Arthur W. Paine, a skilled craftsman with a passion for creating innovative products. Initially, the company focused on producing canvas goods, such as awnings and wagon covers, for the local market. However, Paine's vision and dedication to quality soon led the company to expand into other areas, including the burgeoning camping and outdoor industry.
Rise to Prominence
Eureka Tents' reputation grew steadily throughout the early 20th century. The company's tents became increasingly popular among outdoor enthusiasts and adventurers, thanks to their durability and reliability in harsh conditions. During World War II, Eureka Tents further solidified its place in the industry by providing tents and other supplies to the U.S. military. This collaboration not only increased the brand's visibility but also allowed Eureka to refine its designs and production techniques.
In the 1960s and 1970s, as camping and outdoor recreation surged in popularity, Eureka Tents continued to innovate, launching new models and designs to meet the evolving demands of its customers. One such innovation was the introduction of the Draw-Tite tent, which featured a unique internal tensioning system that provided enhanced stability and ease of set-up.
Notable Achievements and Innovations
Eureka Tents has been a part of numerous historic moments, showcasing the quality and performance of their products. In 1963, their tents were used by the first American team to summit Mount Everest. Later, in 1981, Eureka Tents were chosen for the first successful ascent of the East Face of the Great Trango Tower in the Himalayas, a testament to their adaptability in extreme conditions.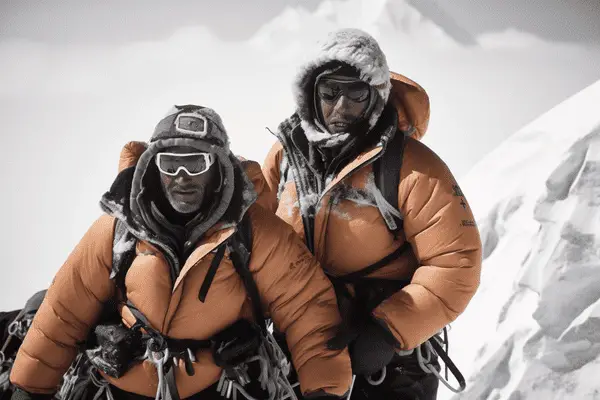 Over the years, Eureka has continued to push the boundaries of innovation in tent design. For instance, the development of the Timberline series in the late 1970s introduced the world to the A-frame tent, which combined a lightweight structure with ample interior space. This design became a benchmark for the industry and remains popular among campers today.
Present Day and Beyond
Today, Eureka Tents remains committed to providing high-quality tents for a variety of outdoor pursuits, from casual camping to extreme expeditions. They offer an extensive range of products, including backpacking tents, family tents, and expedition tents, catering to the diverse needs of outdoor enthusiasts. With a strong focus on research and development, Eureka continues to innovate and adapt to the ever-changing landscape of the outdoor industry, ensuring their tents remain reliable, durable, and comfortable for generations to come.
Eureka Tent Materials
Eureka has established a solid reputation in the camping industry, particularly due to the use of high-quality materials in their tent production. Each tent showcases meticulous craftsmanship, ensuring that customers experience utmost comfort and durability. Their selection of premium materials reflects a commitment to providing superior outdoor gear for adventurers. Thus, when it comes to longevity, performance, and reliability, Eureka tents set a remarkable standard in the market.
Here are the most common materials you'll find in a Eureka tent:
Tent Fabric
Eureka tents are primarily constructed using polyester and nylon fabrics, which are lightweight, durable, and resistant to wear and tear. Both materials have their unique advantages: polyester is known for its UV resistance and minimal sagging when wet, while nylon is often lighter and more packable. To improve weather resistance, Eureka applies a polyurethane (PU) coating to these fabrics, which enhances their waterproof capabilities and protects against the elements.
Mesh Material
To ensure adequate ventilation and keep insects at bay, Eureka tents often incorporate no-see-um mesh panels in their designs. This fine mesh material allows air to circulate while preventing even the smallest bugs from entering your tent. It also contributes to reducing condensation inside the tent and provides stargazing opportunities on clear nights.
Tent Poles
Eureka tents typically use aluminum or fiberglass poles for their support structure. Aluminum poles are lightweight, strong, and corrosion-resistant, making them a popular choice for backpacking and high-end tents. Fiberglass poles, on the other hand, are often more budget-friendly, while still providing a reasonable degree of strength and flexibility. Depending on the tent model, Eureka may use a combination of these materials to strike a balance between weight, durability, and affordability.
Flooring
The tent floor is a crucial component, providing protection from damp ground and preventing water from seeping into your shelter. Eureka tents usually feature durable, waterproof flooring made from either polyester or nylon, treated with a PU coating. This coating, along with sturdy construction techniques such as bathtub-style floors and reinforced seams, helps to keep the tent interior dry and comfortable.
Zippers and Hardware
To ensure the longevity of their tents, Eureka uses high-quality zippers and hardware. These components are designed to withstand frequent use and exposure to the elements, reducing the likelihood of malfunction or failure. Eureka tents often feature heavy-duty zippers with smooth operation, as well as durable buckles, clips, and cord locks for secure fastening and tensioning.
Are Eureka Tents Waterproof?
Eureka tents are designed to be waterproof, ensuring that you stay dry and comfortable during your outdoor adventures. The brand takes several measures to enhance the weather resistance of their tents, making them suitable for various conditions. Let's explore the key factors that contribute to the waterproof capabilities of Eureka tents.
Coated Fabrics
Eureka tents are primarily constructed from polyester or nylon fabrics, which on their own are water-resistant but not entirely waterproof. To improve their waterproof performance, Eureka applies a polyurethane (PU) coating to these fabrics. This coating creates a barrier that prevents water from seeping through the material, protecting you from rain and moisture.
Seam Taping and Sealing
Seams, where different fabric panels are joined, can be potential weak points for water ingress. To address this, Eureka uses seam taping and sealing techniques to ensure that these areas remain watertight. Seam taping involves applying a waterproof tape to the seams, while seam sealing uses a specialized sealant to cover the stitching. Both methods help to prevent water from entering the tent through the seams, keeping the interior dry.
Bathtub-Style Floors
Eureka tents often feature bathtub-style floors, which means that the tent floor material extends a few inches up the sides of the tent. This design helps to prevent water from seeping into the tent at ground level, especially during heavy rain or when camping on wet ground. The raised edges of the bathtub-style floor create a barrier against water, contributing to the overall waterproof performance of the tent.
Rainfly
Many Eureka tents come with a separate rainfly, a waterproof cover that drapes over the main tent body. The rainfly provides an additional layer of protection against rain and moisture, directing water away from the tent and preventing it from pooling on the fabric. Rainflies also offer improved ventilation by creating a space between the tent body and the rainfly, reducing condensation inside the tent.
In summary, Eureka tents are designed to be waterproof, employing a combination of coated fabrics, seam sealing, bathtub-style floors, and rainflies to protect you from the elements. These features ensure that you can enjoy your outdoor adventures without worrying about staying dry, even in wet conditions.
Do Eureka Tents Have Lifetime Warranties?
For most tent models, Eureka gives a limited lifetime warranty. This guarantee, which covers flaws in both materials and craftsmanship, is valid for as long as the original owner has the tent. 
The guarantee does not cover normal wear and tear, faulty maintenance, or accidents.
If a flaw is discovered in the tent, Eureka will fix it or replace it at no cost to the customer. It is significant to note that the tent's poles, regarded as consumable goods, are not covered by the limited lifetime warranty. 
The tent's poles, however, are covered by a one-year limited guarantee from Eureka. To make a warranty claim, the customer must contact Eureka's customer service and present the original sales receipt.
Eureka Tents: Product Range and Categories
| Category | Description | Popular Models |
| --- | --- | --- |
| Backpacking Tents | Lightweight and packable for long hikes and treks, without compromising durability or weather protection. | Midori, Suma, Solitaire |
| Family Camping Tents | Spacious and comfortable, with features such as room dividers, gear storage, and larger vestibules. | Copper Canyon, Space Camp, Jade Canyon |
| Expedition Tents | Designed for extreme environments, with enhanced stability, durability, and weather resistance. | K-2 XT, Mountain Pass |
| Four-Season Tents | Suitable for year-round use, with robust poles, reinforced fabrics, and superior ventilation. | Assault Outfitter, Alvar |
| Screen Houses & Shelters | Provide protection from the sun, rain, and insects during outdoor gatherings or events. | Northern Breeze, VCS |
Are Eureka Tents Good For Their Price?
When it comes to pricing, Eureka offers a wide range of tents to fit different budgets. Their more basic models start at around $100, while their high-end models can cost upwards of $500. However, it's important to note that the price of a tent doesn't always equate to its quality or value for money.
In terms of value for money, Eureka tents are a solid investment. They are designed to withstand harsh weather conditions and are made with high-quality materials that are built to last. This means that even though the initial investment may be higher than other camping tent brands, you'll likely save money in the long run by not having to replace your tent as frequently.
Another factor to consider when evaluating the value for money of a camping tent is its features. Eureka tents come with a variety of features that make them a worthwhile investment, such as:
Easy setup: Many Eureka tents come with an intuitive setup process that makes it easy to pitch your tent in no time.
Waterproofing: Eureka tents are designed to keep you dry in even the wettest conditions, thanks to their high-quality waterproofing materials.
Ventilation: Eureka tents come with features like mesh windows and doors to promote airflow and reduce condensation inside the tent.
Durability: Eureka tents are made with durable materials that can withstand wear and tear, making them a worthwhile investment for frequent campers.
Ultimately, when it comes to purchasing a tent, it's important to consider not only the price but also the value for money. Eureka tents offer a great balance of both, with a range of tents to fit different budgets and features that make them a worthwhile investment.
Eureka Tents vs. Other Leading Brands: How Do They Compare?
Eureka Tents has been a trusted name in outdoor gear for over a century, but how do their tents compare to other leading brands in the market? In this section, we'll compare Eureka Tents to some of their competitors, exploring their respective strengths and weaknesses.
Eureka Tents vs. Coleman
Coleman is another well-known name in the outdoor gear industry, with a focus on affordable and accessible products. When it comes to tents, Coleman offers a range of options for family camping, backpacking, and car camping. In terms of materials and construction, both Eureka and Coleman use polyester and nylon fabrics, as well as fiberglass and aluminum poles. However, Eureka tents generally have a more robust build quality, with more attention to detail and weather protection. Eureka also offers a wider variety of tent categories, including expedition and four-season tents, while Coleman focuses more on family camping.
Eureka Tents vs. REI Co-op
REI Co-op is a popular outdoor retailer that offers a variety of gear and apparel for all kinds of outdoor activities. Their in-house brand, REI Co-op, also produces a range of tents for backpacking, camping, and mountaineering. In terms of materials and construction, REI Co-op uses high-quality fabrics such as ripstop nylon and DAC aluminum poles. However, Eureka tents are often more affordable, with a wider variety of products to choose from. Eureka also has a longer history and more experience in the outdoor gear industry.
Eureka Tents vs. Big Agnes
Big Agnes is a newer entrant to the outdoor gear industry, but they've made a name for themselves with their innovative designs and lightweight products. Their tents, which include backpacking, camping, and mountaineering options, often feature unique features such as integrated LED lights and inflatable support structures. Eureka, on the other hand, focuses more on classic designs and materials, with a wide range of options for all kinds of outdoor activities. While Big Agnes may appeal more to those seeking cutting-edge technology and lightweight materials, Eureka offers a more traditional and reliable option.
In conclusion, Eureka Tents compares favorably to other leading brands in the market, offering a wide variety of high-quality products for all kinds of outdoor activities. While other brands may have different strengths and weaknesses, Eureka's long history, attention to detail, and affordability make them a trusted choice for outdoor enthusiasts.
What Others Have To Say
LA Hunter from the Rokslide.com forums says, "It is a quality tent for the price; if you expect middle-of-the-road performance, then it will be perfect for you."
Elgreen from the advrider.com forums says, "I've had Eureka tents before and they handled rain reasonably well, except that my Aurora had a bad tendency to dribble water on you when you tried to open the rainfly."
Saxon from the Bushcrafusa.com forums says, "I have a Eureka Tetragon that has some of the same problems. Zippers stuck until I treated them. But I've used it quite a few nights and for the money I'm happy with it."
As you can see, most people feel that Eureka makes good value tents.  While they might not perform as well as some of the higher end tent manufacturers, they also don't cost nearly as much.
Do you have any experience with Eureka tents? Let us know in the comments below!