Zion National Park in Utah is one of the premier destinations for hiking in the United States. The park offers a range of hikes, from easy walks to challenging treks.
Here are the seven best hikes in Zion National Park for you to enjoy.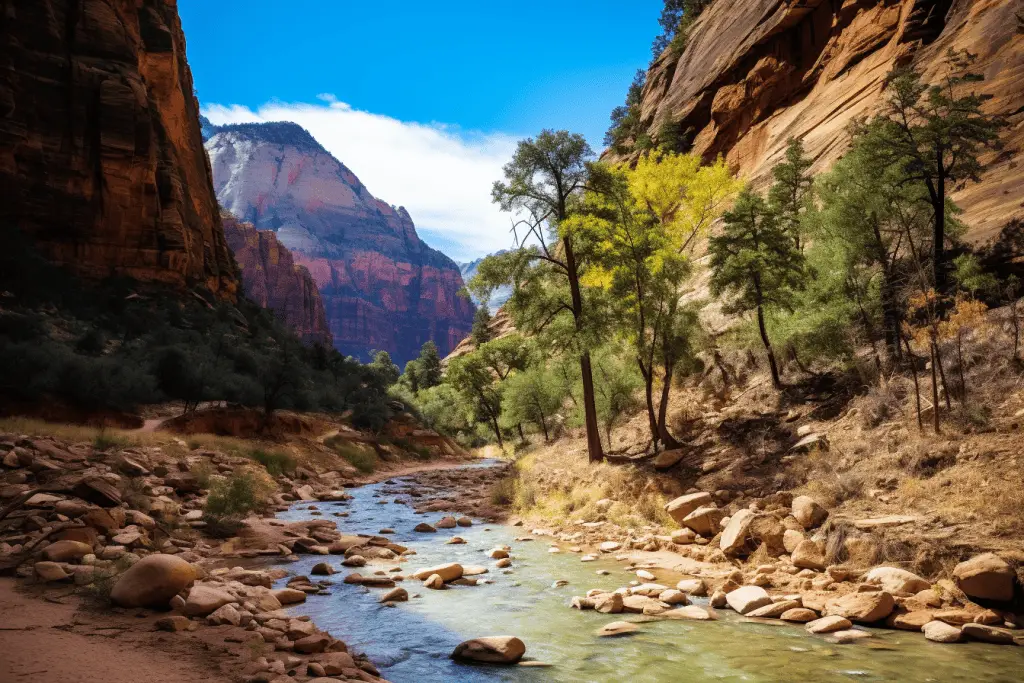 1. The Narrows
The Narrows isn't just any hike; it's the hike in Zion! Imagine walking, or rather wading, through the cool waters of the Virgin River, flanked by towering canyon walls that stretch almost a thousand feet above you. It feels like stepping into another world. The shade of the slot canyon offers a welcome respite, creating a mood that's nothing short of magical.
The beauty of The Narrows is its flexibility. Want a quick adventure? Go for a day hike. Feeling a bit more adventurous? Opt for the longer top-down trek. Just remember, that one needs a permit.
Speaking of which, if you're going the top-down route, don't forget to secure your permit. It's a popular path and the permits are in high demand. It ensures everyone has a safe and enjoyable experience without overcrowding.
To sum it up, hiking The Narrows is a Zion must-do. Whether you're wading for a few hours or trekking the entire route, it's an experience that lingers in memory long after your shoes have dried.
| | |
| --- | --- |
| Distance | Varies: 2-16 miles (round trip) depending on how far you go. The full top-down route is about 16 miles. |
| Elevation | Approx. 200-1,500 feet gain, depending on how far and which route you take. |
| Time to Complete | Day Hike: 2-5 hours for the bottom-up approach, depending on how far you go. Full Top-Down: 10-14 hours or typically done as a two-day hike with an overnight camp. |
| Difficulty | Moderate to Strenuous, depending on how far you hike and water levels. The top-down route is more challenging and requires a permit. |
| Best Features | Wading through the Virgin River, towering slot canyon walls, natural springs, and unique rock formations. |
2. Angel's Landing
If you're after an adrenaline rush mixed with some awe-inspiring views, look no further than the Angel's Landing hike in Zion. This isn't just a walk in the park; it's a climb that promises to get your heart racing. As you tackle the steep ascent, you'll be rewarded with sweeping views of Zion's main canyon, a sight that's well worth the effort.
Now, let's chat about that final half-mile – it's the stuff of legends! Picture narrow pathways with sheer drops on either side, and chains that you grip onto for dear life. It's a thrilling and challenging segment that demands your full attention, but the panorama at the peak? Simply unparalleled.
For the faint-hearted or those with a fear of heights, this might not be the hike for you. But for thrill-seekers and those chasing that picture-perfect Zion view, Angel's Landing is a bucket-list adventure.
Here's a quick rundown of what to expect:
| | |
| --- | --- |
| Distance | 5.4 miles (round trip) |
| Elevation | Approx. 1,500 feet gain |
| Time to Complete | 4-5 hours, depending on pace and stops for views. |
| Difficulty | Strenuous, with exposed and narrow sections. |
| Best Features | Stunning panoramic views, challenging ascents, and the iconic chained sections. |
Always ensure you're well-prepared, wear appropriate footwear, and hike safely, especially on those narrow sections!
3. Observation Point
Think Angel's Landing is the pinnacle of Zion's hiking? Think again! Say hello to Observation Point. Towering even higher than Angel's Landing, this trail offers jaw-dropping vistas of the entirety of Zion Canyon. As you climb, every switchback and challenging stretch promises an even grander view as a reward.
The trail itself is no cakewalk. It's strenuous, with sections that'll test your mettle. But here's the kicker: when you reach the summit, you get to look down on Angel's Landing. That's right, from this vantage point, the iconic Angel's Landing looks like just another peak in the vast beauty of Zion.
It's a sense of achievement like no other. Not only did you conquer the tough ascent, but you're also standing on one of the highest viewpoints in the park. The panoramic views are a hiker's dream and a photographer's paradise.
For those willing to put in the effort, Observation Point isn't just a hike; it's an experience, a memory, a story waiting to be told. And trust me, the view from the top? It's the kind of thing postcards are made of.
| | |
| --- | --- |
| Distance | 8 miles (round trip) |
| Elevation | Approx. 2,150 feet gain |
| Time to Complete | 4-6 hours, depending on pace and rest stops. |
| Difficulty | Strenuous |
| Best Features | Panoramic views of Zion Canyon, looking down on Angel's Landing, and navigating through Echo Canyon's slot sections. |
4. Hidden Canyon
Fancy a little off-the-beaten-path adventure in Zion? Let me introduce you to Hidden Canyon. While it might not have the fame of Angel's Landing or The Narrows, this hike is a delightful secret waiting to be discovered. It promises the thrill of canyoneering minus the buzzing crowds that flock to Zion's star attractions.
The journey up to Hidden Canyon has its moments of drama – expect some steep climbs that'll get your heart pumping. Oh, and did I mention the sections with chains? Yep, just like Angel's Landing. It adds that extra zing of excitement to your hike.
But what makes Hidden Canyon truly special is the sense of exploration. Wandering through this tucked-away slot canyon feels like unveiling one of Zion's best-kept secrets. The solitude, the unique rock formations, and the adventure of it all make this a must-try for those looking for something a bit different.
Here's the lowdown on the Hidden Canyon hike:
| | |
| --- | --- |
| Distance | 3 miles (round trip) |
| Elevation | Approx. 850 feet gain |
| Time to Complete | 2-3 hours, depending on pace and exploration. |
| Difficulty | Moderate to Strenuous (because of the exposed sections with chains). |
| Best Features | Solitude, slot canyon exploration, and chained sections with thrilling drops. |
5. Canyon Overlook
Looking for a quick yet unforgettable experience in Zion? Allow me to point you towards the Canyon Overlook Trail. It's one of those hikes that's short on distance but big on views. Perfect for those who want a taste of Zion's grandeur without a full-day commitment.
The path itself is fairly straightforward, making it accessible for most hikers. But, here's a tip: if you really want to make it special, time your hike for sunrise or sunset. The way the first or last rays of the day light up the main canyon is a sight to behold.
Despite its brevity, the trail packs in quite a visual punch. When you reach the end, you're treated to an expansive view of the iconic Zion landscape. It's a panorama that feels vast yet intimate, reminding you of nature's incredible wonders.
Here's a snapshot of the Canyon Overlook hike:
| | |
| --- | --- |
| Distance | 1 mile (round trip) |
| Elevation | Approx. 163 feet gain |
| Time to Complete | About 1 hour, but might linger longer for the view. |
| Difficulty | Easy to Moderate (some uneven terrain). |
| Best Features | Panoramic views of Zion's main canyon and convenient for those short on time. |
6. Emerald Pools
Fancy a hike that feels like a choose-your-own-adventure book? Meet the Emerald Pools Trail in Zion. With three distinct sections, each with its own charm, you can pick and choose your path or experience them all. Whether you're into gentle strolls or a more challenging climb, this trail's got something for everyone.
Starting with the lower section, it's a gentle path leading you to a serene pool with a backdrop of waterfalls – a perfect spot to cool off on a warm day. If you're game for a bit more, the middle section beckons with its shimmering pools and cascading waters. And for those with energy to spare, the upper section offers a slightly tougher climb but rewards with the largest of the Emerald Pools.
The beauty of this hike? It's adaptable. Whether you're hiking with kids, looking for a relaxed afternoon, or eager to break a sweat, you can tailor your Emerald Pools adventure to fit the bill.
Here's the scoop on the Emerald Pools hike:
| | |
| --- | --- |
| Distance | Lower: 0.6 miles; Middle: 1 mile; Upper: 1.5 miles (all round trip) |
| Elevation | Lower: 70 feet gain; Middle: 150 feet gain; Upper: 400 feet gain |
| Time to Complete | Lower: 30 mins; Middle: 1 hour; Upper: 1.5-2 hours |
| Difficulty | Lower: Easy; Middle: Moderate; Upper: Moderate to Strenuous |
| Best Features | Pools, waterfalls, shaded alcoves, and flexibility in hiking options. |
7. Kolob Arch
Ready to venture off Zion's main path and embark on a less-trodden journey? The Kolob Arch hike is your ticket to solitude and a date with one of the world's grandest natural arches. Nestled in the quieter Kolob Canyons part of Zion, this trail promises both peace and grandeur.
The trek to the arch is no short jaunt – it's a decent distance. But the silver lining? You'll likely have much of the trail to yourself, making it a haven for those seeking a more solitary experience in nature. Plus, there's something quite rewarding about the journey itself, meandering through varied landscapes with the anticipation of the arch building with each step.
And oh, when you finally lay eyes on the Kolob Arch? It's a moment of pure wonder. Being one of the world's largest freestanding natural arches, it's an imposing and magnificent sight, making every mile you hiked absolutely worth it.
Here's the lowdown on the Kolob Arch hike:
| | |
| --- | --- |
| Distance | 14 miles (round trip) |
| Elevation | Approx. 1,000 feet gain |
| Time to Complete | 6-8 hours, depending on pace and time spent at the arch. |
| Difficulty | Moderate to Strenuous, given the distance. |
| Best Features | Kolob Arch itself, solitude, varied landscapes, and the sense of adventure. |
All in all, if you're seeking an intimate rendezvous with Zion's majestic wilderness, Kolob Arch beckons with open arms (or should I say, arches?).
Tips for Hiking Zion National Park
Zion National Park is unique, and if you're planning to hike its trails, there are a few specific tips to keep in mind:
Shuttle System: Many of Zion's most popular trails are accessed via the park's shuttle system, which operates during the busier months. Check the schedule and plan to arrive early, especially in peak seasons, as waits can be long.
Permit Requirements: Some hikes, like the top-down route of The Narrows or backcountry trails, require permits. Be sure to check in advance and make necessary reservations.
Water Levels: If you're hiking The Narrows or any water-related trail, be sure to check the water levels and flow rate. Conditions can change rapidly and can be dangerous in high water.
Flash Floods: Zion is prone to flash floods, especially in slot canyons. Always check the weather forecast and heed any warnings given by park officials.
Protective Gear: For hikes like The Narrows, consider renting or purchasing specialized gear like canyoneering shoes and neoprene socks, which can make the experience more comfortable.
Heat Precautions: Zion can get intensely hot in the summer. Start your hikes early, carry plenty of water, wear a hat, and take regular shade breaks.
Wildlife: While Zion's wildlife is beautiful to observe, maintain a safe distance, especially from animals like deer, bighorn sheep, and snakes.
Leave No Trace: Zion is a heavily visited park. It's crucial to practice Leave No Trace principles. Pack out everything you bring in, don't feed wildlife, and stick to designated trails.
Parking: The main parking lot fills up quickly, especially in peak seasons. Consider parking in Springdale and taking the town shuttle to the park entrance.
Layer Up: Even if it's warm in the canyon, higher elevation hikes can be cooler, especially during shoulder seasons. Bring layers so you can adjust to changing conditions.
Know Your Limits: Some of Zion's trails, like Angel's Landing, are not for the faint of heart due to their exposed sections. Be honest about your fitness and comfort level.
Stay Informed: Visit the Visitor Center when you arrive. Rangers will have the latest info on trail conditions, closures, and other essential information.
Hiking in Zion National Park is an experience like no other. By being prepared and staying informed, you'll ensure your adventures are not only memorable but also safe.