I've been wearing vans shoes since I was a kid. They're great for a lot of situations but can you go hiking in Vans shoes?
No, Vans shoes are not good for hiking. These shoes lack traction and support. This being said, Vans has recently expanded its product line and now makes a decent hiking boot.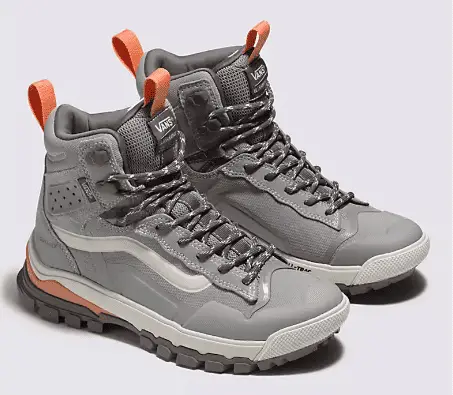 Wearing Traditional Vans For Hiking: Why It's a Bad Idea
Vans shoes are generally not recommended for hiking due to several reasons:
Traction: Hiking often involves traversing uneven terrain, so a good pair of hiking boots or shoes will have excellent traction to prevent slipping. Vans shoes are primarily designed for streetwear and skateboarding, not for grip on rocky or muddy surfaces.
Support: Hiking boots usually provide good ankle support which is important when walking on uneven surfaces to prevent injury. Vans typically do not offer as much support, especially for the ankles.
Durability: Hiking shoes are built to withstand harsh conditions, including water, mud, rocks, etc. While Vans are reasonably durable in the context of casual wear, they may not hold up as well in the tough conditions encountered in hiking.
Comfort: While Vans can be comfortable for everyday use, they may not provide the required comfort for long hiking trips. A proper hiking shoe or boot is designed to support and cushion your feet over long distances.
Waterproofing: Many hiking boots are waterproof, or at least water-resistant, while Vans typically are not. If you're hiking in wet conditions, your feet could become wet very quickly, leading to discomfort or even blisters.
Basically, traditional Vans aren't the best for hiking. They lack the traction you need for rough terrain, won't support your ankles like hiking boots do, and may not last long in tough conditions. Plus, they aren't waterproof, which could lead to some soggy, unhappy feet. While they might be okay for a quick, easy stroll in the woods, if you're going for a serious hike, you're better off with actual hiking boots or shoes.
Are Vans Hiking Boots Any Good?
Vans hiking boots are good because they provide superior ankle support and good traction. Many of them are made using Gor-Tex so they offer good weather resistance as well as breathability.
Currently, you can buy midrange and full-length vans hiking boots as well as hiking shoes. My order hasn't been delivered yet so I can't tell you how they feel but I think they look great. Here is a quick rundown of what you can expect from them.
The UltraRange EXO Hi GORE-TEX WW MTE-3 features several promising characteristics for hiking:
Moisture Management: The GORE-TEX® Invisible Fit technology is designed to make the shoe breathable and waterproof, which is ideal for outdoor hiking conditions.
Thermoregulation: The MTE-3 breathable mesh ventilation system should help to maintain a comfortable temperature and reduce moisture inside the shoe.
Traction: The UltraRange EXO MTE-3 All-Trac outsole uses a specific rubber compound and tread pattern designed for good grip and flexibility in varying temperatures, which should provide excellent traction on different terrains.
Comfort and Support: The MTE-3 triple-density comfort package, including a dual-density UltraCush™ molded EVA footbed and OrthoLite® topsheet, is designed to offer enhanced comfort and support while reducing weight.
Protection: The TPU molded toe cap offers additional protection, crucial when hiking in rugged environments.
As you can see, Vans has put a significant amount of thought into its hiking boot design. If the quality is anything like that of their other shoes, they're bound to hold up well too.
Here are some pictures of Vans hiking boots and Vans hiking shoes.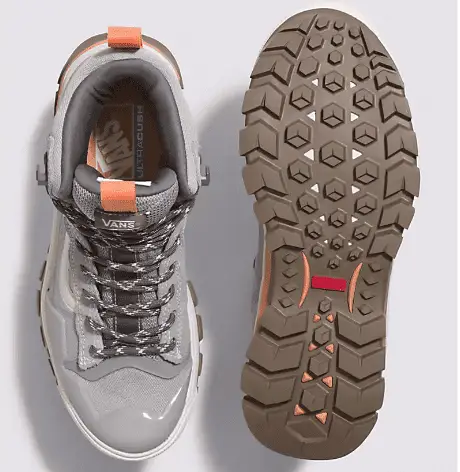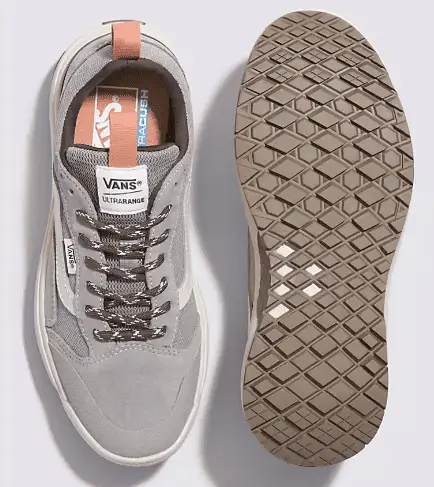 Pricing on Vans hiking boots and hiking shoes seems reasonable. The shoes can be found for around $120 and the boots range somewhere between $200 to $300. This is almost twice as much as I paid for my Timberland Gore-Tex hiking boots but they're also a lot thicker and appear to be more durable.
Tips For Hiking In Vans
f you're planning to go hiking in Vans, specifically, Vans hiking boots here are some tips to keep in mind:
Breaking In: Break in your Vans hiking boots before embarking on a long hike. Wear them for shorter walks or around your house to get your feet accustomed to them.
Proper Socks: Wear moisture-wicking and breathable socks. These can help prevent blisters and keep your feet dry and comfortable.
Check Weather: Although the Vans hiking boots are designed with breathable waterproof technology, it's still a good idea to check the weather forecast before heading out. Extreme weather conditions could affect your overall hiking experience.
Be Aware of Terrain: Even though these Vans are designed with traction in mind, be cautious with very rocky, steep or slippery terrains. Always prioritize your safety.
Maintenance: After your hike, clean your boots properly to ensure their longevity. Remove any dirt or debris, and allow them to air dry.
Carry a Backup: If possible, carry an extra pair of shoes or sandals. If something goes wrong with your boots or if you just want to change into something more comfortable post-hike, you'll be prepared.
Remember, it's always better to be safe than sorry when it comes to hiking. If you feel your footwear isn't suitable for the hike, it's better to invest in something more suitable.