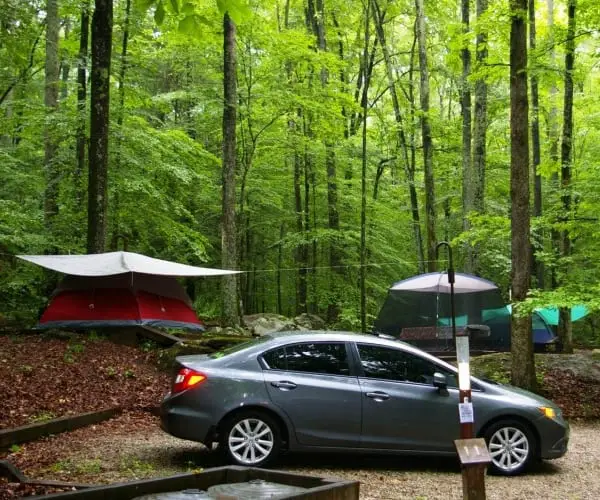 Car camping is one of the best ways to get outdoors.  It can be fun for everyone regardless of their fitness or skill level.
This being said, if you're looking to head out on your first car camping trip, there is a lot you'll want to know before heading out.  In this post, I'll tell you everything you need to know.
Choosing a Car Camping Destination
State and National Parks
When looking for a place to car camp, your best options are usually state parks and national parks. These are usually easy to access, well-maintained, and relatively inexpensive to camp in. Park rangers are available to help provide a level of safety and security and in many parks, you'll have access to modern amenities.
In most cases, you'll be able to choose between different types of campsites. The most common types of campsites are primitive, electric, and full hookups. If you're tent camping, you'll choose either a primitive campsite or an electric one. Campsites with full hookups provide both water and plumbing for recreational vehicles and campers.
A primitive campsite is just what it sounds like. It is a flat plot of land that does not have any electricity, water hookups, or plumbing. Many sites will, however, provide you with a fire ring, a picnic table, and a safe place to store your food.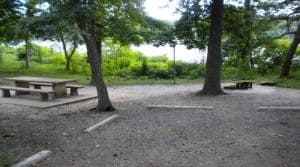 Electric campsites provide a hookup for electricity. They'll often have water right at the site as well but not always.
I've seen people use these campsites while tent camping so that they can plug in their electric heaters, air conditioners, televisions, and computer equipment. They are especially useful campsites for people on C-Pap machines.
Many of these campsites are pet-friendly and many are not.  Some parks will have modern amenities, laundry facilities, and hot showers and others will not have anything but outhouse style bathrooms.
Before heading out on your car camping trip, be sure to check the park's website to find out what will be available to you.  This will become a big factor in determining what you'll want to bring and what you'll want to leave at home.
How much does it cost to camp in a state park?
The cost of camping in a state park will usually run between $15.00 to $30.00 a night.  If you plan on camping in a full hook up campsite with an RV, you can expect to pay anywhere from $25.00 to $50.00.  Prices vary based on the time of year, the day of the week, and the length of your stay.
BLM Land
Another option is to go camping in the wild. Throughout the United States, there are areas of BLM land that you can camp on for free.  In most cases, you won't have access to bathrooms, electricity, or water, but your reward will be a quiet campsite closer to nature and a little more money in your pocket.
If you're new to free camping, you may not realize just how many opportunities there are to do so.  However, the United States currently has over 250 million acres of public lands available to its citizens.
On BLM land you can, camp, hike, fish, horseback ride, boat, mountain bike, climb, hang glide, and even pan for gold.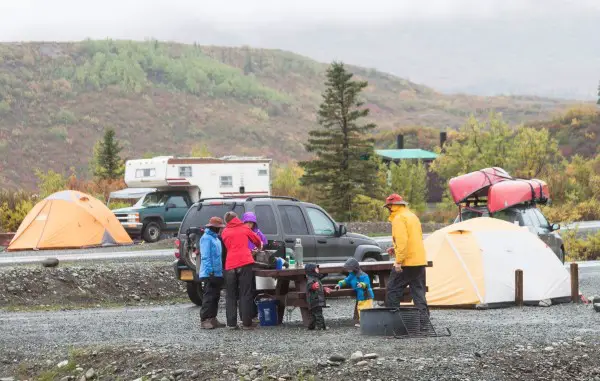 These types of trips typically require more gear and more careful planning. Cell phone coverage can be limited in these areas and you may have to fend for yourself so you'll want to make sure you're well prepared before venturing out on a wilderness car camping trip.
Also, keep in mind that just because these places are free to camp in, it doesn't mean that you can come and go as you please.  Some places still require you to get a permit and you won't be able to stay in one spot for more than 14 days in a row.
Another thought to keep in mind is that you cannot reserve a campsite on BLM land and camping is on a first-come, first serve basis so be prepared to show up early and have alternate plans should all of the camping spots in the area be filled when you arrive.
Private Campgrounds
Private campgrounds can range from a spot for a tent in a grassy field to a more lavish setting with pools and hot tubs nearby. This is typically predicated on what's nearby as well as how much you're willing to pay.
You'll find private campgrounds scattered throughout the country and some campgrounds have even gone national by becoming part of KOA.  These campgrounds cater to both RVers and campers and are great for first-time campers because they provide many more amenities than other campgrounds.
A spot in a private campground usually starts off at around $20.00 and can go up dramatically from there.  I've seen some tent camping spots in private campgrounds rent for over $50.00 a night.  At the higher end of the price range, you can often get a cabin in a state park.
Where Should I Go Car Camping
My advice for first-time car campers would be to choose either a state or national park close to home. This will help you get your feet wet and will help soften the blow of any unforeseen circumstances or emergencies.
Camping close to home might not seem very adventurous but it can take a lot of stress out of the trip.  For starters, you won't have to worry about being far away from your friends and family members.  This means that if you run into any trouble, help is just a phone call away.
Also, you won't have to drive as far.  This means that you'll get to spend more time camping.  Also, if you forget something vital like medications, you can always head back home and get it.
Camping close to home can also give you a deeper appreciation of your area.  Growing up near a major city, I never knew just how many great camping and hiking spots could be found within an hour and a half drive from my house.  When you begin to look for camping spots near your home, I bet you'll be surprised at just how many great spots there are.
Car Camping Gear – What to Bring
When you're car camping you have the advantage of being able to bring camping gear that is geared towards both comfort and functionality.  Also, you can bring a whole lot more with you so you can make the trip as primitive or as luxurious as you want.
In this section, I'll go over the essential items as well as the items that are nice to have but not really needed.
The Essentials
These are the items that you shouldn't leave home without.  Make sure you pack all of these items before you move onto the next list.
Food
Water
Medication (if applicable)
Shelter
Light
Kitchen Supplies
Food
Even though you aren't backpacking or canoeing to your destination, you're going to get hungry.  In fact, you'll probably be much hungrier while car camping than you normally are.  This is because setting up a campsite is hard work.  You'll be carrying gear to and from your car and you'll probably be spending more time outdoors.
In addition to all of this, you'll probably be more active in general.  With access to hiking and biking trails, swimming and boating lakes, and a whole host of other activities, you'll be both tired and hungry by the time the day is through.
For this reason, it is a good idea to pack more food than you normally eat.  Pack food that you can easily cook at a campsite and don't forget to bring a can opener to open any canned goods you decide to bring.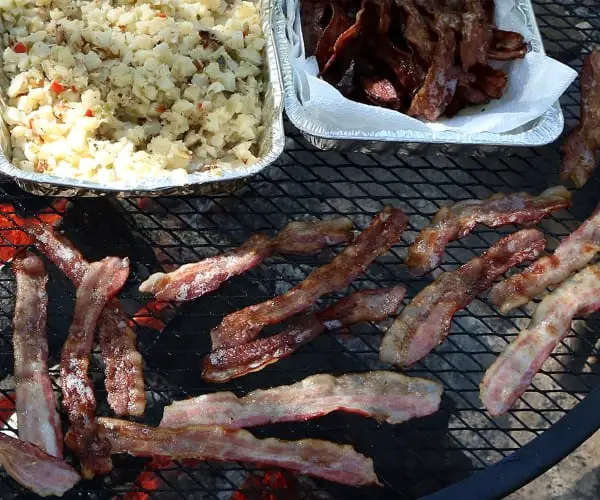 You can pack whatever food you like but remember that more complicated meals will require more kitchen tools so you'll have to consider this when you're getting your camp kitchen ready.  Many people opt to prepare meals in advance so that all they have to do is heat them up once they get there.  These meals are what is known as make-ahead camping meals and they are great for weekend getaways because all you need to pack is a cooler to store them in and something to heat them up in.
In fact, if you get really creative, you can pack them up in foil and just place the foil over the top of a campfire grill so that they can heat up inside of them.  A simple example of this would be a pre-cooked loaded potato wrapped up in foil and placed over a campfire grill for five to ten minutes.
Water
Even if the campground you're going to says it has water, it is useful to bring at least enough water for a day or two.  You never know what can happen to the local water source and it is always good to have a backup whenever you can.
If you're not sure how much water you need each day while camping, read my post titled "How Much Water to Bring When Camping".  This post will tell you the correct amount of water to bring when camping so that you don't under pack or overpack for your trip.
Medication
When packing up medication, be sure to read the storage instructions first.  Some medications must be kept at certain temperatures so you may have to put them in coolers or at least keep them out of direct sunlight.
Speaking of sunlight, some medications will make you more susceptible to sunlight or even allergies.  You may not have experienced these side effects at home and you may not even know they exist.  This could change when you're enjoying the outdoors all weekend.  Be sure to read up on all of your medications before you head out so that you can take steps to mitigate any side effects they might cause.
Shelter
Some people will bring tents, some will sleep under the stars, while others may decide to sleep in their vehicle.  I love nature, but personally, do not think it's a great idea to sleep out in the open.
Poisonous bugs and insects do not care if you're sleeping and a fun car camping trip can easily be overshadowed by the fact that you picked up West Nile Virus or Lyme disease on your trip.
Add in the fact that snakes love slipping into warm sleeping bags and it's really surprising that anyone would want to sleep out in the open.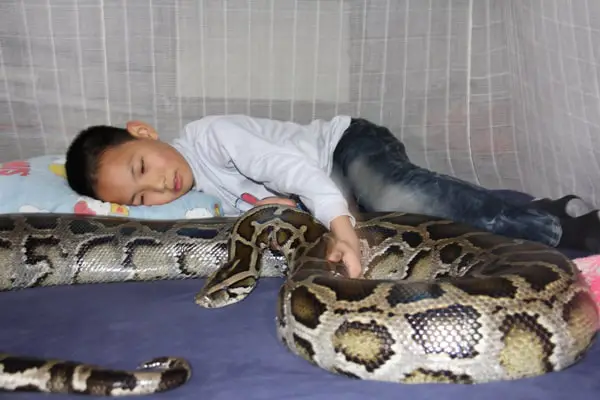 Car camping shelters can be as comfortable as you'd like to make them.  Some people pack large tents with air mattresses, camping couches, chairs, and everything else they can think of.
For longer trips, it might make sense to pack all of this, however, these aren't items you necessarily need to have fun.  Also, these aren't items you necessarily need to buy all at once.  Camping gear is expensive and if you're just starting out it might make sense to start off by only buying the essentials.
My advice would be to buy a large tent, a good sleeping bag, and a comfortable sleeping pad or cot.  You can also bring along your pillow and a few folding chairs.  Trust me, when you're out car camping you won't have any trouble falling asleep.
Sleeping in Your Vehicle
Sometimes its easier to skip the tent altogether and just sleep in your vehicle. This works best for people with large SUVs and vans, but even a hatchback or crossover can make a good sleeper vehicle for the right person.
Just keep in mind that condensation and airflow can be a problem when sleeping in a vehicle, so you'll probably need to crack a window to help with this.
To make your vehicle easier to sleep in, consider bringing along a lot of padding and a nice pillow.  Your vehicle will still get cold at night so bring along a nice sleeping bag as well.
Also, never sleep in your vehicle while it is running and always crack a window for airflow and condensation reduction.
Car Camping Sleeping Bags
Personally, I have a sleeping bag for car camping and another one for backpacking and canoe camping.  The backpacking sleeping bag could just as easily be brought car camping but I'd prefer to reduce its use so that it will last longer.  My car camping sleeping bag, on the other hand, was only $50.00 so I don't care if it ends up wearing out after only a few years of use.
Car camping sleeping bags don't need to compress down into a hiking pack. This makes it easier and less expensive to choose one that works. Your main concern should be the temperature and comfort rating of the bag in relation to the weather conditions you'll be using it in.
Don't forget to bring your pillow and a sleeping pad or camp cot to protect you from the cold hard ground and you'll get a great night's sleep each night.
Sleeping Pads, Camping Cots, and Air Mattresses
Any one of these options can make your camping trip much more comfortable. If vehicle or tent space is a concern, choose a sleeping pad. Otherwise, I prefer the additional luxury of a camping cot. Camping cots fold down flat for travel but make great beds and benches when at the campsite.
Alternatively, you can bring a nice air mattress with you on your trip. Some people prefer these because they already have them in their homes for guests. Personally, I try to steer clear from air mattresses as they can be time-consuming to set up and also run the risk of failing due to holes and tears.
Car Camping Clothing
Always overpack when it comes to clothing. A few extra pairs of socks and underwear can mean the difference between coming back with fun memories versus coming back with rashes and foot diseases.
Pack your clothing according to the weather and always be prepared for a worst-case scenario. Just because the forecast isn't calling for rain or cold weather, doesn't mean it won't rain or get cold.
Car Camping Furniture
In my mind, there is nothing better than sitting around a nice campfire. It's even better if I'm sitting on a chair versus a rock or an old tree stump. Buy a few camp chairs or stools if you're short on space and you'll feel right at home in the woods.
A good camping chair will fold up like an umbrella and it won't take up much space at all while it's folded up.  Some will come with cup holders and others will even come with a built-in sunshade.  If you don't want to invest in a camp chair yet, find an old folding chair and bring that along instead.
Light
You don't have to spend hundreds of dollars on fancy lanterns or string lighting, but you will need to bring a few lighting options with you on your trip. Tent lights can easily brighten up a tent and a few good flashlights should make moving around your campsite a breeze. *Always check your batteries before heading out.
A well-lit campsite is a safe campsite.  Remember, you'll have guy lines running from your tent as well as many other items you're not used to walking around.  You may also have an open fire and a hot grill all in the same area.  Light up your campsite and mark your guy lines with reflectors so that you won't have to worry about tripping over anything while at camp.
I'd also recommend that you bring at least two flashlights and a headlamp.  The headlamp will come in handy should you end up having to set something up your take something down after dark and the extra flashlights will ensure that you always have one on you wherever you are.
Kitchen Supplies
For me, I like to make sure you have a frying pan, a pot, and a gas stove.  If I plan on having a barbeque, I'll also pack a small charcoal grill.
Ideally, I'd be able to cook everything over a fire, but sometimes this just isn't possible.  Some areas never allow you to have open fires and others will ban them during periods of low rainfall.
Even in the northeastern part of the country I've had to forgo fires on many occasions because of droughts.  When this happens, the stoves and the grills ensure that I still have a hot cup of coffee in the morning and a hot meal at night.
First Aid Kit
Any prepackaged first aid kit should do.  If you want to make one yourself, the Red Cross recommends you get a small plastic container and pack gauze, antibiotic cream, band-aids, disposable gloves, tweezers, an instant cold compress, aspirin, an emergency blanket, hydrocortisone ointment, and a thermometer.
Make sure the first aid kit is labeled so that it is easy to find in an emergency.  Also, familiarize yourself with everything you pack as you'll want to be sure you know how to use everything prior to actually needing them.
Detailed List of Items You Might Want to Bring Car Camping
Here are the items that you'll want to consider bringing with you when camping.
Food
Water
Medications
Tent
Sleeping Bag
Sleeping Pad, Cot, or Air Mattress
Camp Chair or Folding Chair
Alcohol, Gas, Wood, or Charcoal Grill
Cooler
Pots and Pans
Dishware and Utensils
Personal Hygiene Items
Shower Shoes
Portable Toilet
Toilet Paper
Paper Towels
Trash Bags
Portable Shower
Personal Hygiene Tent
Outdoor Gear
Extra Clothes
Towels
Wet Weather Gear
Tarps
Rope
Lanterns
Flashlights
Head Lamp
Suntan Lotion
Bug Spray
First Aid Kit
Reading Material
Final Thoughts
Car camping is a great way to experience the outdoors without taking on much risk to do so.  Start off by going on a short trip close to home and pack as best as you can but don't stress too much over it.  A car camping trip isn't very dangerous and you'll meet plenty of people along the way that can help you out should you need it.