Planning a camping trip doesn't have to be hard. Discover how to plan a camping trip in just eight easy steps below.
1. Choose a Camping Style
So, you're gearing up for a camping adventure, huh? The first thing you'll want to do is figure out what type of camping trip you're itching for. Trust me, the experience can vary drastically based on this decision!
Are you dreaming of an off-the-grid wilderness retreat, where it's just you, the stars, and maybe a curious raccoon or two? Or perhaps, you're more into a family-friendly campground, one that comes with running water, power hookups, and possibly even Wi-Fi? It's all about what you want out of your trip.
Maybe your vision of camping involves more than just a tent. If you're interested in an RV or car camping, it opens up a whole different experience. With this type of camping, you get the joy of being out in nature, but with the comfort of your vehicle by your side – it's a win-win!
Choosing the type of camping you want to do isn't just about preferences, it sets the stage for all the other decisions you'll be making. From choosing the destination to what gear to pack, this is your first, but definitely not the last, big decision on your camping journey! So, take a moment, imagine your perfect camping trip, and let's bring it to life!
2. Pick the Perfect Destination
Alright, now that you've figured out your camping style, it's time to pick your destination. This part can be a blast – who doesn't love exploring options for their next outdoor adventure?
Think about what you want in your camping spot. Are you longing for mountain views, a tranquil lakeside, or the shade of a dense forest? Remember, you'll be calling this place 'home' for a few days (or longer!), so pick a place that sings to your soul.
Consider how far you're willing to travel and how accessible the location is. If you're planning a quick weekend getaway, you might want to stick closer to home. If you've got some vacation days saved up, maybe that distant national park you've always wanted to visit suddenly seems within reach.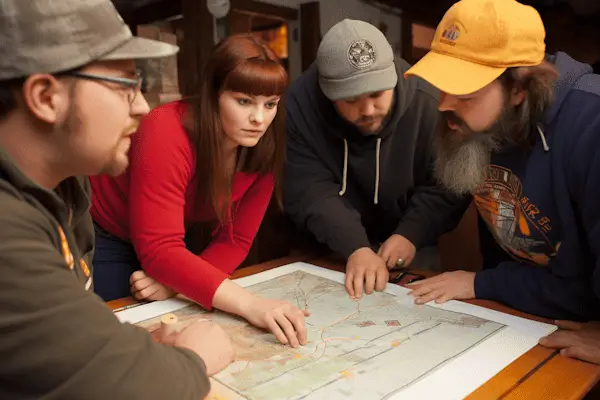 Don't forget to do a quick Google search about your prospective site. Check out the weather conditions for the time of year you're planning to go, look out for any specific wildlife like snakes bears, and mountain lions, and read up on the rules and regulations of the campsite. And here's a pro tip: find out about water sources in the area and read up on how much water to bring when camping.
Remember, the destination can make or break your camping experience, so spend some time getting this step right. Plus, planning is half the fun, right? Enjoy the journey as well as the destination!
3. Decide On a Date and Make Your Reservation
Now that you've picked your dream camping spot, let's make things official. It's time to lock in your dates and book your campsite!
Choosing your dates isn't just about when you're free. Consider the season and what kind of weather you want for your camping trip. Crisp fall colors, blossoming spring, or the warm summer sun – each season offers a unique charm! But do keep in mind, if you're aiming for that perfect summer camping weekend, you're not alone. Popular campgrounds can fill up quicker than hotcakes during peak season.
So you've got your dates ready? Great! Now jump online and reserve your campsite. Many places, especially those popular national parks and trendy campsites, allow you to book in advance. Don't wait too long though – just like that last slice of pizza, the best spots get snatched up quickly!
And just like that, your camping trip is starting to feel real, isn't it? Having a reservation not only guarantees you a spot but also brings that exhilarating rush of anticipation. So, mark that calendar, because the adventure is just around the corner!
4. Plan Your Meals and Buy Supplies
When you're planning your meals, consider easy-to-pack, non-perishable foods that still deliver on taste. Think trail mix, granola bars, canned beans, and those nifty instant meals available at outdoor stores. Fresh fruits and veggies can be great too, but remember, they have a shorter shelf life.
Now, onto the shopping part. With your meal plan in hand, create a shopping list of all the food items you'll need. Don't forget essentials like plenty of water and your go-to caffeine fix. If you're a fan of those campfire marshmallows (who isn't?), make sure to add those to the list too!
Remember, mealtime doesn't have to be a hassle when you're camping. With a little planning, you'll be sitting around the campfire, roasting marshmallows, and sharing a tasty meal with your camping crew in no time. And hey, everything tastes better outdoors, right?
5. Make a Gear List and Check Your Equipment
Time to dive into the nitty-gritty – gear! When it comes to camping, having the right equipment can mean the difference between a trip to remember and a trip you'd rather forget. So let's make sure you're packing smart!
First things first, make a list of all the gear you'll need. This includes your tent, sleeping bag, a camp stove if you're planning to cook, and the right clothing for the weather. And don't forget a map and compass if you're going somewhere remote – trust me, getting lost isn't as fun as it sounds!
Now, you might already own some camping gear that's been collecting dust in your garage. It's time to bring it out and give it a good once-over. Check for any rips in your tent, ensure your stove is working, and that your sleeping bag is still cozy.
If you're missing anything, hit up your local outdoor store or check online. There are options for every budget, and remember, investing in good quality camping gear pays off in the long run.
6. Plan Your Activities
Got the camping basics down? Now, let's consider what you're actually going to do once you're out there surrounded by all that beautiful nature. It's time to plan your activities and let your adventurous spirit loose!
Are you a fan of hiking? Look up the best trails around your campsite. If you're a water baby, find out if there's a lake or a river nearby where you can swim, fish, or maybe even rent a kayak. Or, if relaxation is your goal, plan to bring a good book and a comfy hammock.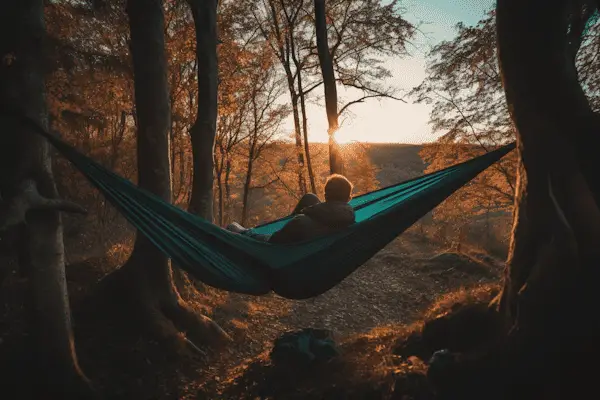 Don't forget to check if you need any additional licenses or permits for activities like fishing or boating. Nothing puts a damper on a camping trip like finding out you can't do what you planned because you forgot to get the right permit.
And remember, one of the best parts of camping is having the flexibility to do what you love, or try something new. So, whether that's spotting wildlife, star-gazing, or simply enjoying a serene sunset, make sure you're planning to make the most of your time in the great outdoors.
7. Make An Emergency Plan and Prep Accordingly
We've talked a lot about the fun parts of camping, but let's take a moment to discuss something equally important – preparing for emergencies. Because hey, while we hope they never happen, it's always best to be ready just in case.
Start by researching the nearest hospital or medical facility to your campsite. While you'll probably never need to use this information, knowing it ahead of time could save valuable minutes in an emergency.
Now, let's talk about your first aid kit. If you don't have one, it's time to invest in a good one that includes basics like bandages, antiseptic wipes, tweezers, and painkillers. It wouldn't hurt to toss in some Solarcaine and some anti-itch cream.
And finally, always let someone know where you're going and when you'll be back. It could be a family member, friend, or even the park ranger. If anything unexpected happens, someone should know where to find you.
8. Prepare Your Vehicle – Road Trip Ready
Okay, we've covered most of our camping bases, but let's not forget a crucial element – your vehicle. After all, getting there is half the fun, and ensuring your vehicle is ready for the journey is key to starting your camping trip off on the right foot!
First up, give your vehicle a thorough once-over. Check tire pressure and fluid levels (oil, coolant, brake fluid, windshield wiper fluid). If it's been a while since your last service, consider getting a tune-up before you embark on your adventure.
Next, plan how to pack your vehicle effectively. Remember to make the most frequently used items easily accessible. A helpful tip is to use clear plastic bins to store your gear – they're stackable and make it easier to find what you need.
Consider your fuel needs. Depending on how remote your camping location is, you might not have easy access to fuel stations. It's a good idea to start your trip with a full tank and keep an eye on your fuel levels during your journey.
Finally, remember to pack emergency roadside supplies. This includes jumper cables, a spare tire with a jack and lug wrench, and an emergency triangle or flares. A basic tool kit could also come in handy if minor repairs are needed.
That's it, you're officially ready to pack up and go camping!
Have any other tips to offer? Share them in the comments below.