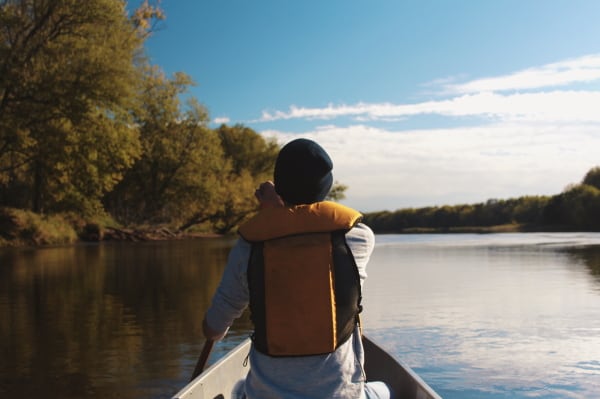 Canoeing is a whole lot of fun.  If you're new to it though, you might be wondering what you need to bring.
Here is what to bring canoeing:
For the Day
There are two basic types of canoeing, day trips, and overnight canoe camping trips.  This is what you'll need when you head out for the day on your canoe.
An Extra Paddle
Have you ever been up a creek without a paddle?  Me neither, but that's because I always pack an extra one that I strap to the canoe.
This way, if I flip the canoe and lose my paddle in the process, I always have a spare.  If you're short on cash, don't worry about getting anything wonderful.  As long as you have a paddle that works, you can always paddle your canoe after your good paddle before it gets away from you.
A Life Jacket
Get a life jacket that's specifically made for paddling.  These types of life jackets are designed to allow your arms and shoulders freedom of movement.
Also, consider the color of the life jacket as well.  You'll want to get a bright color that will stand out in the water.  This way, if you have to be rescued, you'll be easier to find.  Bright orange usually works best for this.
A Whistle
An emergency whistle is cheap to buy and easy to carry and it'll give you an additional layer of protection.  Strap the whistle to your life jacket and you'll be able to use it in the event you need to signal for help.
When buying the whistle, be careful not to buy a pea whistle.  These whistles can jam up and tend not to work well in wet conditions.  Again, consider getting one in a bright color so that you'll be able to find it quickly when you need it.
Quick-Dry Clothing
Canoe trips are usually a lot drier than kayak trips, but chances are, you'll still get wet.  Wear clothing that dries off quickly and you'll be a lot more comfortable on your trip.
Warm weather options might include a bathing suit, hiking pants, and any sort of polyester or nylon blends.  Even though I get teased for it, I'll often wear pants with legs that zip off at the knees.  They dry incredibly quick and I can switch from shorts to pants and back again depending on my needs.
Water Shoes or Hiking Sandals
When I was younger I used to just wear an old pair of shoes whenever I went boating or canoeing.  This worked but it often lead to me having to walk around with wet feet all day.  Also, the shoes didn't dry very quickly and they always smelled bad afterward.
Eventually, I switched to wearing traditional sandals.  The sandals were nice because they dried quickly but I found them lacking in support.
This is when I started searching for something better and stumbled upon hiking sandals.  Hiking sandals are great because they provide all of the support of a hiking shoe while still providing all the benefits of a pair of sandals.  This is especially useful when you're carrying your canoe down to the water.
Others, who prefer even more coverage, opt for water shoes.  A pair of water shoes will have drainage holes and they'll dry out quickly and without the bad odors.
A Map
Depending on the size of the river you're canoeing in, you may want to bring a river map.  The map will give you an idea of where you are at any given time so you'll know if you're on pace to reach your final destination on time or not.  You may find that you need to do more paddling or you may find that you need to float a bit more.
To keep your map dry, consider buying a plastic map case.  Alternatively, you can make your own using the plastic sleeves that you'd put inside of a three-ring binder.
A Cell Phone
A ship-to-shore radio is perfect for those who are daring enough to go canoeing in the ocean or the bay.  However, most of us use our canoes on rivers, lakes, and ponds.  Ship-to-shore radios usually aren't very useful in these areas.
Instead, bring your cell phone with you.  If your phone isn't waterproof, either get a waterproof case for it or wrap it up in a few waterproof bags.  My phone isn't waterproof and although I've flipped myself into the water more than once, my phone has never gotten wet when wrapped up properly.
Sunscreen and Polarized Sunglasses
When you're out on the water on a sunny day you're more likely to expose your skin.  Lathering up with sunscreen before you head out probably won't be enough as some of it will get washed off as you paddle.  Bring sunscreen with you so that you can reapply every few hours.
Polarized lenses can dramatically reduce glare.  This is important when you're out on the water as you'll have the sun reflecting off the surface of the water as it also beats down on you from above.  Regular sunglasses can work too but polarized ones will give you clearer vision and reduced eyestrain.
Bug Spray
This tip comes up in a lot of the posts here, but it's an important one.  You only have to be bitten by one infected mosquito to get West Nile virus.
Also, getting bitten by bugs for a few hours straight makes canoeing a lot less fun.  Bring some bug spray with you and use it as soon as you notice any insects headed your way.
Dry Bags
Dry bags are relatively inexpensive, easy to use, and they work great.  I have dry bags in a wide variety of sizes that I like to use whenever I'm headed out on a canoe, kayak, or boat.
In fact, I even have a large waterproof duffel bag that I take with me on canoe camping trips.  You can read more about the bag that I have at https://www.carandtent.com/aqua-quest-white-water-duffel-review/
Food and Water
My parents have a place on a lake and I've put my little 12′ boat on it more times than I can count.  I used to like to row on it and if I got hungry or thirsty, the other side of the lake had a Wawa.  In fact, on more than one occasion I rowed across the lake to get some milk.
This being said, most lakes and rivers aren't going to have convenience stores on the other side of them.  As a result, you're going to need to pack your own snacks as well as your own water.  You'll probably end up sweating a lot as you paddle downriver so be sure to pack more water than you think you'll need.
A Flashlight
If you plan on canoeing on a large river, always be prepared to stay the night somewhere.  You never know if you or someone from your group will get injured or if you'll lose your canoe and have to walk out.  Having a flashlight on hand will help you see should you get stuck out on or near the water at night.
An Emergency Kit
I always like to have a small first-aid kit as well as an emergency blanket with me when I go canoeing.  Luckily, I've never had to take any of the bandages out of it but on more than one occasion I've pulled a few pain relievers out of it.
Rough Water Gear
If you're planning on navigating waters with category 2 rapids, you'll need some additional gear.  This gear should include a helmet, boat floatation, a throw rope, and a rescue knife.
My suggestion would be that if you haven't been canoeing on calm waters, you should do that first before venturing out into faster waters.  Once you've done a few calm water trips, come back here and take a look at our posts pertaining to canoeing and kayaking in white waters.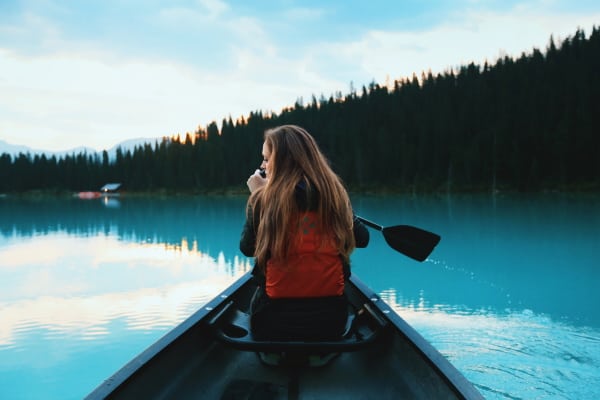 Overnight Canoe Camping Gear
In addition to all of the gear above, you'll need camping equipment as well.  Here is what I bring when I head out overnight.
Tent
My go-to tent for canoe camping adventures is my Eureka Sunriver 2 Person tent.  I like it because it is large enough to be comfortable and small enough to easily pack down into my duffel bag.  it's also light which has come in handy a few times when I had to walk my gear back further than I would have wanted.
You should also bring a tent that is small and lightweight.  The size you choose will depend on your size, the size of your canoe, as well as the number of people sleeping in the tent with you.
Sleeping Bag
Nights tend to be colder when you're camped out near water.  This is especially true in the summer when you're expecting it to be much warmer than it actually is.
Bring a good sleeping bag with you and you could end up sleeping better than you do at home.  Forget your sleeping bag and you could end up lying awake shivering all night.  If you don't regret your forgetfulness at that moment, you surely will when you have to force your sleepless body to paddle you home.
Lighter and Matches
Campfires are great for hanging out next to, for keeping the bugs at bay, for cooking, and even for drying out stubborn clothing.  Bring a lighter as well as some waterproof matches so you won't have to worry about having to forgo a fire.
Alcohol Stove
A small alcohol stove will pack down easily and it won't weigh much.  Bring this stove so that you can quickly and easily heat water up without having to start your fire back up.  I use a small alcohol stove on my trips to heat up water for my dehydrated meals as well as my morning coffee.
Camp Cup
Get a large enough camp cup to store your alcohol stove inside and you won't have to worry too much about the extra space you'll be using.  The cup will come in handy when your heating up water and you'll even be able to use it to bail your canoe out if it ends up coming to that.
Instant Coffee
I think most people will agree that instant coffee isn't the best coffee.  However, it is the best coffee when you're out on a canoe camping trip.  The reason for this is that it is incredibly easy to make.  Heat up some water in your camp cup on your alcohol stove, pour the instant coffee in, stir it, and you're done.
If you're really finicky about the taste, you can bring a packet or two of sugar and creamer or you can even buy instant coffee that comes with both of these two favorites added in already.  My favorite instant coffee for canoe camping is the individual pouches by Nescafe.  They don't cost much and I like that I can just grab a few pouches rather than an entire jar each time I head out.  You can check them out through my Amazon link here.
Dehydrated Food
Dehydrated food is lightweight and easy to pack.  Also, it eliminates the need to bring a large cooler and a bunch of cooking supplies.  This makes dehydrated food perfect for canoe camping, kayak camping, and backpacking.
Some popular brands of dehydrated camping foods are Mountain House, Peak, and Wise.  You can also get military-grade dehydrated food by purchasing MREs.  Just be careful with the MREs as sometimes they are sold only after they've expired.
Extra Clothes
After a day of sweating out on the water, you'll want another set of clothes to change into.  Change into your second set of clothes shortly after you've set up camp for the night and hang your day clothes up to dry out.  Also, remember that it might get cold overnight so a sweatshirt with a hood is never a bad item to pack with you on your trip.
Camp Slippers
I love my hiking sandals but after wearing them all day I get tired of them.  After I've set up camp for the night, I throw on a pair of "camp slippers".
These really aren't special camping slippers, they're just an old pair the I used to wear around the house.  When I bought new ones I kept these to take out on camping trips with me.  The next time you go to throw out your old pair of slippers, keep them for camping and you'll never go on a trip without them.
Fold-up Stool
A fold-up camping chair is one of the nicest luxury items you can bring with you.  Unfortunately, these chairs are usually too big to bring on a canoe camping trip.
Instead, bring a fold-up stool to sit on.  This will keep you off of the ground and it won't take up much room in your canoe.
To Sum it All Up
Have you forgotten everything you've read already?  Here is a quick canoeing checklist for you.
For the day:
An extra paddle.
A life jacket.
A whistle.
Quick-dry clothing.
Water shoes.
A map.
A cell phone.
Sunscreen.
Sunglasses.
Bug spray.
Dry bags.
Food.
Water.
A flashlight.
An emergency kit.
Rough water gear.
For overnight trips.
Everything above +
A tent.
A sleeping bag.
A lighter.
Waterproof matches.
An alcohol stove.
A camp cup.
Instant coffee.
Dehydrated food.
Extra clothes.
Camp slippers.
A fold-up stool.