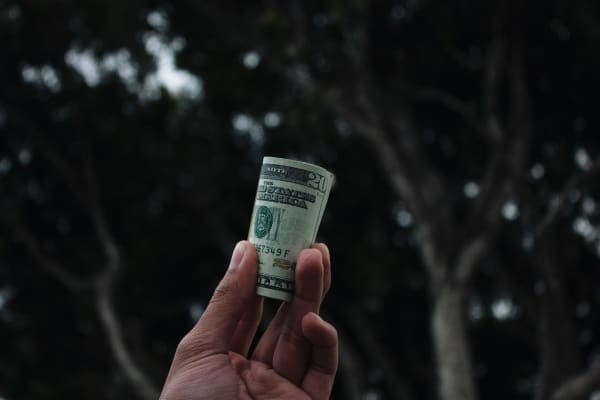 Many new campers are often shocked by how much camping can cost.  Which, surprisingly can often cost more than staying in a hotel.
So, why is camping so expensive?  The primary reason for camping being so expensive is the location campers choose to stay in.  Oftentimes, campers choose prime locations in resorts with more amenities than most hotels have. 
On top of this, they buy a lot of expensive gear and they buy it all at once.  These factors dramatically drive up the cost of camping.
Luckily, camping doesn't have to be expensive.  There are many ways that you can make it cheaper and in this post, I'll tell you what they are.
Here are 10 ways to make camping cheaper.
Go Primitive Camping
Primitive camping is great because it offers scenery and an adventure that can't be found in a campground.  With primitive camping, you could find yourself camping in the woods, in the mountains, next to a lake, or even on the beach.
And best of all, it's free!
If this sounds too good to be true, it really isn't.  In fact, there are many places you can go camping for free.  These places include state forests, national parks, and land owned and operated by the Bureau of Land Management.
So what's the catch?
Like all free things, there are some drawbacks to primitive camping.  When you go primitive camping, you're pretty much on your own.
You'll have to bring everything you need with you, you'll have to choose, prepare, and manage your own campsite, and you won't have any amenities.  This means you'll have to create your own bathrooms and you may even have to pack your waste out with you.
The leave-no-trace rules will mean that you won't be able to bushcraft camp so you'll have to bring your own shelter and supplies with you.  Depending on how you get your gear, this could end up costing you some money.
This being said, you'd have to do this at a campground as well and you don't necessarily have to pay a lot for your camping gear either, (more on this later).
Stay at a State Park
State parks offer an economical version of camping that can be quite comfortable.  Some state parks will have amenities like flush toilets, hot showers, laundry facilities, recreational activities, and even beaches and pools with lifeguards.
These state parks don't cost much money to stay in either.  An overnight stay in a state park will cost you anywhere from $5.00 on the low-end to $35.00 on the high-end.
Price variations are usually the result of the different levels of amenities offered at different state parks.  Generally, the more amenities that are offered, the more expensive your stay will be.
Also, different states tend to charge different prices, so the state you camp in does matter.
Time Your Camping Trip
Nationwide, the two most popular months to camp in are June and July.  You'll pay more for a campsite during these months than you will during any other months of the year.  This is especially true if you're staying at a resort-style campground.
Exceptions to this rule are places like Florida where the winter months might actually be more popular for camping in the southern end of the state.
The length of your trip matters as well.  Most state parks and campgrounds will offer you better rates for weekly stays versus nightly stays.  Resorts will often take this further and will offer monthly or even seasonal rates at discount prices.
Time your trip well and you may find that a one-week camping vacation ends up costing you less than one weekend would have cost you.
Plan in Advance
Planning your trips in advance opens up more options and can lead to discounted prices.
For example, state parks are much less expensive to stay in than resorts.  However, these parks fill up quickly.  If you want to take advantage of their prices, you'll have to book in advance or risk missing out.
Privately owned campgrounds might even reward you with discounts for booking in advance.  A private campground has to make a profit to stay in business and they'll often give you a price break for reserving a few months in advance rather than risk nobody showing up during the height of the season.
All you have to do to take advantage of this is to make your plans a few months in advance.
Choose a Location Away from Major Attractions
It's no secret that hotels charge more money in tourist areas than they do in other areas of the country.  The same rule applies to campgrounds as well.
You can save a lot of money just by camping off the beaten path.  Choose a location near a less well-known national or state park and you'll save money and avoid many of the crowds you'd have to deal with otherwise.
Share a Campsite
For those of you who don't want to give up the resort-style campground, why not share a campsite?  Many sites will allow you to put four to eight people on one campsite and they have space for more than one tent.
A $50.00 a night stay in a resort might only cost you $25.00 when you split the cost with a friend or family member.  Both of you end up getting all of the amenities that the resort has to offer at the same price that you would have paid to stay the night in a state park.
If you want to take this even further, you could camp at a state park with a friend or family member.  This way, your $20.00 stay turns into a $10.00 stay.
Also, you could carpool and split the cost of gas and tolls and really save some money along the way.
Improvise, Borrow, and Buy Used
Take some time to consider what you already own and you can probably figure out how to use some of your household items at your campsite.
To save money on camping supplies, you could bring pots, pans, and utensils from your kitchen.  To save money on a sleeping bag, you could just bring some warm blankets instead.
In fact, there are so many budget car-camping ideas that you can use that I gave it its own post.  You can access it by clicking on the link below.
The camping gear you use doesn't have to be yours either.  Many people have a garage full of camping gear that they don't use very often.  Ask them if you can borrow it.
In some cases, the person might even give it to you just to get some empty space back in their shed.
If somebody does lend you gear, just be sure to bring it back in good condition.  Make sure it's clean and dry and inspect it for any damage before packing it back up.
Remember, camping tents aren't machine washable, and you'll probably damage them if you do try to put them in your washing machine.  If you do damage something, let the owner know so that they don't end up in the field with a leaky tent that you ripped.
When all else fails, you could consider buying used gear.  Used camping gear is often in good condition and I've frequently bought outdoor items on Craigslist that were never even used.  I got them at a fraction of the cost of buying new and the person selling them to me got some money back on an item they'll never use.
Take the Back Roads
Want to save money and see some of the most scenic roads in the country?  You can easily do this by taking back roads to your destination.
Just go to Google Maps and click the option to avoid tolls.  This could save you a lot of money on tolls and it will probably make the drive to and from your camping destination a lot less stressful.
One word of caution when doing this is to make sure you keep an eye on your gas tank.  This is especially true if your vehicle requires diesel fuel.  Diesel isn't always available in some areas of the country and you don't want to run out of fuel in a desolate area.
Bring Your Own Food
Even $10.00 diner meals can add up.  Pack all of your own food and you'll save a ton of money on your trip.
To do this, you can invest in some simple campsite cooking tools or choose meals that don't require cooking.  You can also pre-make your own meals so that all you have to do is heat them up when you get to your campsite.
Invest in a Good Cooler
If you're packing your own food, you'll want to get a good cooler.  Get one that will hold ice for the duration of your trip and you'll save money on ice each and every time you head out.
For most people, this won't even cost much money.  A good marine cooler can hold ice for up to 5 days in moderate weather.  Even in extreme heat, they'll still be able to hold ice through a 3-day weekend.
These coolers usually cost between $50.00 and $75.00 and they'll save you at least $5.00 or $6.00 on ice and a whole lot more on food every time you use them.
For those of you who plan on taking longer trips in the heat of the summer, you might even save money by investing in an expensive cooler.  A Yeti cooler might cost you a few hundred dollars upfront, but the money saved on food and ice will give you a quick return on investment.
Final Thoughts
Camping can be expensive, but it can also be cheap.  At the end of the day, the price you pay for camping will ultimately be determined by you.
The more time you invest in planning and preparing for your trip, the more money you'll save and the better time you'll have.